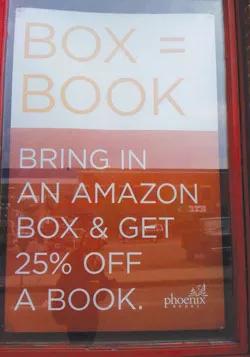 The new Phoenix Books opened last Thursday at 191 Bank Street in Burlington, and it's making a statement. One sign displayed in the window of the 5000-square-foot store reads, "A Little Less Amazon Is All We're Asking." Another invites shoppers to "Bring in an Amazon Box & Get 25% Off a Book."
"What we're trying to do is make people aware of the choices that they make," says Renée Reiner, who co-owns Phoenix with Michael DeSanto. "We're not asking people to stop buying from Amazon. We're asking them to buy a little less from Amazon so we can all enjoy the benefits of a community bookstore." The giant online retailer, she notes, doesn't pay local taxes or employ locals.
Phoenix currently has 14 employees. "Our staff are well-read book lovers," says Reiner. "They can point our customers to wonderful things, and we feel this isn't possible with an online supermarket experience."
The store will celebrate its Grand Opening Weekend starting June 7. Meanwhile, Reiner and DeSanto hope locals who like what they see will express their support by buying a $100 or $1000 Phoenix membership, just as they might purchase a farm share. For more info, see joinphoenix.com.