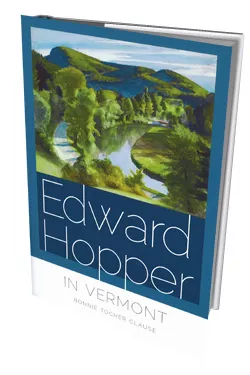 An important but previously overlooked chapter of Vermont art history is now coming to light, thanks to a stroke of serendipity on the internet.
Bonnie Tocher Clause, a Philadelphia writer, was browsing eBay for posters to decorate the second home she and her partner, the now-retired judge Mike Hogan, had built in South Royalton in 2005. Clause happened on a reproduction of a watercolor by Edward Hopper entitled "Barn and Silo, Vermont." Intrigued that the artist famed for his scenes of urban isolation had depicted such a rural setting, Clause scoured an authoritative Hopper biography and the definitive catalog of his work.
She soon learned that one of the most popular American painters of the 20th century had in fact composed about three dozen watercolors and drawings during visits to Vermont between 1927 and 1938. Clause also noticed — much to her amazement — that most of the places Hopper painted were within a few miles of her home in the White River Valley.
It wasn't that Hopper mavens weren't aware of his Vermont landscapes. They were even better acquainted with other rural scenes Hopper had painted that show up today as illustrations in many calendars — lighthouses and clapboard houses in Maine and Cape Cod, for example. But the Vermont compositions had never been studied as a body of work unto itself.
Fast-forward to the publication last month of Clause's Edward Hopper in Vermont by University Press of New England. In a 214-page book that includes color plates of almost all of Hopper's Vermont watercolors, Clause closely examines not only these pieces but also the circumstances of their creation. The result is an engaging work of scholarship that reads at times like a detective story.
"We drove along the White River with Xerox copies of the paintings taped to the dashboard, Mike behind the wheel and me in the passenger seat, shooting pictures with my digital camera," Clause writes. The art sleuths were looking for the exact sites Hopper had painted 70 to 80 years earlier. There is a goose-bumpy quality to the couple's search. "I could imagine the Hoppers tracing the same path," Clause daydreams in her book, "Edward driving and Jo beside him, sketching what caught their eyes as potential subjects for paintings."
Hopper and his wife, Josephine, a painter who subordinated her own career to his, first came to Vermont in 1927 as day-trippers from a New Hampshire artists' colony. Then, in 1937 and again in 1938, the couple stayed for a month on a South Royalton farm that accommodated tourists.
The watercolors painted during those sojourns have characteristics familiar to Hopper fans. No human figures are to be seen in any of his Vermont renderings, although some include features of the constructed environment: a sugarhouse, a steel bridge, a rickety fence, farm outbuildings, distant roof lines. Trees and meadows are always the dominant elements. In composition, if not in mood, these pieces can be seen as rural counterparts to Hopper's well-known oil paintings of unpeopled streets, such as "Early Sunday Morning."
To Clause, however, Hopper's Vermont is a much more relaxed place than Hopper's Manhattan. "There's a certain peacefulness, a sense of quiet — but not silence — in the Vermont pieces," Clause says in a telephone interview. "They speak of contemplation."
Clause adds that these works can be seen as distinctive products of an artist who was "very lonely and interior oriented." The Vermont paintings, as much as those Hopper produced in New York, Maine and Cape Cod, "come from deep inside himself," Clause says.
Hopper made use of a Vermont palette, capturing the yellow-greens of early autumn, she points out. Northern New England light pervades these pieces, just as interior lighting underlies the impression made by "Nighthawks" and other Hoppers that have entered the American art canon.
The Vermont watercolors have lately acquired a special poignancy, Clause notes.
A couple of years ago, she and Hogan were indeed able to find a number of the spots that Hopper had painted. At that point, they looked the same as they had in 1937 and 1938 — "a tribute," Clause writes, "to the apparent persistence of the pristine Vermont landscape.
"Alas," she interjects, "this claim can no longer be made." Flooding caused by Tropical Storm Irene left the banks of the White River "barren expanses littered with mud, silt, boulders and debris, the landscape that was once green or golden now turned to monochrome gray."
Hence Hopper's evocations of the White River Valley can now be read as historical records in addition to being savored as artistic expressions. And next summer, all Vermonters will have an opportunity to see them. Working with Middlebury College Museum of Art director Richard Saunders, Clause is serving as consultant to a show entitled "Edward Hopper in Vermont" that will open at the museum on May 23.
"Edward Hopper in Vermont" by Bonnie Tocher Clause, University Press of New England, 214 pages. $35.