courtesy of simon pearce, John Sherman & Glenn Suokko
Most people acknowledge that their parents had some influence on their tastes and preferences. For the glassblower and artist Simon Pearce, the parental effect looms large. Even today, Pearce, 70, can picture almost everything his family sat on and cooked with in his childhood home in southeastern Ireland.
The house itself was a typical Georgian country abode, square and symmetrical. Inside, the Pearces used a mixture of traditional and contemporary furniture, glass and cutlery. Pearce did not rebel from those designs; he absorbed them. They now define the handmade glassware he sells at his landmark Quechee location and in 500 stores around the United States.
courtesy of simon pearce, John Sherman & Glenn Suokko
Kilmahon House, the Pearce family home in Shanagarry, Ireland, in the 1960s
These design roots are the subject of Simon Pearce: Design for Living, a new coffee-table book by Pearce's longtime friend and colleague Glenn Suokko. Through narrative and photography, the book tells Pearce's life story and connects his upbringing, family and mentors to Pearce's design philosophy and, ultimately, the well-known Simon Pearce brand.
Pearce grew up in Shanagarry, a small rural town near the sea. His father, Philip, chose to settle there instead of staying in London and running the family printing business. Pearce's mother, Lucy, was one of the first female university professors in Britain. When they moved to the Irish countryside, they maintained their cultured and sophisticated perspectives but indulged in creative endeavors that fed their souls more than their bank account. Philip opened a small pottery studio, and Lucy, in addition to helping with the business, taught herself to cook.
Young Simon seemed to fit in with his parents' second lives much better than their first ones. He has dyslexia and never finished high school, but he always knew he wanted to make things with his hands.
"At first I thought I would make furniture, and then my father's pottery was there, so I thought I'd try that," he remembers. When he was 16, Pearce went to New Zealand for two years to learn pottery, training under the English potter Harry Davis. When he returned to Ireland, he worked for a year with his father before opening his own pottery shop in his hometown.
courtesy of simon pearce, John Sherman & Glenn Suokko
One of Simon Pearce's original retail stores, on Kildare Street in Dublin
The medium agreed with Pearce, but he was also anxious to try something different from what his father did. He became infatuated with glass during trips to visit his godfather, the artist Patrick Scott, in Dublin. Scott kept a large wooden cupboard in his house filled with Georgian glassware — cups, tumblers and flutes of all sizes. They all had one thing in common: simplicity. Aside from some of the long, thin pieces, the glasses seemed to be clear cousins of the ancient chalice, with wide, sturdy feet and the slightest of curves. Pearce wondered why no one was making glass like that anymore. Then he decided to make it himself.
courtesy of simon pearce, John Sherman & Glenn Suokko
Simon at work in his Bennettsbridge workshop in the 1970s
After spending a few years learning glassmaking techniques and how to build furnaces, Pearce opened stores in Clifden, Dublin and Kenmare in the 1970s; he also sold pottery made by his father and his brother, Stephen. Business was good, but, according to Pearce, it was frustrating to be an entrepreneur in Ireland in those days. "The phones didn't work; the mail didn't work; the banks didn't work," he recalls. "That was really why I left."
When Pearce visited Vermont for the first time, in 1980, he was looking for someplace like Shanagarry in which to live, raise a family and grow his business. The mill in Quechee, which dates to 1807, was the perfect site. It had a stunning location on the Ottauquechee River, where a dam tumbles water and mist onto rocks below. And it could be retrofitted with a turbine to harness the river's energy that would power the glass furnaces.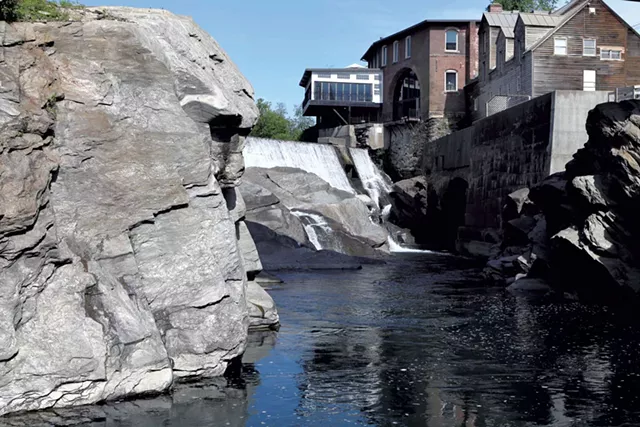 courtesy of simon pearce, John Sherman & Glenn Suokko
Simon Pearce's flagship location in Quechee
In 1981, Pearce and his wife, Pia, moved into an apartment on the second floor of the mill and opened a store on the ground floor. Today, the site includes a restaurant and bar overlooking the waterfall.
Over the past 35 years, Pearce has maintained his style and design ethos, hewing pieces that are simple, elegant, handmade and functional. For him, there is no one definition of good design, just the one that works for each individual. His own taste runs to objects that are, in a sense, timeless, because they don't reflect the vanities or preoccupations of a particular era. They just work.
"If you buy something and live with it, use it every day, and in 20 years you enjoy it as much as the day you bought it," he says, "that really, for me, is the sign of something that really works."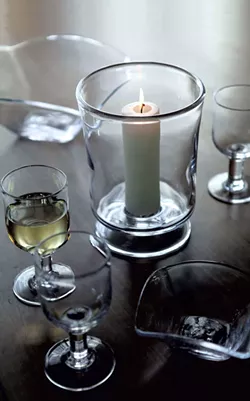 courtesy of simon pearce, John Sherman & Glenn Suokko
As he ventures into his eighth decade, Pearce is still making glass, but mostly in the winter when the furnace room is a bit cooler. And he enjoys advising his son, Andrew, who makes and sells wooden bowls at a shop just a few miles from the Quechee mill.
From the beginning, Pearce has endeavored to make each piece unique in some way — to have the modest, barely discernible variations that happen with handcrafted goods. But somehow, many of the stores that sell his wares didn't get the message. "All they want is everything to be identical," he says. They should let it go. As Simon Pearce: Design for Living illustrates, through dozens of beautiful photographs and Pearce's own memories, the man is one of a kind. It's no surprise that his glassware always will be, too.