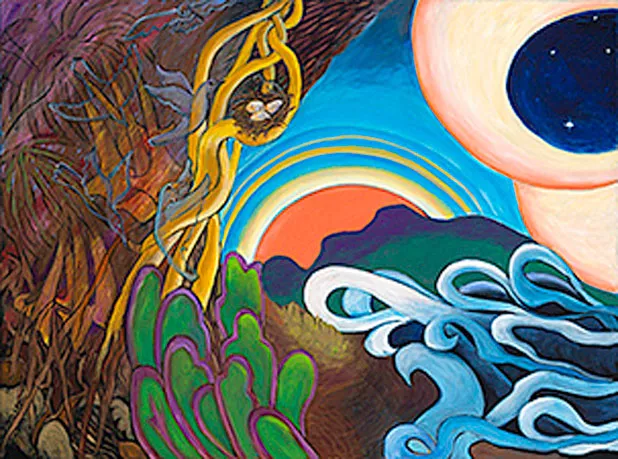 Painting by Ruth Hamilton
"The whole thing is wild." That's Brandon artist Warren Kimble's take on the Vermont Symphony Orchestra's opening number at this weekend's Masterworks concert. Called "Summer Evening," it's a folk-infused work written in 1930 by the Hungarian composer-ethnomusicologist Zoltán Kodály.
The "wild" part is that, while the audience is listening to the 18-minute piece, they'll also be watching a video installation projected above the orchestra on a 10-by-14-foot screen. The visuals feature four 20-by-30-inch artworks inspired by the piece: paintings by Kimble, Ruth Hamilton of Poultney and Fran Bull of Brandon, and a photo by Salisbury photographer Don Ross.
Ross, who put the video together, "took pieces of each work and made them flow with the music," Kimble says.
This first-time collaboration came about when Kimble and his wife were at a dinner party with their longtime friend, VSO violinist Hilary Hatch. Hatch mentioned that the VSO was "looking for something exciting to do," recalls Kimble, who hit on the idea of projecting images of artwork to accompany and reflect the feeling of the music.
VSO executive director Alan Jordan thought that sounded "great," Kimble says. Jordan picked the Kodály piece, and Kimble recruited the three other artists.
"The only rule was no faces, just your feelings," says the 78-year-old folk artist known for his pared-down, flat-perspective barns, cows and trees. None of the artists communicated with the others while creating his or her response.
Kimble, who says he learned what he knows of classical music from movies, found Kodály's piece to have "wonderful melodies and peacefulness. In other words, it's not the William Tell overture or anything." After listening to "Summer Evening" numerous times, he painted a red, setting sun over water using thickly textured gesso. All four works will be on view in the lobby during intermission.
Kimble and Ross will explain the project during a preconcert talk. Kimble isn't worried about that, but he's not so confident about video technology. "I've never touched a computer, and believe me, that's not a boast," he says, "so I'm just a little panicked that it won't get going when it needs to." But, Kimble allows, "Artists need challenges that make art fun."
The concert's second work will shift the focus back to the stage — and to a young soloist in particular. Cellist prodigy Cicely Parnas, 19, recently won first prize at the 2012 Young Concert Artists Auditions, a prestigious international competition based in New York City that provides its winners with career-launching management services. She'll play Elgar's cello concerto under the baton of VSO conductor Jaime Laredo — who, of course, is also conducting the Kodály and the final piece, Mendelssohn's fifth symphony.
Parnas grew up near Albany, N.Y., but her connection to the VSO is even closer: Not only is she a student of cellist Sharon Robinson — Laredo's wife — but Robinson and Laredo (a violinist) have both played with Parnas' grandfather, the acclaimed cellist Leslie Parnas. Laredo shared the stage with him for years at both the Chamber Music Society of Lincoln Center and the Marlboro Music Festival.
"I've known Sharon and Jaime since I was pretty young," Cicely Parnas admits during a brief phone call. "And I knew I'd want to study with Sharon eventually."
Parnas began doing so two and a half years ago, when Robinson and Laredo were still teaching at Indiana University's Jacobs School of Music. When the couple moved to the Cleveland Institute of Music last fall, Parnas followed to continue studying with Robinson.
"She doesn't sound like anyone else," Robinson says, speaking from Miami. (She and her husband travel extensively for trio performances with pianist Joseph Kalichstein, and for solo and conducting gigs around the world; when in Vermont, they live in Guilford.)
"Cicely's sound is very individual," continues Robinson, who will be in the Flynn audience this Saturday. "It has a very singing, beautiful, warm tone that you can pick out of a crowd. It comes from a certain creativity she was born with."
When Parnas started studying with her, Robinson adds, "she was already a fully formed artist" with recordings, and had a duo with her older sister, a violinist. As a teacher, the 63-year-old tries not to "get in her way" but is happy to pass on advice learned over a long career: a sense of the tradition of a piece, along with pointers such as "don't waste orchestra rehearsal time practicing your cadenzas" and "tune on the sharp side to accommodate the winds under the hot lights."
Parnas is not the first of Robinson's protégées to succeed; over 40 years of teaching, she has had plenty of students who found solo careers or positions in major orchestras. (Also an adept teacher, Laredo has mentored the likes of violinists Hilary Hahn and Jennifer Koh. The latter will appear with the VSO at the next Masterworks concert.) But Parnas is the youngest such student she has had, Robinson says, and she worries about that.
"It's sometimes hard to make the leap from child artist to adult artist," she observes. At the same time, Robinson adds, "I hope that I can work with her a little longer, but she's ready to go, she really is."
The Vermont Symphony Orchestra plays its 2012 to 2013 Masterworks Series 3 Concert at the Flynn Center for the Performing Arts in Burlington on Saturday, January 19, at 8 p.m., and at the Paramount Theatre in Rutland on Sunday, January 20, at 3 p.m. Catch Sharon Robinson soloing under Jaime Laredo's baton at Farmers' Night on Wednesday, January 16, 7:30 p.m. in the legislative chambers, Statehouse, Montpelier. Free. vso.org