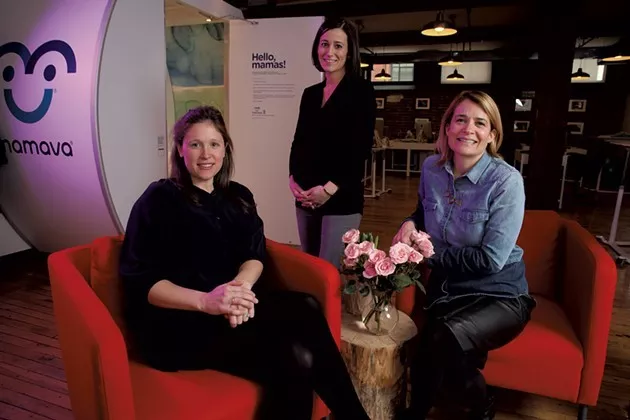 Matthew Thorsen
Mama cofounder and CEO Sascha Mayer (right) with employees Annie Ode (left) and Nikkie Kent
It's often difficult for nursing moms to find clean, comfortable spaces to nurse their babies or pump breast milk. Burlington-based
Mamava
is trying to make it easier. The maker of free-standing lactation suites — stationed at 200 locations nationwide, including airports, stadiums, colleges and medical centers — just released a mobile app to help moms find private, dignified spots to nurse and pump.
The free app includes an interactive map featuring Mamava lactation suites and other designated places to nurse and pump. It also has links to lactation-related articles, hacks for breastfeeding moms, inspiring quotations, breastfeeding tips and a guided lactation meditation.
"We're a company founded by moms for moms," said Mamava CEO and cofounder Sascha Mayer. "We understand better than anyone the real challenges breastfeeding moms face, and we're changing those realities."
The app, which officially launches at the
TechCrunch Disrupt
expo in New York City on May 15, is available through iTunes and in the Google Play Store. To coincide with the app, Mamava released a video celebrating nursing moms and babies this week.