James Buck
Pine Island Community Farm
Beads of sweat trickled down Theogène Mahoro's temple as he shoveled goat manure and hay onto his pickup truck. Mahoro, a chicken farmer at Pine Island Community Farm in Colchester, had awakened at 5 a.m. to feed his poultry and was still hard at work five hours later.
Less than a mile away, Mahoro's wife, Hyacinthe, tended to their garden as she waited for him to deliver the manure. She was among a half dozen gardeners toiling in silence but for the sounds of birds and cicadas. Goats grazing nearby bleated intermittently, reminding a visitor of the farm's origins.
When Karen Freudenberger started the farm in 2013, it was known as the Vermont Goat Collaborative. The Burlington resident, who had extensive international experience in community development, was the driving force behind the farm and dedicated herself fully to the project. It was later renamed Pine Island Community Farm when it added chicken, garden and bee collectives.
Freudenberger's idea was to provide a space for New Americans to produce food for themselves and their communities, as well as to help them reconnect with their agricultural traditions. Since its inception, the farm has run year-round but is busiest during summer months.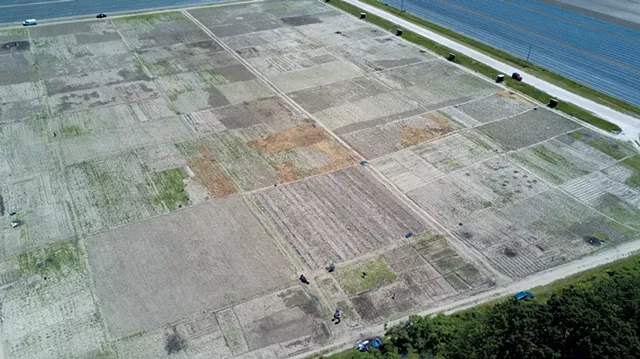 James Buck
Aerial view of the gardens at Pine Island Community Farm
At first glance, this year appears no different, but Pine Island is missing its most ardent advocate.
Last December, Freudenberger died peacefully in her sleep. Her husband, Mark Freudenberger, said she had suffered from a heart condition.
"I don't feel good because we lost a good friend," Mahoro said. His children, Solange, 6, and Kevin, 5, share their father's sentiment. "We miss Karen," said Solange. But Mark still visits the farm, she added.
Six months since his beloved wife's passing, Mark Freudenberger, a senior associate with Tetra Tech ARD in Burlington, said he's deeply touched that her vision for the farm is "strong and alive." Not only has Pine Island continued to thrive, but the farmers have plans to improve and build new infrastructure, he noted.
"So many people have offered their support," Freudenberger said, in the form of "very significant contributions of time" at the farm.
"That expression of love for the vision is an expression of love for Karen and for me," he said, fighting back tears.
An interim management team is helping the collectives continue and is crafting a long-term sustainability plan. Though Pine Island has nonprofit status, it exists as a partnership of the Vermont Land Trust — which owns the land — and the Association of Africans Living in Vermont. It is also part of the Burlington-area consortium New Farms for New Americans.
"We've come together to pick up and carry on what Karen had in place," said Siobhan Smith, vice president for conservation and stewardship at the VLT. "We had to put in place a different staffing structure, because Karen was the farm manager."
Casey Engels, who began volunteering at the community garden about two years ago, is part of the interim management team. Her main responsibility is to work with leaders of the gardening subgroups. She works an average of 15 hours each week.
Over the past few months, Engels said, she's gained a "more intimate understanding of the physical labor it takes to keep the garden going." She has also learned that there's an "incredible need for more land," according to the farmers.
"Each community leader has his own waiting list," Engels commented, adding that, in some cases, four people share a plot of land for lack of adequate space.
Stacy Burnstein, a land-access specialist from Burlington's Intervale Center, joined Pine Island's management team just a few months ago at the VLT's invitation.
"Everyone is still grieving and sad that [Karen] is no longer with us," Burnstein said. But, she observed, "There's also renewed commitment on the part of all key stakeholders to carry on her legacy and make it work."
Burnstein has identified key infrastructure investments that will allow Mahoro and Pine Island goat farmer Chuda Dhaurali to expand their operations. These include better-ventilated goat housing, a bigger slaughter facility that's better equipped to process goats year-round, and a second well so that the livestock collectives don't have to share their water source with the community garden.
Dhaurali is hopeful that the second slaughterhouse will be ready by 2019 so he can sell packaged meat to restaurants and other customers. Running his own business has its challenges, the Bhutanese man admitted. But he's getting the hang of it, and he continues to get help from the strong volunteer network that has been critical to the farm since its inception. "I think I'll be around for a long time," Dhaurali said.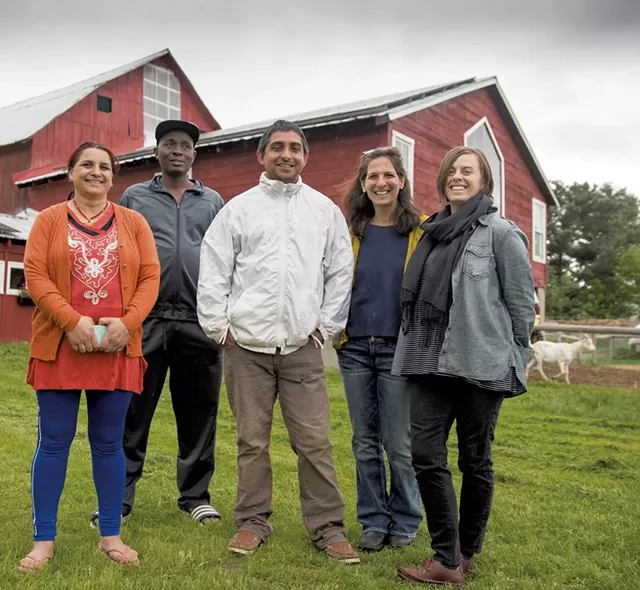 James Buck
Left to right: GIta Dhaurali, Theogène Mahoro, Chuda Dhaurali, Stacy Burnstein and Casey Engels
For his part, Mahoro is eager to take over his colleague's slaughterhouse for use in his poultry operation. Currently, state regulations allow him to raise and process fewer than 1,000 chickens per year. His dream, Mahoro said, is to increase that number to 10,000.
But even before he has a larger slaughterhouse, Mahoro must devise a way to protect his free-ranging chickens from predators. Raccoons have discovered how to get into one of his poultry buildings, he said. "[Karen] would [have figured] out the solution, no problem," he lamented.
While Freudenberger is grateful for the support shown by the interim management team, he hopes that they will not become overtaxed. "All of us who have been volunteering so much time, we are probably getting a little bit tired," he conceded. "Managing a farm is a lot of work. If we are not careful, we could burn out."
James Buck
Goats returning to the farm after grazing in the field
That situation is likely to be remedied when the farm hires a full-time manager, though it's not clear when that will be. The team is "still at the information-gathering phase," said Smith.
That person will have the support of a board consisting of New Americans and other Vermonters, farm members, and outside consultants, Freudenberger explained.
"The hope is that, over the next six to nine months, we'll transfer to a fully constituted board," he added. Currently, the farm has a three-member board.
Freudenberger said his wife's goal for Pine Island was that it would become a cooperatively managed farm. But the members of the management team are "still feeling our way through this," he said. "We may need a farm manager during a transition period as the various actors in the farm components gain more experience."
Whether the farm will remain under the aegis of the land trust or become independent is "an open issue for now," Freudenberger added. "Right now, the model is being refined, new growth strategies are being explored, and we're all trying to figure out the best working relationships."
But he predicts that Pine Island will continue to prosper and be a testament to his wife's work. "We brought an abandoned farm into production," Freudenberger said. "So far, I think it's financially viable."