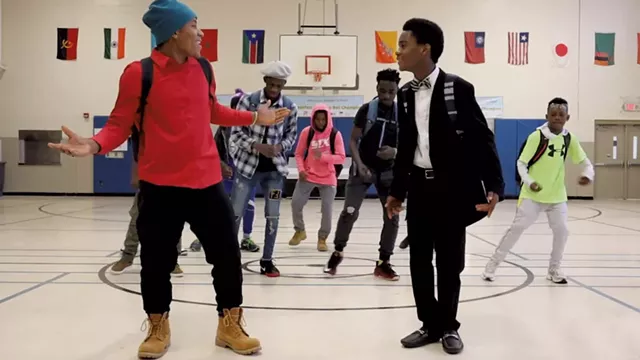 Courtesy
Bonne-Idee Kasindi (left) and Rachid Muzaliwa
Two recent arrivals to Winooski have released a music video of themselves singing about how much they like going to school.
That's right — Twende Shuleni means "Let's Go to School" in Swahili. First-year students Rachid Muzaliwa and Bonne-Idee Kasindi wrote the tune to document their journeys from hardscrabble upbringings in Africa to a better life in Vermont.
The young men grew up in Democratic Republic of the Congo and met in a Burundi refugee camp before each landed in the United States. They reunited at Winooski High School after arriving in the area last year.
"Back home in the refugee camp, school was a problem," Kasindi, 21, said through an interpreter during an interview last week. "Our parents tried to force us to go to school, but because of the hard life we had, we weren't interested in going. But now, here, this is an opportunity that we have."
The young men came up with the song last fall. With the help of school instructional assistant Mike Webster, they rehearsed and recorded a video and released it in November.
The three-minute, 30-second clip features the students sitting at desks, dancing in the Winooski gym and walking down school hallways, and singing:
We have come from far away through hardship and a lot of suffering
We went through a lot that we could not make it on our own
I am very happy that I am able to go to school
Oh friends, let us go to school
Our parents wish that we can go to school, to help them in the future.
The video has nearly 2,500 views on YouTube. The singers have plans for a full album in the future. They've been inspired by the friendly faces they met when they arrived last year.
"I personally like Vermont because, when we got here, we had volunteers who came to our home to visit us, to bring food and gifts and just welcome us," said Muzaliwa, 15. "I felt loved."