Jessica Ojala ©️ Seven Days
Andrew Heyn sharpening a mill stone
The granite stones on the flour mill at Elmore Mountain Bread need sharpening, and the sifter could use an upgrade. But Andrew Heyn, who designed and built the mill, is too busy making stone mills for other bakers to work on his own machine.
Heyn and his wife, baker Blair Marvin, own and operate the wholesale bread bakery in Elmore, where they use freshly milled organic flour to make wood-fired breads — focaccia, country French, baguette, seven grain. The couple lives and works on a dirt road in the rural Lamoille County town that's probably best known for its eponymous lake and mountain.
But for a growing number of millers and bakers around the globe, Elmore is recognized as the home of New American Stone Mills. Heyn opened the mill shop, which is housed in a converted garage by the bakery, in 2015.
New American Stone Mills produces custom mills that grind wheat berries and other grains into flour. Each machine uses, as its primary feature, millstones fashioned from gray Barre granite. Etched with a series of furrows, the stones cut the wheat with a scissorlike action as the grain goes round the stone. A kernel of grain, making one rotation, is cut 36 times by the pair of millstones. The mill produces a fine flour that retains (without separating) the full properties of the wheat, including germ, oil and bran.
"Andrew has created a machine that our industry needed," said baker Jim Williams of Backdoor Bread in Charlotte. He's milled grain with two Heyn products: a 40-inch mill he bought five years ago for a bakery he owned in Providence, R.I., and a smaller model he acquired last year for his Charlotte bakery. Milling his own grain, Williams said, is "a continuum of the [baking] craft."
Heyn's background as a baker is a key factor in the success of his design/build project, Williams said. He had an understanding of what he (and other bakers) wanted and built a machine to achieve it.
"If you're a baker worldwide and you're looking to produce fine whole wheat flour, Andrew's one of the first people you look to," Williams said.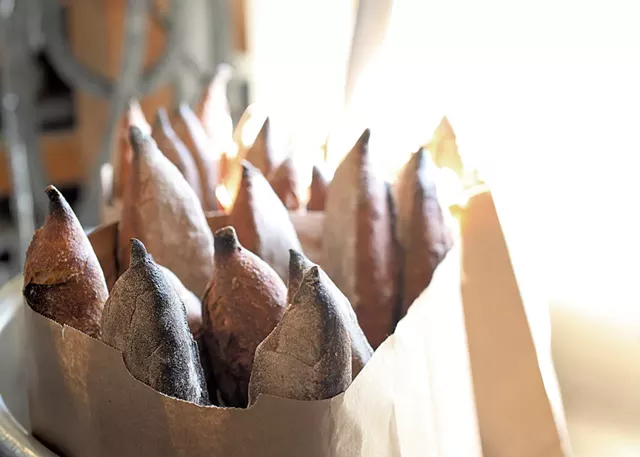 Jessica Ojala ©️ Seven Days
Baguettes at Elmore Mountain Bread
Last week, Heyn and two employees at his shop were completing work on a mill for a bakeshop/café in Cambridge, Mass., and another for a baker in Madrid. The angles and shapes of each mill would please a geometry teacher. The handsome pair, one with a blue steel frame, the other framed in white, are part of a pandemic-era surge in orders. Usually, New American Stone Mills has four or five machines on order; currently, there are 16.
Heyn, 45, attributes the increase in business to a corresponding rise in interest in local food — and the resilience of local food systems in uncertain times. Silos were stocked with grain when the pandemic struck, yet industrial mills experienced a "bottleneck" and stores' shelves often lacked flour.
But Heyn and Marvin's interest in and commitment to making a local product from local ingredients, eaten by people nearby, predates the pandemic. Elmore Mountain Bread sells its handmade loaves — about 1,200 a week — to stores, farms and restaurants in central and northern Vermont. Flour milled at the bakery is available at local stores. This year, Elmore Mountain Bread intends to mill and bake with 100 percent Vermont grain, Heyn said.
The mill and bakery, working in tandem and showcasing grain purchased directly from local farmers, are a "model for how this can be done all over the place," he said. "We're making bread that's unique to this range."
Heyn is a self-taught designer and builder who, as a kid, was often engaged with projects, such as fixing a car or a motorcycle. He and Marvin, who grew up in Johnson, took over Elmore Mountain Bread in 2004. About 10 years ago, working with a Burlington-based mason, Heyn helped redesign and rebuild the bakery's oven.
Soon, he got phone calls from his baker friends who said, "Hey, my oven's falling apart. What can I do?"
The oven work sparked Heyn's interest in design/build projects. "I got itchy looking for a new challenge to take on," he said.
Jessica Ojala ©️ Seven Days
Local wheat to be milled at Elmore Mountain Bread
In 2014, a friend in Asheville, N.C., told Heyn that he was looking for someone to build a new stone mill for his small mill operation — something that used natural stone rather than a composite blend, Heyn explained. He sent a package of stone-ground, heirloom flour by priority mail to Elmore Mountain Bread. The Vermont bakers opened the package and were wowed by the flour. "It had a super-fresh aroma we had never experienced," Heyn recalled.
The revelatory flour, and his friend's inquiry, inspired Heyn to take up the mill-building challenge. He set to work on a prototype, ordering pink granite from North Carolina, figuring out the geometry and specifications. When the mill was built, he and Marvin put it to use: They added freshly milled flour to their mix, giving the bread a darker color and fuller flavor and boosting its nutritional value. Soon, they committed to baking solely with stone-milled flour produced on-site.
"After I built ours, all these bakers we'd become friends with said, 'Can you build a mill for me?'" Heyn said. "Once people taste the difference, they get an appreciation for how much better the bread is."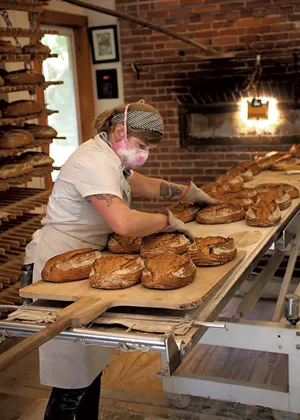 Jessica Ojala ©️ Seven Days
Blair Marvin
In 2015, he built five mills; the next year, 10. Now the shop in Elmore is at work on its 84th stone mill. Depending on its size, a mill takes 40 to 70 hours to build once all the parts are on hand, Heyn said. The price, also size dependent, ranges from $12,750 to $25,000 (with custom options available).
Heyn discovered that there's no need to buy granite from North Carolina; he found a source 30 miles south of Elmore at Granite Importers in Barre City. Thirty miles in the other direction, at Morningstar Farm in Glover, Heyn sources much of his wheat.
Seth and Jeannette Johnson own and run the diversified farm that's growing 50 acres of wheat. He delivers about 2,000 pounds of grain a month to Elmore Mountain Bread. Heyn holds back some of it, milling it for Johnson the day before his next delivery, which gives Morningstar Farm a value-added product to sell.
"Customers love the stone-milled flour," Johnson said. The bread company gives him bran, a by-product of milling, to feed his cattle. The composted manure, in turn, fertilizes the grain fields.
In the spring, Johnson said, when commerce and travel were restricted to essential businesses, the grain deliveries were extra special: a chance for friends, staying six feet apart, to talk a bit and eat some bread.
"Andrew and Blair are just really cool people, really chill," Johnson said. "Now that Andrew's building these mills, it adds a whole other element to what's neat about it. Whatever community that goes into, it's an opportunity for those surrounding farmers to sell grain."
Stephen Jones, a wheat breeder and director of the Bread Lab, a grain research center at Washington State University, has seen Heyn's mills at locations around the U.S. and beyond. He's familiar with their use at bakeries and milling operations.
In an email to Seven Days, Jones wrote, "They are a big deal and he is almost single-handedly changing the regional grain system for the better."