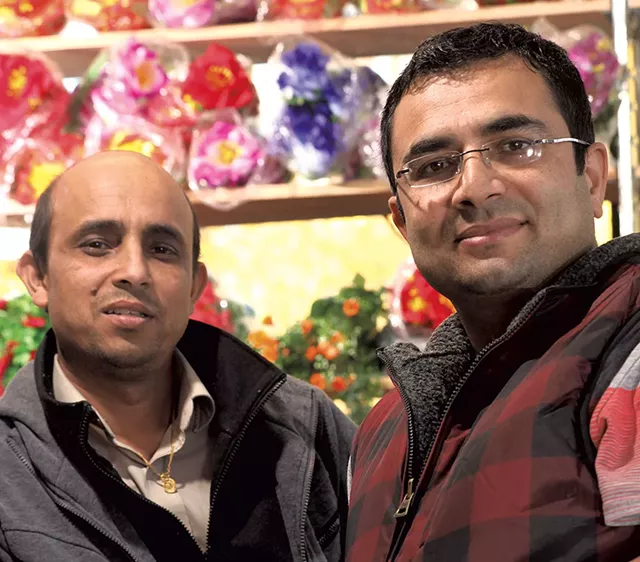 Matthew Thorsen
Chandra Pokhrel, left, and Bhuwan Sharma
In 2007, from a cyber café located just outside a refugee camp in eastern Nepal, Chandra Pokhrel made an internet phone call to his cousin in Atlanta, Ga. After nearly two decades in the refugee camp, the Bhutanese man had to choose the country in which he would like to be resettled.
"She gave me one answer," said Pokhrel, recalling that conversation. "'If you want to struggle, do not go to other countries. Come to the U.S. But if you want to depend on the government, do not come to the U.S.,'" his cousin told him.
For Pokhrel, who had a reputation as a pioneering entrepreneur in his camp, it was an easy decision. In 2009, he moved to Vermont with his wife and son.
Pokhrel's first few years in the Green Mountain State were challenging. He accepted entry-level jobs in factories, even though he has a college degree from Nepal. His health deteriorated because he worked two jobs. And although he spoke English, he found the local accent difficult to understand.
But he was hopeful that things would improve. When Pokhrel talked to earlier refugee arrivals, they repeated a mantra that he took to heart. "It takes time. In the future, you will be OK," they told him.
Fast-forward to 2016. Pokhrel, 36, is now the proud co-owner of Burlington Employment Agency. He and his business partner, Bhuwan Sharma, are the first members of the Nepali-speaking community to establish a staffing company.
That community has become more established and economically mobile since the first families arrived in Vermont in 2008. In recent years, Bhutanese refugees have made up the largest group of those resettled in Vermont, and Bhutanese-owned restaurants and grocery stores are now common sights in Chittenden County.
Yet Pokhrel and Sharma are the first to serve this thriving population with an employment agency. "There was a vacuum. We thought we could be a good player in the market," said Sharma, also 36.
The two men came equipped with the skills and connections they'd need for such a business. Both had worked at the nonprofit Association of Africans Living in Vermont for several years, helping New American populations. They had firsthand experience and knowledge of the challenges that newcomers face in the workplace.
Matt Thompson, coordinator of programs at the Vermont Refugee Resettlement Program, a field office of the U.S. Committee for Refugees and Immigrants, confirmed that those challenges can be formidable. "For many [refugees], there's a language barrier," he said. "Differences in cultural practices might [also] lead to misunderstandings between coworkers."
Since Pokhrel and Sharma had solid working relationships with American employers as well as personal ties with the Bhutanese population, it made good sense to establish an employment agency to act as an intermediary between the two, they said. "We're like an extension of the human resources [department]. We find people for [client businesses]. We manage their payroll," Sharma said. "It's so much easier for them to deal with us than with the [employees] directly."
Among their duties is educating their clients about major festivals such as Tihar and Dashain, when Hindu workers need time off. (Sharma described those events as "almost as big as Christmas.") Vermont companies need to know that Hindus observe almost two weeks of mourning, Sharma noted. Newly arrived refugees have medical appointments to keep, and Pokhrel and Sharma can communicate those needs to supervisors, as well.
Cultural education takes place on the flip side, too, as the two men help New American employees adjust their mind-set. "Machines have to run despite the fact that people don't show up for work," said Sharma. "[Companies] hate people who get up in the morning and say, 'I can't come to work,' unless they have an extremely valid reason. Culturally, our people are really relaxed about those things."
The agency benefits from Pokhrel and Sharma's active roles in their community. "I know [a family's] whole history," Pokhrel said. "I know what kind of jobs they can do." That knowledge base helps him hire people on very short notice, he added.
News travels fast in the close-knit Bhutanese community. "We haven't done much advertising," Sharma said. "They know we've started a business. We're sending people to work; we have contracts with companies. So they come to us."
Thus far, the business model seems to be working. Since BEA was registered in February, it has placed 50 employees, most of them from the Bhutanese community. Some have been in Vermont for as long as eight years, while others arrived just a month ago, Sharma said. About 70 percent of them are men.
Most of the jobs are temporary positions in production, but these can lead to full-time jobs when a client decides to hire a worker directly, Sharma said: "It's a platform they get through us."
One of those who might take advantage of BEA's "platform" is Indra Karki, a 44-year-old Burlington resident who lived in the same refugee camp as Pokhrel. In August, he got a job at a clothing company through BEA, and now he works the evening shift from 3 p.m. to 12:30 a.m. Since the Bhutanese man doesn't drive, he waits in the parking lot behind AALV's office for a van that takes him to the Franklin County workplace.
"In our culture, most people don't speak English. They're scared to talk to American people," said Karki through an interpreter — his son, Anil. "What Chandra and Bhuwan are doing is really good for our community."
Of the two owners, Pokhrel has more experience running a business; he was a successful entrepreneur in Nepal. In the late 1990s, when he was in his teens, Pokhrel bought a camera and a bicycle so he could run a photography business to support his family. "From that time, I know how a business works," he said.
Later, in 2006, Pokhrel opened an internet café called Unique Cyber Café — the first of its kind in the vicinity of the camp. He had only one computer and one telephone line for internet access, but he used the café as a place to teach basic computing skills. In two years, Pokhrel's business grew enough to enable him to buy 15 computers and fax machines. In the meantime, more internet cafés sprouted around the camp. Some of the new owners were Pokhrel's former students.
In Vermont, he continued to be a trendsetter. Pokhrel described himself as the first Bhutanese refugee to get a job at IBM (now GlobalFoundries) in 2010. Once he was working for the electronics manufacturer, Pokhrel helped other members of his community apply for jobs there. In 2011, he became the first Bhutanese full-time staffer at AALV.
At BEA, Pokhrel handles the day-to-day operations. Those include completing job application forms, taking his employees to buy proper footwear and arranging for vans to transport those who don't live near a bus line or own a vehicle.
Sharma takes responsibility for business development, marketing and communications. A Nepali citizen, he arrived in the U.S. in 2011 after winning a green card through the Diversity Immigrant Visa lottery. Although this is his first experience running a business, the former journalist said he picked up useful tips while working for media startup companies in India and Nepal.
"There are no escalators in the house of success. You have to work hard," he said. "I saw my bosses burning the midnight oil." Two other keys to success, as he sees it, are putting employees first and remaining humble. "The day you let success get to your head is the day you start going downhill," Sharma said.
BEA currently operates out of Pokhrel's house in Essex Junction, but he and Sharma will soon be moving into an office in Burlington's Old North End. "That's where the concentration of refugees and immigrants are," Sharma explained. "People can just walk [to our agency]."
Pokhrel envisions creating a room in the new space where local Bhutanese can gather for religious festivals. That way, they can remain connected to their community.
The two men also want to expand their client base into industries with whom other employment agencies don't typically work.
"Our target population group is a good fit for entry-level jobs, considering their skill sets and language proficiency," said Sharma. "They can work as production operators, housekeepers, cleaners, security guards, cooks. Once companies hire our people, they fall in love with them because of their terrific work ethics."
Pokhrel's own industriousness seems to have served him well. True to his cousin's advice, he's found both struggle and success in the U.S. — and he's not slowing down. "I like to do something to go forward," he said.