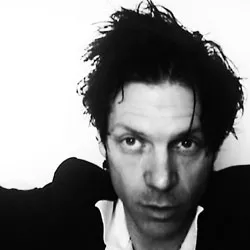 In the years since Dean Wells was first "discovered" by online tastemakers Pitchfork in February 2007, the lone conspirator behind the Capstan Shafts has developed into something of an indie-pop cult hero. His voluminous canon of lo-fi gems, including some 20-plus EPs feverishly recorded to CD-R and a smattering of (slightly) more proper album releases — all recorded while living in Lyndonville — has achieved a near-mythical status. And Wells has been cast as a near-hermetic backwoods savant.
He began writing and recording music in 1999 after seeing Guided By Voices — an acknowledged and obvious influence — at the original Higher Ground nightclub in Winooski. Cliché as it sounds, the Irasburg-born songwriter bought a guitar the next day and, without ever really learning how to play, began piecing together ideas that would evolve into the Capstan Shafts.
"I spent years collecting bits and pieces of things that weren't really songs — just little noises," says Wells of his early forays into songwriting. Though the substance of his output has certainly evolved since then — and he has relocated to West Virginia — his approach remains essentially the same. That is, he doesn't really have one. Wells describes songwriting almost as though he's siphoning ideas out of the ether.
"You pretty much just pick up a guitar and sing nonsense syllables until you like something," he says with a nonchalance predictable to anyone familiar with his music. "When you get your nonsense syllables to sound nice, you start putting the words in."
But it can't really be as simple as that. Or can it?
Next Tuesday, Wells will release the Capstan Shafts' latest, and decidedly most polished, album to date: Revelation Skirts. It's his third for NYC label Rainbow Quartz and is the follow-up to his 2008 release Fixation Protocols.
Longtime fans will instantly recognize Wells' clever, economical pop as classic Capstan Shafts. Indeed, the record is composed primarily of reimagined material dating back several years to his nearly no-fi, four-track recordings. It's a brilliant, deftly artistic work, in spite of an ultimately patchwork design. Or maybe because of the Frankenstein's-monster mashup that created it.
Matt LeMay is the Pitchfork critic widely credited with "breaking" the Capstan Shafts, a notion he finds dubious at best. As LeMay points out, his glowing, three-pronged review of Euridice Proudhon, The Megafauna Undermined and Her Versus the Sad Cold Eventually led only to a handful of new album sales — 10 or 15, tops.
"I don't know to what extent you could really say that [review] broke the Capstan Shafts," says New York-based LeMay, "so much as it maybe created the illusion that the Capstan Shafts had been broken."
Whether or not he's responsible for putting the Shafts on the map, LeMay can certainly take significant credit for shaping Revelation Skirts, the first Capstan Shafts album recorded in a studio, as well as the first to employ a backing musician: LeMay himself. In addition to producing and ostensibly arranging the album, he plays bass, drums, organ and guitar.
LeMay admits to becoming hooked on Wells' music the moment he heard it. Following that 2007 review, he contacted Wells about possibly collaborating in the future, and also to ask permission to cover a Shafts song with his own band. Later that year, he traveled to Vermont for Wells' first-ever live performance, an acoustic set at a church in Stannard. LeMay later invited Wells to perform in New York City, using his band as a backing group. This laid the groundwork for a musical partnership and, ultimately, Revelation Skirts.
LeMay doesn't see a conflict in his roles as a critic and musician. Instead, he views the seeming dichotomy as an asset because, as both a fan and a critic, he understands not merely that Wells' music is good, but why.
"He's a great lyricist," says LeMay. "He writes from the perspective of someone who is very knowing, both in terms of book-learning knowledge and emotional knowledge. But he does so in a way that isn't showy and obnoxious. He writes in a way that's intuitive but not obvious."
LeMay credits the album's quilt-like design with refining and illuminating those talents in a way Wells' previous works hadn't, or perhaps couldn't. He's also posited a crude formula for how several of those songs came to be.
"On some level you could say that three old Capstan Shafts songs compress into one new Capstan Shafts song," LeMay says, suggesting these newfound complexities lend Wells' work greater substance.
"The grace Dean brought to the shorter songs was only brought out more by having more transitions and pieces to work with," he explains.
Wells describes his evolution and increased polish in humbler terms, with an idea typically brilliant in its simplicity: This time around, he knew people would be listening.
"Originally, I didn't really imagine many people would hear my songs, so I probably wasn't as careful with them," he says. He confesses that at the height of his self-described songwriting "addiction," he would literally write and record an EP in the morning and mail it out to whomever would take it that afternoon. "If I had known more people were listening, I would have done it better."
Now he has, and Wells credits his increased attention to detail and editing. He still writes every day. But instead of using, say, 100 songs just because he can, he might judiciously record only 20. And, even then, only if he really likes them.
"I do try and be more substantial. It's more fun to make it more substantial, and that's when the change occurs," Wells says, before admitting, "But I'm very lazy, and if it's not fun, I don't do it."
Still, the crux of what makes Wells' music special remains unchanged. And preserving the rawness of those early Shafts recordings on Revelation Skirts was paramount, especially for LeMay.
"Some of Dean's strengths are very subtle, because it's indie-pop music. It's not like there are a million elements [that] are immediately impressive in and of themselves," he says. "It's a question of how things fit together. The subtle overlaps between vocal melody and the drum part, or just the way his words resonate with the music.
"There are lots of little subtle goodies," LeMay continues, "and the challenge as a producer was to find the best way to bring that out in the music without overpowering the nature of Dean's songwriting."
Not surprisingly, Wells offers a more straightforward solution to that challenge: "If you play the songs properly, it's not going to sound right," he suggests, addressing both his unconventional style and his philosophical approach to songcraft. "That's the most important aspect," Wells concludes: "Don't play it properly."