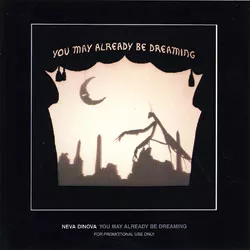 (Saddle Creek Records, CD)
Omaha darlings Neva Dinova have a handful of indie releases to their credit — including on the mp3-based Crank! — but You May Already Be Dreaming is their debut for hometown magnates Saddle Creek Records. The disc has an atmospheric twang that's hard to forget, and it holds up well alongside output from label mates such as Bright Eyes and The Faint.
The first three songs — "Love From Below," "Will the Ladies Send You Flowers?" and "Clouds" — bleed seamlessly into each other and establish the melancholic, alt-country vibe that haunts the entire album. "Supercomputer," the fourth track, begins with pseudo-spoken-word lyrics over hymn-like background vocals before swelling into a deliciously catchy, melodramatic epic.
The aptly named "Tryptophan" drags things down, even given the melancholia of the previous tracks. But they pick up again with the lilting "Squirrels." Here the vocals fade out as if recorded underwater, then snap back as sunny guitars counter the blue lyrics.
The heartbreak continues with a couple more songs. Then comes one of the album's shiniest gems: "What You Want." The tune has a steady beat with a delectable guitar lick running through it. The simple "Oh, oh" chorus lends itself to a drive-with-the-windows-down sing-along.
Neva Dinova then return to the kind of hypnotic ballads that define this release — "Funeral Home, It's Hard to Love You," and "No One Loves Me" — before launching into Dreaming's most ethereal and touching track, "Apocalypse." An aching, modern lullaby, the song slowly spirals into a vibrating, staccato guitar torrent. Another sweeping work, "A Man and His Dreams," closes the record.
A cohesive collection, You May Already Be Dreaming is consistently beautiful — mellow but passionate, and perfect for dusky summer nights. Catch the band live at Higher Ground's Showcase Lounge this Sunday, May 4, with Canadian indie-rockers Ladyhawk and Middlebury-based trio The Dead Jettsons.