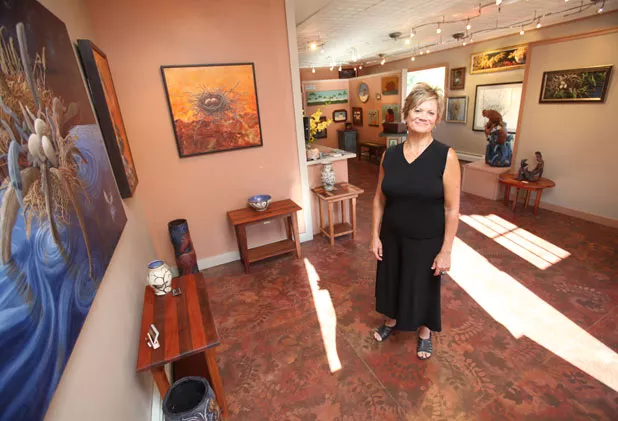 The 16-by-4-foot sunflower painting that caused a stir in Brandon last month is still hanging on the outer wall of the Liza Myers Gallery. The town's development review board decided to hold off on determining whether the work violates the town's signage regulations until it has a chance to rework the language of the ordinance. Meanwhile, it's the stuff inside Myers' gallery that really deserves a closer look.
Inside the downtown venue, the walls seem to come alive with images of the natural world. With Myers' own paintings of nests brimming with eggs, Molly Cantor's pottery hand-carved with wildlife scenes and the landscapes of local folk-art icon Warren Kimble, the gallery buzzes with vitality.
Certainly Myers' indefatigable spirit is partially responsible. On a recent afternoon, she flits around the gallery, tying up loose ends before she leaves for Santa Fe, where she'll lead her Castleton College students — she's an adjunct professor — on a three-month cultural immersion program. Myers has only just returned from 11 days in Peru, where she led another group of students and artists on a "creative journey." That was days after wrapping up her summer Aartz Workshops for kids in Brandon.
"Liza takes life in big bites," says her husband, Jim Germond, who runs a framing business in the gallery.
She's always been that way. Before opening her eponymous gallery about seven years ago, Myers was a full-time art teacher at Lothrop Elementary School in Pittsford, and traveled outside the state virtually every weekend to show her work. At the time, she was also framing it herself.
Eventually, she just needed to simplify.
"I had such a body of work, I needed a place to put it all," Myers explains.
Around the same time, art was becoming a creative-economy buzzword in her little town. The Brandon Artists' Guild had just wrapped up its first community art project — fiberglass pigs sited all over town — and people were talking about a Brandon renaissance. So Myers started renting space to show her work in a downtown building owned by Warren Kimble. About a year later, when the Center Street location became available, she and Germond bought it.
For the first two and a half years there, Myers exhibited only her own work. But when Kimble closed his shop, she agreed to represent him in her gallery, as well. Gradually, she has added other artists. The gallery now carries the lithographic jewelry of printmaker Daryl Storrs, Kimiko Yumoto's origami accessories, and gold and silver jewelry by Coliene Moore. Myers has exhibited work by her brother, wildlife photographer and environmental scientist Pete Myers, and plans to show photos by Simon Peterson, photo editor of Backcountry Magazine, later this year.
"I wish we had three times the space and we could have more [artists]," Myers laments.
As it is, the works she shows are compatible, with her own paintings dominating.
Perched on pedestals and jewelry cases are Myers' clay goddess sculptures, some with fully formed facial features, others without. It's a theme she's been playing with since she was 7 years old and sculpted a small, faceless Venus in art class. All the other kids, she recalls, were making ashtrays and mugs.
In her paintings, Myers keeps returning to the nest motif. At first, she says, her attraction was purely architectural. She loved the way the sticks and vines and debris wove together. But there was so much more to explore, she found.
"If you speak Swahili and I speak Norwegian, and we're walking through the woods and we come upon a nest, we would both be joyful," she says. "It's just a magical thing that has to do with nurturing and safety and new life."
For Myers, it also has to do with identity. The daughter of an "adventurous engineer," she spent much of her childhood in Central and South America. Her five siblings grew up to be scientists and birdwatchers. Myers can rattle off the names and migratory patterns of all the birds whose nests she paints. Most of the birds that nest in Vermont spend winters in the countries of Myers' childhood, she explains, pointing to a print of an oystercatcher nest filled with eggs and an indigenous mask — which, she imagines, the bird could have passed on its journey.
"Nests connect us," she says.
Despite the brouhaha that erupted after she hung her large sunflower painting on an exterior wall, Myers' work is anything but controversial. The same could be said of her gallery, which seems to be fueled by the very spirit of community and connectedness that drives the Guild's annual art project.
Addressing the outcome of her little controversy, Myers says the town's decision to revise the language of its ordinance will benefit the entire community.
"We artists have spent a great deal of time and energy in Brandon using our creative skills to support the community and to contribute to the town's culture, schools and economy," she says. "The arts are good for everyone. It's a relief and validation to know that the town is working to support our efforts."