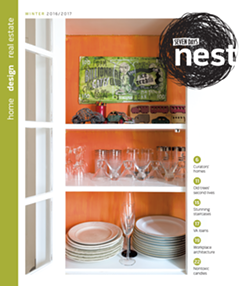 Oliver Parini | Brooke Bousquet
'Tis the season ... to stay inside. Both at work and at home, it's time to go inward, seek light and create welcoming spaces. This winter edition of Nest focuses on all things interior, cozy and warm. Case in point: We introduce you to three Vermont candle makers helping to light up these dark days and nights.
Also in this issue, three local curators inspire us with their personal collections and living quarters — because a home is not just your castle; it's also your gallery. Bristol's John Monks similarly sparks our imaginations with Vermont Tree Goods' one-of-a-kind furniture, milled from (very) old trees. In Stowe, the woodworkers at Sterling Staircase and Handrail have carved out a special niche with high-end stairs and rails.
Most of us spend about a third of our time at work, so we talk about office design in this issue, too. Arocordis Design configures office space with company culture in mind — take a look at its work on American Meadows' new home office in Shelburne.
Thinking about buying a home? If you're a veteran — or still enlisted — a Veterans Administration loan will make the process easier. One Williston vet explains how the loans worked for him.
Happy winter — and happy reading!