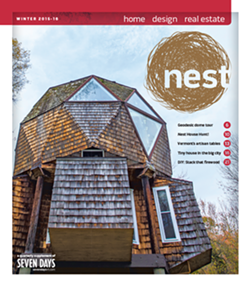 Tom McNeill
Mike and Michaela Whitty's geodesic dome in Weathersfield.
Cold temps make winter the perfect time to nest. That's why we're thinking about cozy abodes in this issue of Seven Days' quarterly supplement about home, design and real estate.

We start with a tour of Weathersfield's geodesic dome — aka "the spaceship golfball house." In "Dome, Sweet Home," writer Amy Lilly guides us through a spherical structure erected as a ski house in 1976. These days, two young professionals call it home. They explain how the unusual shape helps it hold in heat.
In "Tiny in the City," we peek inside another snug living space: a 400-square-foot "tiny house" in Burlington's South End. Writer Molly Walsh explores whether super-small houses are truly viable in a city setting — and if they're a possible solution to Burlington's housing shortage.
Speaking of the housing market, we continue our Nest House Hunt! series, in which we tag along with first-time home buyers. Newlyweds Nick and Jessica are seeking an older house with character; follow their story as it unfolds at sevendaysvt.com.
For those already settled, winter is a prime time to hunker down and spruce up your interiors. In "Tabletop Exercises," we introduce you to three Vermont artisans who are creating some flat-out fantastic tables. Would one of them work in your dining room?
Finally, aspiring woodchuck Ken Picard offers beginner's advice on storing firewood in this issue's DIY tutorial, "Stacking Up." Take it from him: You don't have to be a lumberjack to master that woodpile!