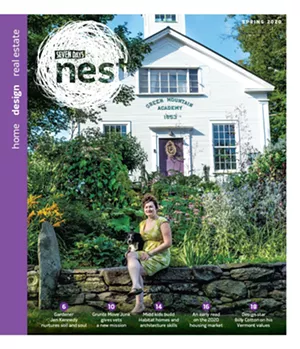 Glenn Russell | John James
The word spring is so hopeful — as a season and a verb, it connotes bounding back. As Nest goes to press, the world is facing a pandemic. It's moved so fast, our features for this issue were written before the word coronavirus was on everyone's mind. But spring will still arrive, and we will rebound.
In a spirit of optimism, may you find welcome distraction in our lineup of stories: visiting a master gardener and her gloriously floral property in Underhill; chatting up a veteran dispatcher of stuff at Grunts Move Junk; the official 2020 Vermont real estate prognosis (spoiler: it's still a seller's market!); an impactful collaboration of Middlebury College architecture students and Habitat for Humanity; and a Q&A with Billy Cotton, recently named creative director of Ralph Lauren Home, who gives props to his Vermont roots.
Now, go wash your hands and think about digging in the dirt real soon.