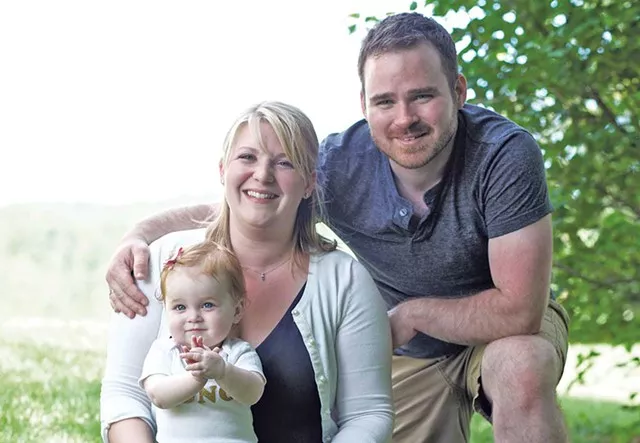 Courtesy of Ben DeFlorio
Ashley and Dan Farren with daughter Aria
Nest House Hunt follows first-time home buyers on the search for their dream homes.
In our fall issue of Nest, we introduced you to the Farren family. Ashley and Dan Farren, both 29, were looking for a $200,000 starter house in Chittenden County, a fixer-upper with a nice yard for their 4-year-old dog, Lucy, and close to a good school for their young daughter, Aria. Time was not on their side: With their rent about to increase, they were hoping to relocate by December.
Good news: After three years of looking, the Farrens have finally found their new home.
Courtesy of Trulia.com
Yard of the Shelburne home. Says Ashley: "The yard already had good landscaping, and it is completely fenced in, which is perfect for our dog and Aria."
It's a three-bedroom, two-bathroom single-family home in the heart of Shelburne Village — within walking distance to the school, library, coffee shop, farmers market, Shelburne Museum and the dog park.
Sounds sweet. How'd they land it? By learning from past experience, and having the right realtor and broker guiding the way.
"The house went on the market and, within 15 minutes of it being listed, Pat [O'Connell of Four Seasons Sotheby's International] scheduled us to be the first people to see the place," explains Ashley. "From our experience, we knew that we would have to be quick to scoop the place up. In the three years we have been looking, we hadn't seen a Shelburne home, let alone [one] in the village, that we could afford. Needless to say, we were both excited and yet apprehensive, [hoping] that something wasn't horribly wrong with it."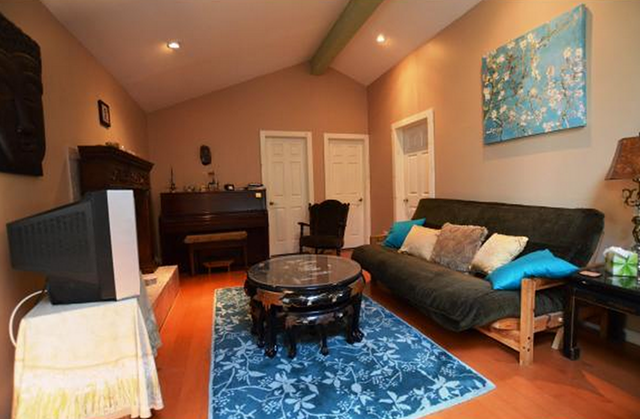 Courtesy of Trulia.com
Living room of the Shelburne home. "We really grew accustomed to the [fireplace] in our apartment," says Ashley, so having one in the new home is "a nice bonus."
After checking in with their broker to make sure they were financially able to go for the home, the Farrens went to the showing with an offer letter in hand — "just in case we liked the place," says Ashley.
And they did. "The house was very well laid out, with every square inch being efficiently used," she notes. "It was a little bit smaller than what we had hoped for, but in our experience, within our price range, we found that the larger the home, the more work it needed.
"We put in our best offer, not wanting to miss out," she continues. But it was turned down. The seller had several more showings scheduled that weekend and was hoping to receive a higher offer. "We were disappointed," says Ashley, but they'd been turned down before and were prepared for it. "We had been cautious about getting our hopes up," she adds.
Still, they left the offer open through the weekend. "Pat told us that the seller just needed to feel the market, and maybe after the other showings, our offer would look better," recalls Ashley. "Turns out he was right!" Their offer was accepted soon after.
Courtesy of Trulia.com
Kitchen of the Shelburne home. "We really liked the open concept," says Ashley. "The island is particularly a nice feature, since instead of a dining room there is a third bedroom. Hardwood and granite definitely were a plus — oh, and those stainless steel appliances really sealed the deal."
"I can't stress enough how important it is to have a good team helping you," Ashley says. "Pat had told us to be patient and we could get the home we wanted, and he was right. This is the home we had been waiting for but [had] kind of given up on getting."
This isn't the only happy news for the Farren family: Ashley and Dan are expecting a baby boy in April. "Dan is happy to have more strength in numbers, but he is still very outnumbered," jokes Ashley.
Congrats, Farrens! To celebrate their new digs, we're giving them a housewarming present: $250 to Gardener's Supply in Burlington or Williston.
---
Follow along!
We'll keep you posted on our House Hunters' progress on our website at sevendaysvt.com and in our biweekly e-newsletter, Nest Notes. (And if you haven't signed up for Nest Notes yet, you can do so at sevendaysvt.com/enews. It will arrive in your inbox every other Friday with tips on home, design and real estate.)
Would you like to be the next Nest House Hunter?
If you're a prospective home buyer, let us share your progress, learn from your experience and, ultimately, help you celebrate with a gift to "warm" that new house. All you'll have to do is keep a few notes, check in with us once a week and send photos!
Who's in? Contact us at nest@sevendaysvt.com.