Matthew Thorsen
Tandoori Chicken
Every dish at Nepali Kitchen is a taste of home for Jeetan Khadka. Along with tens of thousands of other ethnic Nepalis, the Bhutan-born restaurant owner was stripped of his citizenship in the early 1990s under the country's "One Nation, One People" policy. He and his family lived for nearly two decades in refugee camps before resettling in Vermont in 2008.
Matthew Thorsen
Momo dumplings
Nepali Kitchen, opened in Essex Junction in 2016, has enabled him and his wife — co-owner and chef Shreepali Rajbanshi — to earn a living in America, and to share their love of traditional cooking with new neighbors. They're adding a Burlington location in May 2018.
The restaurant walls are painted deep orange, and a scroll entitled "The Paradox of Our Age" shares wisdom from the Dalai Lama: "We have become long on quantity, but short on quality. These are times of fast foods but slow digestion."
Not so at this restaurant: The Indian and Nepali cuisine is crafted with care. The mango lassi is laced with aromatic cardamom — one of the world's priciest spices — and sprinkled with snowy coconut. The curries are robust and full of flavor. The lamb saag — tender cubes of meat cooked with spinach and tomato — is fragrant with ginger and cumin. The rosy sauce on the chicken tikka masala is silky and rich with tandoori spices.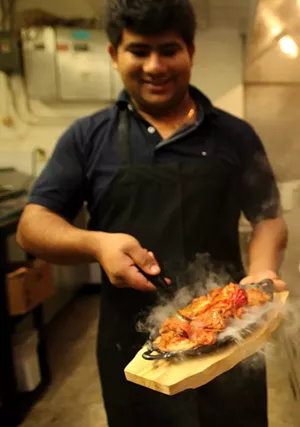 Matthew Thorsen
Jeetan Khadka
Himalayan cooking is rare in Vermont, and Nepali Kitchen offers something to please every palate. The gundruk soup is made with dried, fermented mustard greens, but less adventurous diners might try thukpa — the Nepali take on noodle soup. Other mild options include fried rice, chickpea-battered onion rings, and momo dumplings stuffed with fresh or fried vegetables or chicken.
Spicy or not, these dishes are long on flavor. And, despite the Dalai Lama's paradox about fast foods, they're delivered swiftly. How? The chefs arrive at 7 a.m. to simmer them slowly all day. At Nepali Kitchen, you can have the best of both worlds.