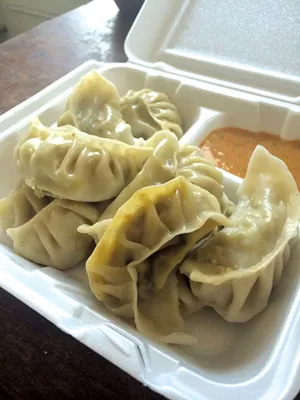 John James
Dumplings at Nepali Dumpling House
Over the past three years, Jamaican jerk chicken, Somali injera and stews have been on offer at 78 North Street in Burlington. Since last Saturday, momos — or a variation thereof — have taken over the menu. The storefront previously known as Cool Runnings, and then as African Safari Market, is now Nepali Dumpling House.
Owner Goma Khadka has turned the space into a veritable Nepali general store; it's filled with goods of use to the expanding local Himalayan community, including native clothes and jewelry. Imported grocery items will come later, says Khadka's husband, Ratna.
For now, the small kitchen in the back of the store is turning out Nepali-style dumplings. How do they differ from Tibetan momos? "In Tibetan culture, they don't add spices," explains Ratna. "I add lots of spices. It's different in taste and different in the content of what we add. The size of ours is also a little bit bigger."
The Khadkas are starting with vegetarian and chicken-filled momos, though Ratna says they are happy to fill special orders for pork dumplings. The handmade delicacies are steamed over a pot of clear soup.
Diners can take their momos served in the soup or on their own. Either way, the Khadkas pack their dumplings with traditional dipping sauce — mild or hot and spicy.
Each dumpling order includes a free soft drink or bottled water, says Ratna — but what it doesn't include is a place to settle in. Nepali Dumpling House may eventually get a dining table, but for now, the homemade dumplings are available for takeout only.