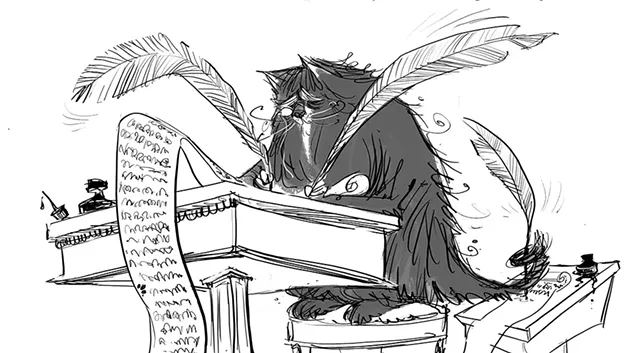 Anyone who's parented young children in the last decade has probably seen Frozen more than a few times. The Walt Disney Pictures release is the highest-grossing animated feature of all time. But if the movie's icy landscapes look strangely familiar to Vermonters, that's not just because of repeat viewings. Kevin Harkey, the storyboard artist who drew many of Frozen's characters and wintry scenes, took inspiration from the environs of his Northeast Kingdom home.
"Things from home end up in the film," he said. "That's just how it is."
While Harkey isn't a household name, his work portfolio is a veritable who's who of the animated blockbusters of the past 30 years: Beauty and the Beast (1991), Aladdin (1992), The Lion King (1994), The Hunchback of Notre Dame (1996), Tarzan (1999), How to Train Your Dragon (2010) and Frozen (2013), to name a few. His latest credit, UglyDolls, will be out in May, and he's currently working on a new Curious George project.
Yet Harkey rarely toots his own horn, leaving that task to his wife and fellow artist, Susan Kelley Harkey. The Long Beach, Calif., native is a humble and soft-spoken guy who has lived in Vermont with his family since 2002. During a recent interview at the couple's Orleans County home — they asked that their town not be identified — Harkey often sat hunched on an ottoman with his hands sandwiched between his knees like a penitent schoolboy.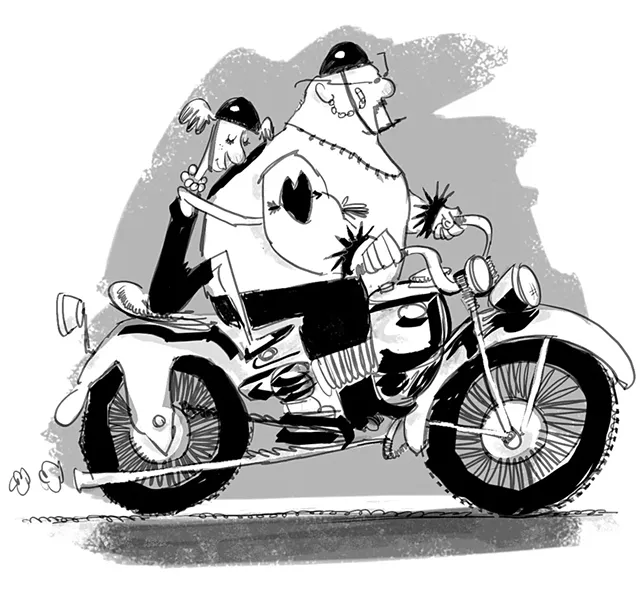 Despite his modesty and aversion to Hollywood-style self-promotion, Harkey has carved out a successful film career from this remote Northeast Kingdom location. The couple's large kitchen windows overlook an almost Disneyesque setting: Waterfalls cascade through their backyard past remnants of an old mill, separating their property from an alpaca farm on the opposite hillside. From here, Harkey has turned simple pencil sketches into expressive, three-dimensional characters whose cartoon antics are recognized the world over.
In film-industry parlance, Harkey is an animation story artist. He creates the blueprint of an animated movie by taking its script, or sometimes just a story outline, and illustrating it as a storyboard, which is like a digital version of a comic book or graphic novel.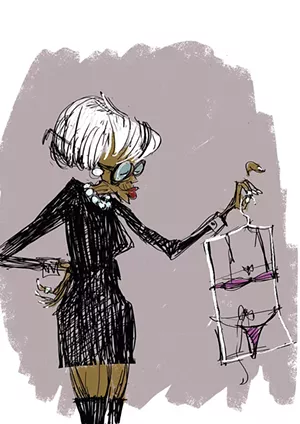 The storyboard, Harkey explained, sits "at the top of the pyramid" of each animated film project. The storyboard artist calls the shots on the film, deciding — with input from others, especially the director — how the characters will look, how they'll move, and from which angles and perspectives they'll be seen, be they panoramas, close-ups or bird's-eye views. Once that blueprint is in place, other departments fill in the movie's other components, including backgrounds, dialogue, soundtrack and, ultimately, the animation that puts characters and objects in motion.
In other words, a storyboard artist can have considerable storytelling power. "Sometimes the best situation is where, rather than working with a script, somebody gives you a topic sentence and you get to run with it," Harkey said. "It's the closest [thing to] being a director — without having all the burden of being a director."
Harkey often gets what his wife called "a million-dollar sentence" to illustrate. (That's a reference to the film's production costs, she clarified, not to what Harkey earns.) On Tarzan, for instance, he was asked to draw a chase scene involving Jane. In the original script, Jane was chased by Sabor, the leopard that killed Tarzan's parents, but later drafts killed off Sabor in the first act. So Harkey had to devise a new way to put Jane in peril.
To do so, he drew from a memorable horror movie of his youth: The Omen. In a scene from the 1976 classic, Damien, the Antichrist child, is riding through a safari park with his family when their car gets attacked by a troop of screeching baboons.
"Those baboons scared the heck out of me when I was a kid," Harkey recalled. "I was like, Wow! What if Jane is chased by baboons? I didn't even know if baboons live in Tarzan's environment. Maybe they're desert dwellers. But we're going to throw them into this anyway."
The nearly four-minute baboon chase that Harkey storyboarded, which ends with Tarzan rescuing Jane, is among the film's most memorable scenes — and one of his proudest achievements.
Animated films usually have multiple storyboard artists. On The Lion King, Harkey was one of about 12, though he said he's worked on major projects that used as few as four. Once Harkey was involved in a production that had 26 artists storyboarding a feature-length script in just two weeks — a process that normally takes six to eight months, he said.
How does Harkey decide what the characters should look like? That process varies widely from project to project, he said. When he started work on Disney's 2003 Brother Bear, actor Joaquin Phoenix had already been cast as Kenai, a young Inuit hunter who kills a bear and, as punishment, is magically transformed into one. Harkey recalled with bemusement the minimal instruction he received on the bear's appearance.
"'You know how Joaquin Phoenix acts? Make him look like that,'" Harkey remembered being told. "I'm like, pardon me? If you had John Goodman playing the bear, I'd know how to make the bear act like John Goodman."
Far easier, Harkey said, was deciding how to draw Tarzan's Jane, who was voiced by Minnie Driver.
"OK, she has attitude. You hear it in her voice. I know what to do with her," Harkey said. "Before that, I didn't know who Jane was."
Regardless of the project, Harkey said, he always starts the process by drawing in pencil on sticky notes and sketch pads. He often sketches characters to pass the time in doctors' waiting rooms, shopping malls, even at church.
"When you're at the supermarket or Costco, it's fun to draw the people in those environments," he said. "You wouldn't believe the head shapes you can see out there!"
Harkey bemoaned the fact that Hollywood studios keep recycling "the same basic princess head" over and over again. "There are so many shapes out there that haven't been explored that are so beautiful," he said wistfully.
Despite his remoteness from the West Coast, Harkey has maintained a strong relationship with film studios there in part, he suggested, because he's never involved himself in Hollywood politics. Two decades ago he was among the first storyboard artists voted into the Academy of Motion Picture Arts and Sciences, which casts the Oscar ballots. The couple attended one Oscar ceremony, though Harkey couldn't remember when. "I think Steve Martin was the host," he said.
Regardless of the story he's telling, Harkey leaves an impression — not just on audiences, but on his colleagues.
"Kevin is the king of making characters appealing and funny. His drawings appear effortless, yet they represent a skill level far beyond most artists," wrote Doug Walker by email. He's an art director and longtime Harkey collaborator whose own screen credits include Disney's 2016 Moana. "He turns simple words from a script page into drawings that capture everything that was written," Walker continued, "while also adding a level of emotion and sophistication few artists can match."
Brenda Chapman, who won an Oscar and a Golden Globe Award in 2012 for writing and directing Brave, has worked with Harkey on numerous projects over the past 30 years, including Beauty and the Beast and The Lion King. In an email last week, she described him as "always a pure pleasure" to work with.
"His ability to combine humor, action and amazing camera angles and movement never ceases to amaze me," Chapman wrote. "He is so incredibly talented. But the best thing about Kevin is his heart and humor — in his work and his professional relationships with his colleagues."
The Northeast Kingdom was an unlikely destination for Harkey and his wife, both of whom grew up in southern California.
Susan has a master's degree in drawing and painting from California State University, Long Beach, and honed her portraiture skills in the United Kingdom. Harkey, who earned his bachelor's degree at California State University, Fullerton, got a job with Disney right out of college in 1981. Though he's worked for other studios, including DreamWorks, Lucasfilm and Warner Bros., Disney has been his most consistent employer.
Harkey admitted it'd make a great story if he'd dreamt of working for Disney since he was a boy, but that wasn't the case. "I love drawing — but, I hate to say it, I was more motivated by the paycheck," he said. "But once I stepped into the studio and saw the drawings, boom! That door opened, and [I realized] this is what I want to do."
Susan and Kevin met in a California restaurant in 1988 and spent their first date drawing animals at the Los Angeles Zoo.
"What drew me to her was that she always used to draw at parties," Harkey recalled. "I'm a wallflower, and she's a bit of a wallflower. I thought, This is kind of a neat way to interact with people at a party. It's like a performance in a way."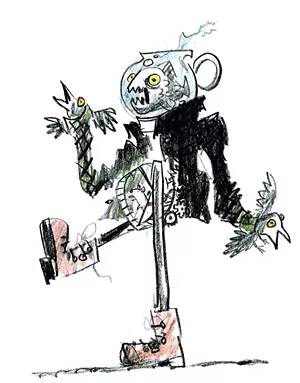 For years, Susan made a living painting family portraits for affluent clients. While her specialty is realism, Harkey prefers drawing caricatures — which, he noted, have occasionally landed him in hot water.
"There was one time when I drew someone and the lady threatened to have her husband beat me up. She was mad," he recalled with a laugh.
"He gave her a big nose," Susan explained.
In the early 2000s, Susan picked up a travel book about adventure vacations, which included a farm in Enosburg Falls, Vt. The couple vacationed there with their two kids, and Susan fell in love with the state.
In 2002, the couple bought a house in Montgomery and agreed to try Vermont for two years. They founded the Day Moon Art Center and Retreat there and, though they eventually sold that business and their Montgomery home, have remained in Vermont ever since. Their daughter, Shannon Harkey, is a tattoo artist in Winooski. Their son, Hollis Kelley, is a food ingredients broker in the San Francisco Bay Area.
Harkey's work has changed considerably over his long career, which saw the industry's transition to computer-generated imagery. He had to learn Toon Boom Storyboard Pro, an animation program that all the major studios now use.
Many of his storyboards look like "mini film reels," he said, incorporating dialogue and animation. While such advances have dramatically sped up the production process, he said they've also put pressure on artists like him to work on ever-shorter deadlines.
Ultimately, though, in Harkey's view, the fundamentals of animation haven't changed much. It's all about conveying personality through telling detail.
"You can copy from a photograph and get a likeness," he said. "But if you can get that certain head tilt, that certain pose or the way someone holds their hands ... that's the coolest thing. It takes you one step beyond a portrait and breathes life into it."