molly walsh
Chris Pike standing near signs he posted
There's no sign announcing that Sparks Pit is a firing range, but gun enthusiasts head to the scrubby clearing in the Green Mountain National Forest to shoot at paper targets and makeshift ones: beer cans, car doors and old televisions.
Neighbors on the dirt road next to the former gravel pit in Ripton want a cease-fire. They say the informal range, where many local youths learned to shoot, has become noisy, dangerous and too popular with outsiders. They also say bullets fly perilously close to a forest road used by walkers and hikers in summer and skiers and snowmobilers in winter.
The selectboard of the mountain hamlet near Middlebury agrees. Last month, its members wrote a letter asking the U.S. Forest Service to ban shooting there. No one has been hit, but selectboard member Perry Hanson is no longer comfortable bicycling past the pit.
"It's not good," he said.
So far, federal officials haven't heeded the call. They point out that Addison County has many hunters but no designated firing range and that shooting is lawful in the 400,000-acre Green Mountain National Forest.
"There is nothing about Sparks Pit itself that is inherently unsafe to practice shooting in," said John Sinclair, forest supervisor of the Green Mountains and Finger Lakes National Forests.
Sparks Pit is a sandy clearing shaped like a shallow bowl and surrounded by low embankments. No houses or roads are visible from the pit. Seven Days visited the site with neighbors Chris Pike and Tom Draude on September 20.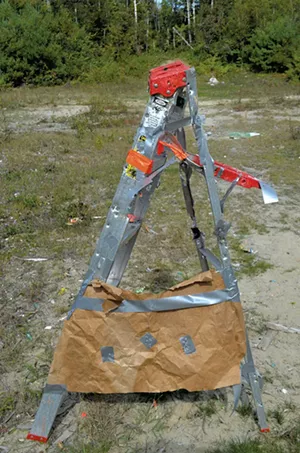 molly walsh
Shot-up stepladder
Nobody was firing, but the smell of gunpowder lingered in the air. Two main targets had been set up in a straight-shot lane in front of a small berm of earth. One of the targets, at 50 feet, was a bullet-riddled metal stepladder on which people may set cans.
At 100 yards, five paper targets were attached to a propped-up wooden pallet. The bull's-eyes had just one or two hits, and that's part of the problem, according to critics. They say scattered, inaccurate shooting is sending bullets too close to Forest Road 54, the dirt lane that is about 150 feet from the pit. Pike noted bullet holes in trees that show people sometimes fire toward the road.
"This is not what responsible shooters do," said Pike, pointing to spent shotgun shells, shattered clay pigeons, shot-up playing cards, shattered beer bottles and even a frying pan battered by bullets. "It's pretty bad."
The former firefighter lives a five-minute walk from Sparks Pit with his wife and two children. He owns several guns. But he doesn't fire them in the pit, and he's pushing to end target shooting there.
Draude lives even closer — about 200 yards from the pit's entrance. He, too, wants it closed to shooting.
The retired property manager built his log cabin back in the 1980s and recalls that gunshots then were occasional. Long ago, he shot his gun at Sparks Pit. And Draude and his wife would sometimes go there to watch the sunset, because the clearing opens up a patch of sky amid the dense tree canopy.
"It was nothing like this," said Draude as he walked the pit with Pike. "People used to sight their guns for hunting and it took four, five shots and you're done."
Those were the days when Sparks Pit was a local secret. But it's now mentioned on internet sites, including ones frequented by shooters in neighboring states. According to Pike, the Three Percenters militia group held a training exercise there a few years ago. Seven Days reached out to the group via email but did not hear back.
Target shooting in gravel pits is a time-honored tradition in Vermont, because the pits have earthen backstops that absorb bullets. Though the pits are not designed as ranges, some local officials make little or no fuss about the practice.
But controversies about both informal and designated ranges have surfaced in various towns, including Williston, Charlotte, Goshen and Lincoln.
And now, complaints are increasing in Ripton, where shooters arrive with rounds and rounds of ammo and fire day and night, sometimes leaving empty bottles of Budweiser behind. Draude doesn't shoot there, saying he doesn't want to be part of what he considers irresponsible behavior. One of his concerns is the shooting of explosive targets, as evinced by an empty jar of the powdered explosive Tannerite on the ground at the pit.
Some shooters revel in the loud booms. The neighbors? Not so much.
"It's equal to half a stick of dynamite," a glum Pike said as he pointed at the Tannerite jar. "That shakes the windows in our house."
About six miles away from Sparks Pit on Route 7 in Middlebury, Vermont Field Sports sells a full range of firearms and ammo. Its walls are decorated with stuffed wildlife: bass, buck, bear and fox.
Store manager Greg Boglioli has heard complaints about Sparks Pit. Some of the trash at the pit last Wednesday, including the empty jar of Tannerite, had price tags from Vermont Field Sports. Boglioli said the store stopped selling the stuff this summer after complaints.
"People were getting uptight about Tannerite," he said. And the explosive serves just one purpose, he explained: "They just want to hear a bang."
The days when you could just go out your back door and shoot, or use a neighbor's property, are long gone, Boglioli said. Everybody now is worried about liability, and fewer people are allowing shooting on their land, he said: "I think it's getting harder."
Boglioli would love to see a designated range in the county. "If you want to make a real range with real benches, with real targets ... I think anybody in this store would say 'thank you.'" Several customers, pressed up to a counter laden with rifles, nodded in agreement.
Until that happens, it would be wrong to shut down Sparks Pit, he said.
"It's public property; it's forest land," Boglioli said. "Open is open."
There are no designated shooting ranges on the Green Mountain National Forest land, but the feds are working with the state Fish & Wildlife Department to change that. Earlier this year, they jointly proposed making another informal shooting range in a gravel pit known as Cobb Hill in Lincoln, just a few miles from Ripton, an official range.
But the public panned the idea at Town Meeting Day in March over concerns about additional noise and danger, and it was dropped. Shooting continues at Cobb Hill — unofficially — and government staffers are still looking for another site in Addison County.
It's not easy to find a place. While the Green Mountain National Forest has natural berms, much of the rest of the county is flat, and you'd need to build a "big backstop" to prevent projectiles from escaping the range, said Daneil Pieterse, shooting range and hunter education specialist for the Fish & Wildlife Department. Indoor ranges are cost-prohibitive because they need sophisticated air-filtration systems to reduce lead fumes and dust from bullets, he explained. The state looked at building a range at the Dead Creek Wildlife Management Area near Vergennes, but that turned out to have various sensitive plants and other challenges, Pieterse said.
molly walsh
Frying pan used for target practice
So the search continues. Like the Forest Service's Sinclair, Pieterse said he thinks Sparks Pit is safe. And if it were to close, it would only move shooting elsewhere, he suggested, possibly to a less safe place.
Under federal law, Sinclair has the authority to close certain parts of the forest to shooting. In some other states, informal ranges on federal land have been shut down and even had expensive cleanups to remove lead pollution from thousands of bullets.
Pike and other neighbors want Sparks Pit to be tested for lead pollution, but so far Sinclair is refusing. The Forest Service stopped removing sand or gravel from the pit about 15 years ago, so any lead is contained and not leaving the pit or threatening groundwater, Sinclair said. Pike, in response, argued that the forest official could not know for sure without testing. He plans to test his well for lead.
Sinclair is proposing changes. He's seeking approval from forest legal counsel to prohibit shooting at Sparks Pit from dusk to dawn and to ban explosive targets such as Tannerite. Sinclair said he's also trying to step up the very occasional visits from forest service and partner agencies to discourage drinking.
But there are just two forest service enforcement personnel for the whole Vermont forest, and the district ranger, based in Rochester, has a vast area to monitor. The closing of the Middlebury Ranger Station in October to save money won't affect monitoring of Sparks Pit, Sinclair said. The staff there will move to the Rochester station.
That's not good enough for Pike, who set up a tour last Friday at Sparks Pit for selectboard members, Sinclair and others. In connection with the visit, the Forest Service put up new signs encouraging safe shooting at the pit, but otherwise there was no immediate action. Pike worries about his children walking in the woods.
"When we moved up here, I had no idea this was here," said Pike, who moved to Vermont from Connecticut and built his home near the pit in 2013. "I would not have moved here had I known."
He's holding out hope that change will come. "I love this town," said Pike. "I don't want to leave it."