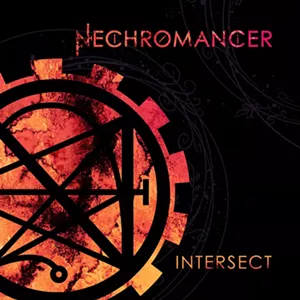 (Self-released, CD, digital download)
Nechromancer's debut album, Intersect, arrived on my desk in a numbered, handmade envelope fastened with a satanic, crimson wax seal. I almost didn't want to open it, partially because it was so nicely packaged, but also because I thought doing so might unleash a demonic entity. As far as I can tell, no specters escaped.
The Burlington-based goth-industrial band is fully committed to its creatures-of-the-night shtick, right down to its members' dark alter egos: Vile Heathen (lead vocalist/guitarist Joshua Perrin), Wreythe (keyboardist Aislynn Taber), Johan (drummer John Elwert) and Vetica (keyboardist and sample specialist Matthew Binginot). If Fangtasia, the fictitious vampire nightclub on HBO's "True Blood," had a house band, it would be Nechromancer.
The foursome specializes in electronic body music (EBM), a subset of European new wave rooted in industrial music with metal tendencies that had its heyday in the 1980s. The record is a potent elixir of heavily filtered vocals, grandiose guitar chords, arpeggiated synths and morose lyrical content. It's a relentless onslaught of darkness, with each element peaking continuously throughout. There's no rest for the wicked, right?
Like an elevator plummeting into hell, the record opens with the pulsing, fractured instrumental track "Activate." It quickly transitions into "Horns," an up-tempo, synthy disco dance with the devil. Vile Heathen conjures wiry guitar licks as he croaks his first incantation.
The most aggressively titled track, "Fuck Yourself," is actually the lightest on the album, at least in terms of production. It treads on Depeche Mode territory with its bouncy concoction of round, synth bass and fizzy electronic hi-hats. The beat doubles at the chorus as the singer declares, "Go fuck yourself if you're so desperate / Go fuck yourself if you're alone."
"Vampire Queen" is an exultant ode to a dark, Elvira-like wraith: "Hail to you, my vampire queen / Hail to my macabre mistress." Between oozing sentiments, a damning guitar solo somehow communicates amorous feelings better than any glowering verbiage.
"Blood and Teeth" is a sadomasochistic romp that shows the band's extremes: The verse puts subdued, fingerpicked guitar over oscillating electro-bass, while the chorus expands into full-blown metal madness. Vile Heathen bellows, "My goal is to hurt you / Enough to make you want to hurt me back."
In case you hadn't picked up on it, Nechromancer are about as heavy-handed as a lead glove. The band's devotion to its contrived world of darkness and foreboding is simply adorable, like a scowling high school freshman who just picked out his first Hot Topic T-shirt. But in a region where bands whose members don black eyeliner and choker necklaces are seldom seen, they stand unopposed as the local reigning champs of goth.
Intersect by Nechromancer is available at nechromancer.bandcamp.com.