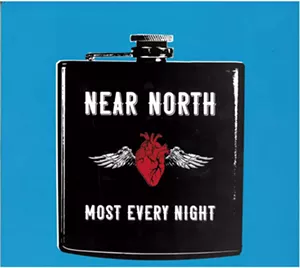 Near North, Most Every Night
(Self-released, LP, digital download)
Franklin County power trio Near North took their sweet time releasing a full-length album. They dropped their debut EP, Get Loud, back in 2012 and followed it two years later with another EP, On the Rafters. You'd think their first LP would offer a wholly new collection of songs, but Most Every Night is essentially an exercise in cleaning house. In addition to some newer cuts, the record pulls a selection of older, previously unrecorded material from the band's back catalog, as well as a peppy reinvention of its first EP's title track.
Flirtations with country, punk and surf-rock buoy the group's chunky alt-rock sound. Vocalist John Nicholls sings with the fervor and desperation of a young Bruce Springsteen. Hooks are anthemic and utterly singable; guitar tones are dialed in to perfection. Despite its piecemeal inception, the record feels cohesive. And it rocks. Hard.
The opening track, "Come Kiss Me," burns like a five-alarm fire. A scintillating guitar lick serves as tinder for the blaze, and Nicholls' distressed voice pours gasoline all over it. Drummer Chris MacKinnon and bassist Joe Schmidlen arrive shortly thereafter for a volcanic eruption of feedback and thrashing ferocity.
"Saved" is a contemplative, perhaps self-deprecating, mid-tempo march. Psychedelic, reversed guitar lines unfurl over four-on-the-floor beats and metallic riffs. The track shows off the trio's dynamic range, both in terms of production and songwriting. It's fierce and full-blown at its peak but also reverts to a somber space for Nicholls' quiet yearnings.
They probably didn't realize it, but Near North have entered the unofficial competition for Vermont Single of the Year with "Good About You." Swap Nicholls' vocals for Belinda Carlisle's, and the song could easily be a long-lost cut from the Go-Go's 1984 record Talk Show. On more than one occasion, the instruments completely drop out, putting emphasis on the giddy-as-hell hook: "I feel good good good / Good good good about you!"
The reinvention of "Get Loud" trades the original's slow, gently swung beat for an up-tempo, ska-inspired rhythm. Surf chords distance it from the old version's down-home vibe.
Most Every Night is not a perfect record. Certain songs have melodies that tend to hover around a small grouping of notes (sometimes just one note), and a couple of tracks feel interchangeable. But memorable choruses and unbridled intensity eclipse any monotony these shortcomings elicit.
Most Every Night is available at nearnorth.bandcamp.com. Near North celebrate their album release on Saturday, October 7, at the Monkey House in Winooski.