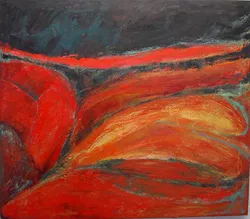 EXHIBIT: Maggie Neale: "Evolution and Expression" a gathering of paintings. Vermont Arts Council, Montpelier. Through May.
ARTWORK: "What Lies Below" by Maggie Neale
In her new show, entitled "Evolution and Expression," Montpelier artist Maggie Neale affirms what Abstract Expressionism founders Mark Rothko, Adolph Gottlieb and Barnett Newman said in a 1943 manifesto: "There is no such thing as a good painting about nothing." Neale's works are great paintings rooted in Abstract Expressionism, and they're about very much indeed. As she explains on her website: "My work is based on color and texture . . . I want to address the communication between forms, show the dance or movement, and let that movement keep happening." Neale handily achieves those goals in the 37 pieces on display at the Vermont Arts Council offices. She has another show, "Experimental Foot Steps," a few blocks away at The Shoe Horn.
Most of Neale's paintings are nonrepresentational, but a few, such as "Corridor," are not. The 34-by-28-inch canvas from 2006 presents, in one-point perspective, a hallway with colonnades on either side. The passage seems to be cut into a gray cave, or perhaps the dark interior of a Romanesque church. A barrel-vaulted ceiling fills the upper two-thirds of the composition. The lower third is a roughly textured, raw sienna floor, layered over a cold bluish-gray. Along the chamber's far right wall, on an adjacent column, is a strangely expressionistic portrait bust.
Neale offers another clue to viewers on her website: "My shapes are simplified. A simple shape can say more to me than a detailed form if it is allowed to move with a vibrating energy - a breath."
Those words certainly apply to her nonobjective abstractions. "What Lies Below" is a 26-by-30-inch mixed-media painting of oil and wax on canvas. It's alive with thick, textured reds that seem like a folded sandstone landscape under an oily black sky. Turquoise-blue edges, remnants of under-painting, enliven the rolling red folds. Left of center, crimson and vermilion seem to tumble into an illusionistic vertical crease. Neale cuts and scumbles her paint to saturate warm colors over cools.
Other works include collaged scraps of canvas, even more scarified, over board. In the 14-by-21-inch oil-and-wax "Rough Patch," from 2004, pale-gray shapes of collaged canvas seem deeply buried beneath a high horizon line. Three red spots run along the right edge of the piece; they're closely keyed to contrast with other reds blended into the gradations of gray. Neale's grays always range from nearly white, as in the hulking forms of "Rough Patch," to almost black, usually in the upper portions of her images.
The 2006 assemblage "Gleanings and Momentos" breaks free of the rectangular format. The 24-inch-tall totemic image, wrinkled and encrusted, is a canvas-and-linen construction applied to a wall-mounted board in the shape of a gravestone. It combines the mystery of Neale's representational pieces with the formalism of her totally abstract ones. "Gleanings and Momentos" has the organic feel of a weathered relic one might stumble upon in the woods. A metallic heart medallion is stuck to the lower right corner of the board among fabric and bits of metal.
Vermont Arts Council Executive Director Alex Aldrich has been lobbying the Department of State Buildings for better lighting. Viewing this exhibit, it's easy to see why. The fluorescent office light that floods the VAC's hallway and conference room exhibition spaces could certainly be improved. Even so, the less-than-perfect illumination doesn't diminish the quality of her work. And as Neale accurately asserts, "Paintings can change the energy in a room."