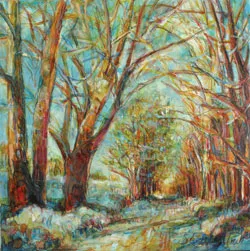 As heavy winter snows recede, springtime creeks run full, trees begin to bud and the colors of summer seem almost within reach. At West Branch Gallery & Sculpture Park in Stowe, a pair of landscape exhibitions, collectively entitled "Outside: New Visions of Nature," anticipate that approaching season.
North Country collagist Mariella Bisson creates monumental vistas out of scraps of paper adhered to fine Belgian linen. Her hues are closely calibrated to recall the colors of stones, bark and rushing rivulets. Susan Wahlrab, inspired by the forests around Maple Corner in Calais, among other haunts, has devised an intricate approach to watercolor. By layering translucent dabs and splashes of color, she builds glowing, mysterious surfaces reminiscent of the complexities of nature itself.
Wahlrab seems to have taken to heart Edouard Manet's observation that "there are no lines in nature, only areas of color, one against another." In her 30-by-30-inch "Rest Stop," details have dissolved into a lush color field of vibrant earth tones highlighted with red and orange. At the very top of the painting is a passage of textural sky; a patch of ephemeral blue is layered at lower left. Wahlrab's spaces are like the background of the "Mona Lisa" — sfumato, the art term for mist, saturates her paintings. She works on clayboard, a smooth ground that allows surface scratching and is tougher than paper or canvas. Watercolors dry in translucent layers on its surface, and the artist's numerous strata achieve unique and spectacular effects.
"Breaking Trail" and "Banks of Kitchigami" are long, rectangular pieces that place a bit more emphasis on linear structure. Wahlrab's vertical, 24-by-12-inch "Breaking Trail" has a low horizon buried deeply in the woods. The denuded deciduous trees are only lightly burdened by snow. Stark transitions of value describe the thicket.
Wahlrab's "Banks of Kitchigami" — which references the Ojibwa name for Lake Superior — is a 12-by-36-inch wooded setting with a darker foreground and a light-value, atmospheric background. A few broad tree trunks in the foreground anchor the composition.
Bisson is also an artist of the woods, but her collaged forms are broader, their textures seemingly more organic. She has written, "I try to push paper to new extremes." Indeed, Bisson alters, paints and draws on her papers. Materials are layered, as in sedimentary rock, and she adjusts values to create depth in her compositions.
In "Moss Glenn Falls, Granville, Vermont," white water cascades over gray and brown boulders into a calm pool of light blues along the bottom of the 38-by-50-inch canvas. Along the top and in the upper corners are deep greens and blue green, broken into interwoven, geometric forms.
The 50-by-38-inch "Pines" is focused on three vertical tree trunks, perfectly tuned to create depth. Progressing from lightest on the left to darkest on the right, the trees have craggy, rough bark achieved by manipulating the collaged papers. Bisson's background has smoother, light-green hills, and patches of light-blue sky peek from the canopy of forest green.
Bisson also presents watercolor studies of her collages, and a few pencil drawings that exhibit the same attention to detail those collages do. In the 16-by-12-inch "Fawn's Leap," the values run the gamut from black to white, and the composition is vertically bisected by an escarpment. A 14-by-11-inch watercolor of the same scene is pushed to the right, with the falls more centered. Bisson adjusted and rediscovered the scene in several images, each successful in different ways.
Bisson has thoroughly mastered the use of collage, and Wahlrab practically reinvented the way to paint with watercolor. But these artists' innovative approaches are not the only reasons theirs is a fine exhibition. Manet also noted, "It is not enough to know your craft — you have to have feeling." And feeling is the spark that makes this show vital art.