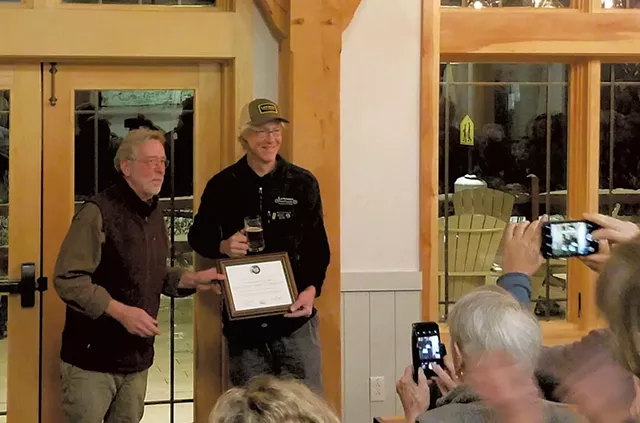 Courtesy Of The Vermont Natural Resources Council
Brian Shupe (left) and Sean Lawson
Vermont's breweries rely on clean water to make beer, and the Vermont Natural Resources Council has launched a new initiative to work with them directly to protect that resource.
The founding of the Vermont Brewshed Alliance was announced on November 13 at Lawson's Finest Liquids in Waitsfield. Lawson's is a founding member of the alliance, along with the Alchemist, Halyard Brewing, Magic Hat Brewing and Zero Gravity Craft Brewery.
In a press release from the council, executive director Brian Shupe called the alliance "a mutually beneficial partnership between breweries, pubs and VNRC to engage our members and their patrons in protecting the clean water we all depend on."
Vermont is the latest state to join the Brewshed Alliance initiative, which was founded in Washington State in 2013. Oregon, Maine and Texas have similar programs. Many breweries in the state rely on municipal water, and the Vermont Brewshed Alliance will give them opportunities to help conserve the state's water resources through the council's work, the press release said.
What does that mean to a beer lover? Expect to see fundraising events and special alliance charity beers at participating breweries.