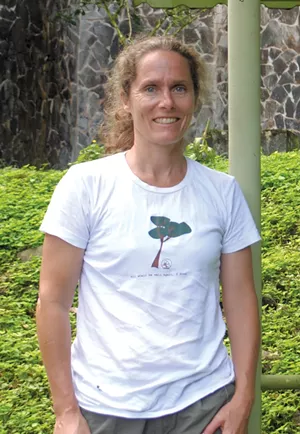 When I was homeschooling my daughters five years ago, I would have loved a copy of Amy Clapp's nature guide, Naturally Literate Vermont. This slim book, geared to kids in kindergarten through sixth grade, features checklists of the most common Vermont species of mammals, reptiles, trees, flowers and more. The book's premise is simple: If kids learn to identify all the items on the checklist, they'll know the most common plants and animals in Vermont.
A science teacher at Salisbury Community School and mother of three, Clapp says the book is intended to engage kids with the natural world. Photographs accompany each item on the checklist, and a convenient space for note-taking follows each section. Clapp's friend, Nini Crane, contributed attractive and scientifically accurate watercolors to the durable front and back covers.
Over the past two years, Otter Creek Audubon has provided copies of Clapp's guide to Salisbury students through educational grant funds. Recently, Clapp revised the guide and secured money through GoFundMe to offer copies to schools at a reduced cost. This school year, she's hoping to get it into the hands of as many curious young Vermonters as possible. We called Clapp at her home in Hubbardton to talk to her about her inspiration for the guide, and what she hopes kids will learn from it.
Kids VT: Why did you create this book?
AMY CLAPP: A few years ago, when I first got into birding, I went on a trip to Costa Rica. I don't know how much you know about birders, but they're really hard core, and every night we sat down and went over checklists of birds. I was truly a beginner, and I was among good birders who knew so much more than I did. But every night I was able to check off a few more birds because I had to pause and think about where I had seen birds. By the end of the week, I began to know what I was doing. I had a big Aha! moment when I realized the importance of that checklist. I had that insight again when I was traveling in Colorado with my family, and my 7-year-old son wanted to write down everything. He was "collecting," he said, and while he was collecting, he was also learning a lot.
KVT: Did you create these lists yourself?
Naturally Literate Vermont by Amy Clapp
AC: Oh, no. I couldn't have done it by myself. I knew enough naturalists to ask specific people for the 10 to 20 reptiles and amphibians every sixth grader should know, and then flowers, insects and so on. I chose particular people who had special knowledge in each area. Then I cross-referenced the answers to come up with the final list. Beside each photograph are eight checkboxes. The idea is that once kids have seen, for example, a trout lily eight times, kids will know that flower. The checklist gets kids to look thoughtfully at things they might have passed by many times but haven't examined all that well. Kids can identify many corporate symbols but how many things in their own backyards do they know?
KVT: I'm sensing your book has a naturalist bent, but also a social and educational one.
AC: In a corny sort of way, this is my way of combating all the negative things going on in our country right now. The next generation really will inherit the world, and this is where I have power to make a positive change and get children ready for that inheritance. If kids learn the names of the things around them, they'll come to know who and what those things are. In that process, they'll connect with what's living and growing outside their doors, like beavers and marsh marigolds. And when kids connect with their world, they're much more likely to make positive choices — everything from turning off the lights to caring for the world we live in.
KVT: How would you describe your teaching philosophy?
AC: I'm a place-based educator. We forget that for kids finding a grasshopper in the field can be just as thrilling as seeing an elephant in the zoo. That grasshopper is the thing connecting them to their world.
Naturally Literate Vermont costs $10 and is available at Phoenix Books in Rutland, the Vermont Book Shop in Middlebury, and the gift shop at the ECHO Leahy Center for Lake Champlain. Educators and schools should contact Clapp directly at naturallyliterate@gmail.com for a discounted rate of $2 per copy.