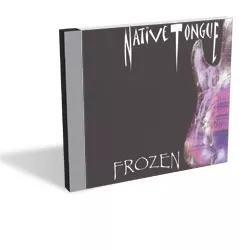 (Self-released, CD)
Though folk, indie rock, hip-hop, jazz and any number of other "underground" genres typically pull more ink in arts rags, you could make a strong case that local media, including Seven Days, largely ignore the state's most continuously vital and arguably populous music scene: bar bands. In at least one respect, there's good reason. Generally speaking, the groups that rock blue-collar watering holes on weekend nights pull from the same catalog of jukebox staples they have since "classic" rock was just rock. Sure, the occasional modern-rock or pop-country single might crack the rotation from time to time. Still, most bar bands are virtually indistinguishable from one another.
However, not all bar bands are created equal. Some, such as Native Tongue, strive to transcend dive-y cover-band trappings by writing original material. On their debut full-length, Frozen, the Barre-based rockers wear their formative influences on their denim sleeves. While often derivative and predictable, the band does score points for aiming at least a little higher than the Bud-soaked juke-joint floors preferred by so many of their peers.
The disc begins with "Déjà Vu," a sturdy opener that lays bare the group's feisty blues-rock intentions. The band members share songwriting duties, but vocalist Bob Nelson generally takes the helm and proves a capable front man. Native Tongue hardly reinvent the wheel here. But with a few cold ones and maybe a whiskey shot or four, you'd be hard pressed not to pump your fist and shake your head — along with more southerly body parts.
The title track is a lighter-worthy, midtempo ballad; the kind of song made for lying under a starry sky on a summer night with your best girl on the hood of a '76 El Camino. Or something.
"Can't Believe It's You" provides still more elementary rock thrills — picture Hootie & the Blowfish in a bar fight with Candlebox.
"Big Poppa" is a rowdy blues-rock barnstormer highlighted by wailing guitars and a number of nifty rhythmic shifts courtesy of drummer Rob Boisvert.
The disc's most illustrative track is "She Kicks My Ass." The song is as straightforward as its blunt title suggests, which is exactly why it works. This is no-frills bar rock, boiled down to its sloppy, testosterone-charged essence.
Frozen likely won't inspire the snobbish hipster set to rock out at bars such as Franny O's or Nightcrawlers — not even ironically. But the band's target audience will gleefully do just that. Because, if nothing else, Native Tongue offer proof that you can take the band out of the bar, but you can't take the bar out of the band. And that's not such a bad thing.
Catch Native Tongue at Gusto's in Barre this Friday, December 10. Frozen is available at Buch Spieler in Montpelier as well as two Barre locations: Exile on Main Street and Nelson Ace Hardware. Yes, really.