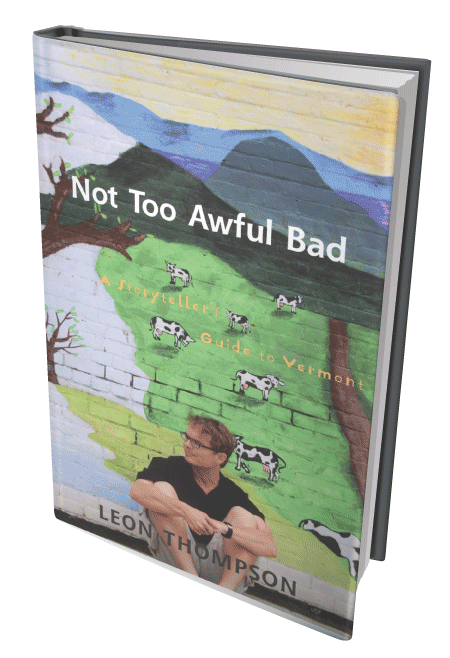 Of the many reference books on the Green Mountain State, few have been written by natives. But now comes Leon Thompson's Not Too Awful Bad: A Storyteller's Guide to Vermont. Thompson is a true Vermonter — pronounced "Vermonner," not "Vermontah," for you clueless outsiders — who grew up in Swanton ("Swah'in") and lives in St. Albans ("Snobbins"). He's also a reporter and humor columnist at the St. Albans Messenger and occasional contributor to Seven Days. That "humor" part explains this book's breezy, standup tone.
As in: "You must, must, must see Burlington, because it really is Boston's and New York's adopted gay son. We don't call it 'the Queen City' for nothing."
In fact, Thompson's book might have been better subtitled A Jokester's Guide to Vermont. But he had no say in that part: The volume is the third in a series of insider-culture handbooks published by Islandport Press in Maine. Thompson was offered the writing gig after his friend Rebecca Rule, author of the series' second tome, Live Free and Eat Pie: A Storyteller's Guide to New Hampshire, floated his name for the project.
In Not Too Awful Bad, Vermont comes across as an endearingly odd, chuckle- inducing place. Consider how residents spend their free time. Some ski, otherwise known as "spending money to speed down an icy, snowy mountain with sticks on your feet." Others play cow-plop bingo at local festivals, betting that a cow wandering a chalked grid will do its business on the square they've picked. Thompson didn't do every activity or visit every site he writes about, but he did make a point of experiencing the nudist camp Maple Glen, located "in Sheldon, just past the elementary school, where, naturally, a nudist campground belongs."
Thompson has an ear for the vocabulary he grew up hearing. His chapter listing typical Vermont sayings includes three that have garnered him compliments from natives: "usedtuvit" ("used to it"), "fusstrated" (why bother with the first "r"?) and "fudgicle, known everywhere else as a Fudgesicle."
"It's that Yankee efficiency — we even take letters out of words. But we're still willing to hang onto the word," Thompson jokes by phone. Whole words do sometimes get the ax, though. "Did you eat yet?" is a two-word question in Vermont: "Jeet yet?" And then there's Vermonters' penchant for understatement, as in the book's title phrase. "Not too awful bad" is a response to the question "How are you?" that actually means "Great!"
Not Too Awful Bad has enough arcane material — such as the information that Brookfield residents still use their 1820 floating bridge to cross Sunset Lake — to interest both people already living here and those who have recently moved here, or plan to, from out of state. (Thompson calls these folks "transplants" — a far more suspect crowd than "flatlanders," defined as temporary visitors who are harmless except when they become death-dealing, distracted drivers in foliage season.)
You can catch Thompson's local humor at a reading, where he's as likely to be promoting the guide as his other two books, collections of his humor columns called Good Junk and Dork: Another Look at My Junk. And, he hints, he may soon grace area comedy stages. "This has been my dream since I was 8 years old," Thompson declares, and adds that he's compiling material that includes possibly true short stories set in Franklin County. "I'm thinking the hook is someone who works in their pajamas," he confides. Will he wear pj's for his act? Of course. Is he wearing them now? Ditto.
Meanwhile, Thompson says he feels fortunate that he gets to write humor for a living. This May will mark his 10th consecutive year (and 13th in total) at the Messenger. "Wow," he says, pausing to reflect. "I hope I get a watch."