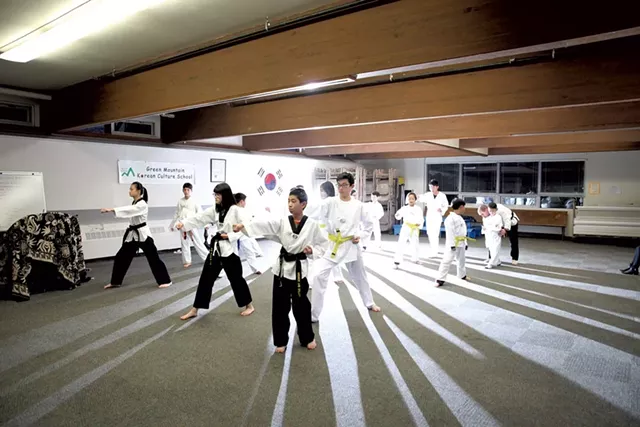 Matthew Thorsen
Tae kwon do class
Every Sunday, like many families, the Rancourts go to church. But after the morning service at Vermont Korean American United Methodist Church, Cindy Rancourt and her kids stick around.
That's when the church — which shares space with the Grace United Methodist Church in Essex Junction — becomes the Green Mountain Korean Culture School. The school's 23 students and their teachers have free rein of the entire church space, including its kitchen, for lessons in Korean language and culture.
One Sunday afternoon in November, mom Cindy, son Nick, 15, and daughter, Hannah, 11, participated in tae kwon do practice. Along with about a dozen other students, they watched intently as the instructor deflected his assistant's front kicks. Nick and Hannah fidgeted as they waited to demonstrate their moves. Like their mother, a South Korean native, the siblings have yellow belts in the Korean martial art.
Half an hour later, Cindy changed out of her all-white tae kwon do uniform, known as a dobok. It was her turn to be the instructor. For the next 45 minutes, she taught the Korean language to a group of elementary and middle schoolers, including Hannah. They practiced numbers and played a game to learn antonyms.
By the time school finished at 6 p.m., the Rancourts had spent almost the entire day at the church. But the kids didn't seem to mind.
"They feel so comfortable here," Cindy said of her biracial children, whose father is white. "I don't have to convince them [to be here]."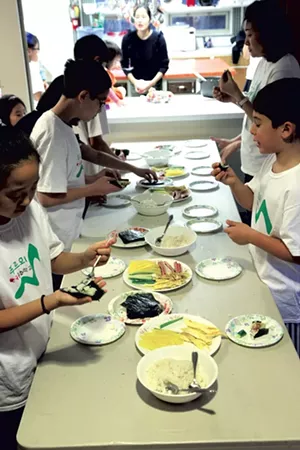 Matthew Thorsen
Students making kimbap
Nick wasn't always so at ease. When he was younger, his mom said, he struggled with his dual heritage. He spoke to her in Korean until he was about 4 years old. Then one day he came home from preschool and told her, "Korean doesn't work. My teacher and friends don't understand it."
Another time, Cindy remembered speaking to Nick in Korean when she picked him up from school. He implored her: "Mom, don't talk Korean in school."
"He didn't want to be different," she explained. "I was sad. I thought he was not proud of Korean culture, and even his Korean mom."
Things changed when Nick was in fifth grade. Cindy went to her son's school in Essex to give a presentation on Korean culture and history. She also brought Choco Pie — a chocolate-covered cake with marshmallow cream that's popular in South Korea — which was a big hit with his classmates.
"Mom, I'm so proud to be Korean," Nick told her afterward.
The experience spurred Cindy to find a way for Nick to hold on to that feeling. She collaborated with a group of Korean women and the Korean pastor from the Vermont Korean American United Methodist Church to set up a heritage language school. The Green Mountain Korean Culture School opened its doors in the fall of 2012. It's the only Korean heritage language school in Vermont, though there are similar schools for Vermont's Bhutanese, Tibetan, Vietnamese, Chinese and Burundian communities (see Freedom of Speech).
A "heritage language," according to the Washington, D.C-based Center for Applied Linguistics, is "a language other than English that is spoken by an individual, family or community" and usually taught through community-based programs.
It's difficult for parents to teach a native language to their children without any outside help, said Shawna Shapiro, assistant professor of writing and linguistics at Middlebury College. And it gets harder when children become adolescents. "You just want them to talk to you, period," she pointed out. "You don't care in what language."
Having a designated program or school where kids can learn their parents' first language raises its prestige, said Shapiro: "It sends the message that the language is important." It can also become a community gathering space, she added.
There aren't many of those in Vermont, said Green Mountain Korean Culture School principal Young Shin. "Being in a Korean environment is not easy to come by," she said. Shin estimated that big events they help to put on, like a Korean food festival, have attracted up to 100 Koreans from around Vermont. That's a large number in a state where Koreans make up a tiny fraction of a percent of the population.
The principal believes it's "very important" for her students to have a connection to their Korean heritage. "Wherever you go, you cannot completely forget [your culture]," said Shin, a mother of two adult children. Learning about their roots helps students develop a sense of identity and "be a stronger person," she added.
The school draws most of its students from Chittenden County. The kids are divided into six classes by age group, ranging from kindergarten to high school. Each student pays about $100 per semester.
Besides studying tae kwon do and Korean, students learn how to play traditional musical instruments. During breaks, they get to make their own Korean snacks. At the end of the year, they showcase their skills at the annual Vermont International Festival.
"I like it because we can show everything we learned. It's not like we did everything for nothing," said Hannah. "We get to perform, and it's really fun."
Like Hannah and her brother, some of the Korean school attendees are biracial. Others are second-generation Korean Americans or Korean adoptees.
Matthew Thorsen
Green Mountain Korean Culture School teacher Yeonju Kim with students (clockwise) Andrew Kim, Nick Rancourt, Dan Lee, Sangmin Lee and Casey Sullivan
For Williston parents Eileen DeLuca and her husband, Matthew, the school has been "an invaluable resource." The DeLucas adopted their two children from South Korea as infants. Nate, 8, and Maya, 6, have been attending Korean school for about four years.
In that time, Korean culture has become a huge part of the family, said Eileen, a social worker at the University of Vermont Medical Center. Over the years, she's learned how to prepare Korean dishes like kimchi and the noodle dish japchae. Nate and Maya sometimes take Korean snacks to their elementary school.
They're able to show their elementary school classmates how they write their birth names, which are now their middle names, in Korean.
"That's a real source of pride," DeLuca noted.
Adults can also attend classes at the Korean school. Although Michelle Scott of Burlington, who identifies as half Korean, grew up speaking Korean and lived in South Korea for five years, she still considers English her first language. She joined the small adult language class because she wants to support the learning of her 8-year-old daughter, Ruby.
"It's very hard to learn language without community," Scott pointed out.
Scott said that her younger brother was fluent in Korean until they moved to the U.S. when he was 5 years old. Their parents didn't push the siblings to continue to speak Korean. Her brother hasn't retained much of the language.
"He regrets it," said Scott.
Scott offers this advice to parents based on her own family's experience: "Even though it seems in the short run [that] really immersing yourself and taking on all of the American culture is going to benefit your child — and I think it's probably true — it's really important to hang on to the culture that they came from and the language."
Matthew Thorsen
Principal Young Shin
Successfully maintaining that bond takes a lot of work. Korean school principal Shin attributes the success of her school to the parents. "It's actually the parents who have to bring [the children]," she pointed out. In addition, many of them teach at the school. Some help to prepare snacks. "It's a communal thing," she said.
Since the parents aren't certified Korean language teachers to begin with, they attend professional development workshops run by the National Association of Korean Schools. Two of them took classes to receive their teaching certification. Cindy Rancourt is one of them. She described the semester-long online course as "really intense," requiring about 20 hours of work per week.
Although the Korean school has a lot working in its favor — from having a designated space to meet free of charge to having strong parental involvement — Shin is aware that her program has limitations, as well. To become fluent in a language, you really need to be immersed in it, she said. The students have only three hours of instruction each week. So she keeps her expectations realistic.
"That's not enough time to learn a language," she said. Besides, as the children grow older, their attention often turns to other extracurricular activities, like sports. In the last few years, the school has had to change its schedule to accommodate students' busy lives.
Shin said that there's still plenty of time for her students to master the Korean language. "When they get older, they could investigate on their own," she said. For now, the main thing she wants students to take away from their experience at the school is positive feelings about their Korean heritage. "It's for them to have an exposure and to have that basic interest," she explained — "having that good memory [of] what being Korean is all about."
Rancourt said the transformation in her son makes her happy. "My kids think everything from Korea is cool," she said. Since the family started watching a Korean drama series about soldiers serving overseas missions, Nick has started using the phrase tahn kyul. It means "unity of power," and a soldier says it when giving the salute. Said Rancourt, "My son's 'yes' is tahn kyul now."
Freedom of Speech
Kymelya Sari
Tibetan Weekend School
When refugees settle in a new country, the focus is on helping them learn the language and adjust to unfamiliar surroundings. Often this means losing touch with their native language and culture.
Research indicates that the language immigrants or refugee families arrive with is usually forgotten within three generations, said Shawna Shapiro, assistant professor of writing and linguistics at Middlebury College. In December of 2015, she conducted focus-group discussions with refugee parents. "One of the things that came up very early in that conversation was children learning English but losing home languages," she said.
Khara Neopaney is witnessing this phenomenon in his Bhutanese community, members of whom started settling in Vermont in 2008 after spending almost two decades in refugee camps in Nepal. "When grandparents and grandchildren meet at home, they don't have conversations," said Neopaney. "Children only know English, and grandparents only know Nepali." Neopaney started a Nepali language school in Burlington for Bhutanese children in April of last year.
For the Bhutanese community, having their own language program means more than facilitating communication between generations. It's a way to revive traditions like celebrating festivals and wearing their national clothing. In Bhutan, they were not allowed to practice their culture or speak their native language freely.
"Here in this country of freedom, we are allowed to speak any language," said Neopaney. "This is a great opportunity for every one of us in our community to preserve this language."
But most heritage language schools have small budgets, so they rely on volunteers. And parents may not have the time to teach their children their native tongue. "They're busy with their own work," said Pasang Thondup, who's been teaching for five years at Vermont's Tibetan weekend school, which currently enrolls eight students. This has led the younger generation to feel disconnected from their parents' native language, he noted.
Sometimes, academic institutions can provide help in developing curriculum. This way, immigrant and refugee communities — already faced with the challenges that come with building a new life — aren't trying to figure out everything by themselves. This is what Middlebury's Shapiro hopes to do with the Nepali language program that Neopaney coordinates.
courtesy of Vermont Hindu Temple
Nepali language school
On Saturdays, the Nepali program runs concurrently with services organized by the Vermont Hindu Temple at the former St. Joseph School in Burlington's Old North End. This way, parents can drop off their kids for class, then attend temple services next door, explained Neopaney. When Kids VT visited the school, Neopaney and his colleague, Somnath Dhakal, were teaching a class of about 10 students. They learned about the significance of Tihar, a Hindu festival, and later practiced the Nepali alphabet and forming words.
Middlebury's Center for Community Engagement has provided funds for materials and supplies, research assistants to help with curriculum development, and small stipends for adults involved in the program, said Shapiro. The program also received a grant from the Vermont Humanities Council, she said.
Initially, no one from the Bhutanese community had time to develop curriculum, said Shapiro, so lessons were often put together on the fly. "Ideally, there would be a pre-mapped curriculum that has a sense of goals and direction for each week, plus assessment," Shapiro explained, "It's still a work-in-progress, but we are making progress."