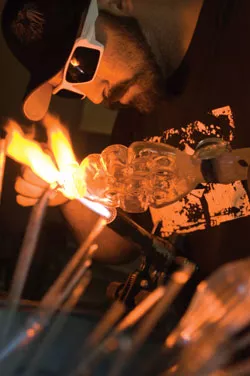 Matthew Thorsen
Nate Dizzle
Two women chat while they dip and swirl their molten glass in side-by-side torch flames, as if it's no big deal. They're behind a thick window in a workstation at Burlington's Bern Gallery, so you can't make out what they're saying. Sharing trade secrets, perhaps? That's got to be what some of the dozen or so observers at the glass gallery's fifth annual Pipe Classic are hoping.
The mostly male viewers are pressed up against the glass, wearing sunglasses so they can look directly into the flames. These artists — who go by the names Hacky Sacky and Christina Cody — are superstars in the world of glass pipe making. Some guys are filming the action on their iPhones. One dreadlocked onlooker tells his friend he wished he had brought a notebook.
Some of these observers are on their third consecutive day at the gallery. They want to catch all 12 master glassblowers, who came from around the country earlier in the week to compete. The artists' mission? To create a functioning glass pipe from scratch in 12 hours, in front of a live audience full of judges.
And these aren't your typical pipes. Hacky Sacky, who hails from California, makes hers into shapes that resemble pastel kitten paws, Popsicles, or a plate of bacon and eggs. Kristian Merwin of Salt Lake City creates work with a mythical, Middle Earth aesthetic. D-Wreck, from California, is known for sandblasting photos onto portions of his intricate pipes.
Before the second set on Wednesday afternoon, a young woman in oversized shades, a short black dress and precarious cage heels waits outside for her photo shoot. She's psyching herself up to lose the dress and pose (topless) for D-Wreck's latest pipe photo. The glass artist favors stencils featuring nude women.
"It's a tribute to [his] bad-assery," suggests Hunter Brown, art director at the Bern.
The competition was born in the garage of glassblowers and gallery owners Mikeala Boman and Tito — who, like many other glass artists, prefers to use a single name. They had been operating a pipe business from their Burlington home, working long hours with other glass artists to supply shops around the Northeast. To entertain themselves, they started challenging each other. Who could make the fastest spoon? The sweetest pipe?
They spent five years selling their pipes on the road, driving thousands of miles each week. "It was a nightmare," says Tito, but it helped the couple make connections with artists around the country. When they finally settled down, opened the Bern Gallery and spent a year getting it established, Tito and Boman decided to make the challenge official: They flew in four or five glass blowers from around the country and held the very first Pipe Classic, in 2006. Tito says it was an expensive risk, but worth the effort. "We needed some big names in the gallery so people would take it seriously," he says. Boman adds that the competition "would shed light on a group of artists who are completely neglected in the art scene."
Now in its fifth year, the Pipe Classic has become the premiere showdown of its kind in the country. This year Tioga, Pa.-based Glass Torch Technologies donated $10,000 worth of prizes — brand-new torches — for the winning artists.
Back at the gallery, at a work station closest to the door, a crowd is building. The observers want to see Nate Dizzle, a Seattle-based pipe maker known for his Swiss Perc bubblers. He creates what looks like a giant glass lollipop with Swiss-cheese-like holes. Smoking on it creates a particularly impressive, bubbly percolation.
A guy who asks to be called Auto Brin says he came from Québec to see Dizzle do his thing. Brin just started making his own pipes about a year ago and is psyched to see the artists in action. Glassblowing is an expensive and sometimes frustrating art, he concedes, but he loves it.
"Can you imagine your canvas cracking apart in the middle of a painting?" he asks.
Behind him, observer Herb Hanson, who's here with his buddy, a University of Vermont freshman, flips excitedly through his program to the page on Dave Colton. The Massachusetts artist has been making pipes for the last 15 years or so, but has never before competed at the Bern. His pipes are abstract and brightly colored. Something about them looks musical, as if within them you could pick out the curves of a saxophone or the swirl of a treble cleft.
Hanson is dying to get Colton's autograph.
"It's a special scene, the whole glass thing," says Hanson. "It's still small enough that you can meet all these mini celebrities."
And with that, he scoots off to track them down.
This year's winner of the Pipe Classic V was Micah Evans of Austin, Texas.