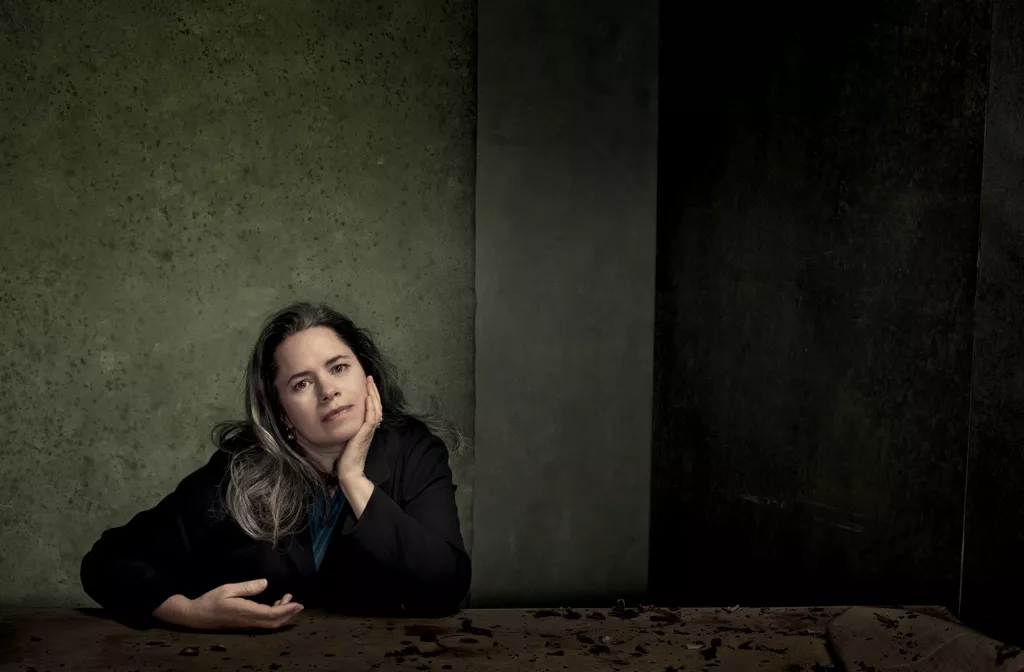 Courtesy of natalie merchant
It's taken Natalie Merchant nearly a lifetime to find her voice. That may come as a surprise to those who have followed the singer's long career. Whether performing solo or as front woman for the acclaimed 1980s rock band 10,000 Maniacs, Merchant has long possessed one of the most distinctive voices in pop music. But according to her, she only recently discovered the artistic voice she has spent a career seeking.
Earlier this year, Merchant, 50, released her sixth studio album. The self-titled solo record is her first collection of original material in 14 years. It follows a 2010 release, Leave Your Sleep, composed of interpretations of 19th- and 20th-century American and British poetry about childhood. While that record found the singer collaborating with more than 100 other musicians, her latest was crafted on a far smaller scale. It's a deeply moving work that stands as her most intimate and personal to date, its title implying that Natalie Merchant has found her voice and perhaps even herself.
Seven Days spoke with Merchant by phone in advance of her performance at the Flynn MainStage in Burlington on Tuesday, October 21.
SEVEN DAYS: After some 30-plus years of making records, why self-title this one?
NATALIE MERCHANT: I wanted to differentiate it from the last couple of projects. I wanted people to know that this was all original material. People talk about finding your voice as a writer. And writers are lucky; they just have to rely upon themselves to establish a voice. But when you're a recording artist, you have to learn to channel your vision through other musicians, through collaboration. And that's something I feel like I finally figured out how to do, after Leave Your Sleep and working with something like 130 musicians. I felt like this album was an expression of what I had to say in a way that I truly wanted to say it.
SD: So you're saying you're just now finding the voice you've been looking for after all these years?
NM: I am. I think it just comes with 34 years of experience. It takes a long time and a lot of trial and error, learning from your mistakes. You have to be adventuresome. And that happens as an artisan or technician or whatever it is I am, but also as a person. I'd like to be able to claim a little bit of self-knowledge at this point. That's the benefit of being old.
SD: Did working with so many different and different types of musicians on Leave Your Sleep help shape how you approached the new record?
NM: Definitely. It took over a year to record Leave Your Sleep. And through that process we kept commenting that going back to a more traditional record with, say, six musicians was going to feel like the easiest project I've ever done. And it did!
SD: You've said that you learned a lot about songwriting from doing Leave Your Sleep. What, specifically?
NM: Subtle things. Subject matter and voice. Also simplicity. A technique that I've used for years is the first-person voice, stepping outside of the characters in my songs. I did a lot of that on this record. Sometimes I created characters and then spoke to them, had dialogues with them that became the lyrics.
The main thing I learned with Leave Your Sleep was how to color the lyrics after they'd been written. That was a different approach, because I'd always worked in the opposite direction. I'd always written the music first, then the lyrics. So I experimented with that on this record, writing poems that transferred to music. I would interpret them four or five different ways before I settled on one approach.
SD: Many of the songs on the new record were written over the course of the last 14 years. Have the meanings of those older songs changed for you over time?
NM: The oldest song on the record is "The End." And sadly, nothing's changed. That's a song that I wrote about people who have been displaced by war. It's about what's happening in Iraq and Syria and about a dozen other countries right now that makes up the 47 million displaced people who exist in the world right now. So I think I write about themes that are pretty eternal, cyclical. The specific characters that I might write about don't really matter as much as the theme itself.
SD: You've spoken quite candidly about being an older woman in the music industry and how aging in that business is much different from aging as a man. What are some of the ways you've approached that challenge?
NM: Just by getting older, really, which is an inevitable and natural consequence of being alive. You become a subject of ridicule as a female musician or an actress. So just allowing myself to have gray hair. Even Nonesuch, which is an extremely progressive record label, when I walked in with my gray hair — they hadn't seen me in years, and consciously wanted to embrace me as an older woman — and they said, "Is this a final decision?" [Laughs] And I said, "Well, you have Emmylou Harris on your label." But other than Emmylou Harris and Patti Smith and me, I'm hard-pressed to think of many other female musicians who have dared to be gray. I've had a few female musicians approach me and say that's extremely brave. Or foolish. They can't decide.
Natalie Merchant, Tuesday, October 21, 8 p.m., at Flynn MainStage in Burlington. $39.25-63.25. flynntix.org
The original print version of this article was headlined "The Gray Lady"