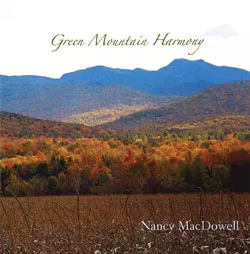 (Self-released, CD)
Last year, local singer Nancy MacDowell realized a dream nearly 20 years in the making with the release of her second album, Green Mountain Harmony. For 13 years, MacDowell was the host of a radio show, the "Sunday Morning Sampler" on WLVB, which featured an array of guest musicians stopping by to talk and play music. While MacDowell enjoyed sharing their music with her listeners, deep down what she really wanted was to sing with them. When she retired in 2007, MacDowell finally had the time to make that dream a reality. Harmony, a follow-up to her debut, Giving Back, features 20 notable locals singing duets with MacDowell on some of her favorite songs. It's a star-studded album representing a wealthy cross-section of the state's finest folk and Americana talent.
The album opens on a cover of Jon Gailmor's "Long Ago Lady." In the album's liner notes, MacDowell writes that the song's first line, "My reason for being is music," "says it all" for her. That's a precious sentiment. But when Gailmor and Colin McCaffrey join in on three-part harmony at the chorus, it's hard not to be at least a little charmed by their earnest deliveries.
The following track, "When It's Time to Bring the Heifers In," was written by MacDowell's father, Karl Brown. With ace players Dave Rowell, Mark Struhsacker, Jim Pitman and McCaffrey in tow, it's an album highlight.
Local pop songwriter Gregory Douglass turns up on a version of the Joni Mitchell classic "Blue." It's a heady interpretation whose ethereal atmosphere feels a touch out of place amid the twang surrounding it. But the duo's close harmonies provide a welcome interlude.
Rusty DeWees finds religion on one of MacDowell's favorite hymns, "The Rugged Old Cross." It turns out the Logger has a hearty baritone. Who knew?
MacDowell's treatment of "I'll Fly Away" is another highlight. Here she's joined by a family band of sorts, husband-and-wife duo Elaine Fortune and Ted Lambert and their daughter, Kim Lambert.
Gordon Stone adds slick pedal steel licks to "Walkin' After Midnight," with MacDowell and Keeghan Nolan teaming up on a passable homage to Patsy Cline.
Starline Rhythm Boys' Danny Coane takes the lead on Tim Hardin's "If I Were A Carpenter." Coane and MacDowell play it pretty straight. But it's a touching duet that nicely sets up the album closer, a rendition of the Andrews Sisters' "Christmas Island," featuring Meg Devlin Irish, Karen McFeeters and McCaffrey.
Green Mountain Harmony by Nancy MacDowell is available via email at nancy.macdowell@gmail.com. MacDowell and several of the artists appearing on that album perform this Sunday, April 14, as part of the Vermont Musicians' Concert at the First Congregational Church in Morrisville.