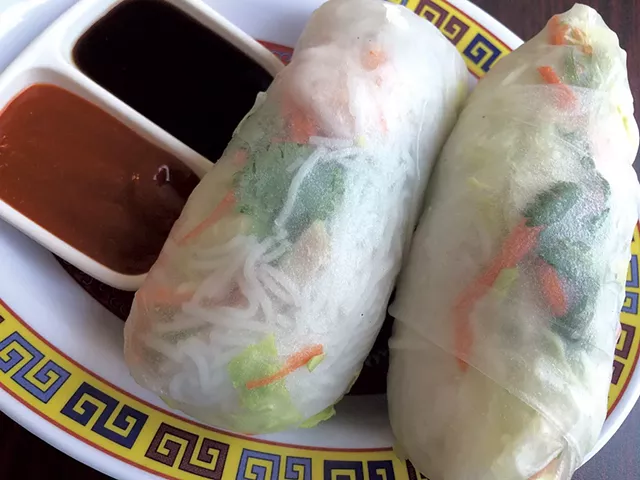 Suzanne Podhaizer
Spring rolls at Namuna Asian Kitchen
Less than two years after replacing Dharshan Namaste Asian Deli at 212 Main Street in Winooski, the Spice Traders' Kitchen closed in February. A sign on the door assured visitors that new owners would be taking over soon, but offered no details. After weeks of concerned local chatter, Namuna Asian Kitchen began serving noodles, dumplings, curries and pan-Asian finger snacks in the space last weekend.
Owner Man Gurung fled his native Bhutan in the 1990s, part of a wave of refugees who departed that country when the government began expelling people of Nepali descent after its 1988 census. Gurung lived in a refugee camp in Nepal for almost two decades before immigrating to Vermont six years ago.
While Gurung has worked as a baker and prep cook in the past, Namuna is his first restaurant. He's familiar with the space, though, because his wife worked in the storefront years ago, when it was Dharshan Namaste Asian Deli.
Like its predecessors, Namuna's menu pulls items from across Asia. Vietnamese dishes such as pho, stir fries and banh mi sandwiches keep company with spicy Nepali-style chow mein and fusion-y street foods such as peanut noodles, chicken wings, curries, fried rice and lemongrass noodles. To drink, find mango lassi and chai tea.
Namuna is now open daily for lunch and dinner. Via phone on Monday, Gurung said he plans to close one day a week but hasn't yet decided which. To be safe, call before heading over: 654-8000.