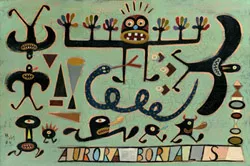 »Helen Day Art Center's new staff
»VT cartoonists in the Toon show
There's something funny going on in Stowe. Those worried about the effects of global warming on the slopes might even call it comic relief. But talent, not climate change, is the inspiration for the Helen Day Art Center's first show of 2007 - "Fine Toon: The Art of Vermont Cartoonists." While many of the works are not actually "ha-ha" funny, the collection of single panels and strips, graphic novels, storyboards, literary illustrations, paintings and sculpture is a worthy diversion regardless of weather.
Curator Idoline Duke says "Fine Toon" is everything she hoped for and more. The exhibition showcases the high-caliber work of 13 successful cartoonists with Vermont ties, and it also illustrates the diversity of modern cartooning. The gallery's smallest room offers a parallel, historical show featuring four local lampooners.
"I was looking for true artists," says Duke, who credits Montpelier illustrator Hal Mayforth with proposing the idea for a cartoon exhibition. "With each artist, I asked who else they thought should be in the show. As it turned out, I think I got a pretty good group."
Duke's word-of-mouth approach led her to a wildly disparate bunch of artists whose work is linked by the word "cartooning" - from venerable New Yorker cartoonist Ed Koren to indie comics wunderkind James Kochalka; from Mayforth's cheerfully oddball paintings to the gritty graphics of Sin City creator Frank Miller; from Jeff Danziger's scathing political satire to Gareth Hinds' exquisite rendering of Beowulf. It's a rare art exhibit that combines - and connects - superheroes, futuristic monsters, prehistoric creatures, medieval warriors, lumpen or hairy human caricatures, skewered real-life politicos and contemporary fictional lesbians.
The show's central connection, of course, is Vermont: The featured artists live here either full- or part-time, or they were born here and moved elsewhere. Most of them are in the first camp - a remarkable fact, given the state's diminutive size. Then again, the number of artists in Vermont may soon surpass that of cows, if it hasn't already.
It doesn't hurt that the Center for Cartoon Studies (CCS) in White River Junction, founded in 2005, is attracting professional artists, writers and designers to its faculty, as well as preparing wannabes to go forth and multiply. As an article about the CCS in last Sunday's Los Angeles Times put it, "An increasingly visual culture has turned cartooning into a field with a future, serving a seemingly limitless audience for stories told through hand-drawn pictures."
Many cartoonists have gone digital, enhancing their drawing with software unimaginable a generation ago. But some still do it the old-fashioned way. This range is evident in "Fine Toon." The exhibit showcases Skip Morrow's sight-gag cartoons, produced entirely on the computer, as well as old-style specimens such as an early black-and-white drawing for a classic Swamp Thing comic, with layers of acetate. For that matter, it offers pencil or ink drawings that have never been near a computer. Still, this exhibition amply demonstrates that certain constants characterize the best cartoonists, namely narrative, human emotion and genuine artistry.
The Stowe exhibit "offers the general public the opportunity to see the craft and skill of cartoonists, and to gain insight into the art form behind the medium," says CCS cofounder Michelle Ollie. "It's rare in a relatively rural area for people to get to see this."
No surprise that several participants in "Fine Toon" are associated with CCS - including its other cofounder, James Sturm. The Golem's Mighty Swing, his graphic novel about Jewish baseball players and prejudice in the 1920s, was named Time magazine's comic of the year in 2001. The drawings for two pages of this graphic novel are in the HDAC show, along with a print entitled "Visitor's Dugout."
Stephen Bissette, who's on the faculty and advisory board at CSS, is another star in the comics constellation, known for Saga of the Swamp Thing, Taboo and Tyrant, among other works. Anyone who dismisses the dinosaur as an extinct monstrosity should view Bissette's sequence of drawings that depict an infant Tyrannosaurus rex hatching from its shell and the devoted ministrations of its mother. Delicately and dramatically inked, they are a highlight of this show.
Kochalka, also on the Center's faculty, is known internationally for his enormous output of alternative comics, graphic novels - such as Monkey vs. Robot and Sketchbook Diaries - and paintings, as well as for his recordings as James Kochalka Superstar. A fixture of the Burlington music scene and a cult fave on college radio, he has developed animated cartoons for Nickelodeon. All this notoriety aside, Kochalka, like most artists, works alone. "We don't really hang out together," he notes of his fellow Vermont artists. "It just feels good to know there are other world-class cartoonists around. I feel less isolated."
"Isolated" may or may not be a word Alison Bechdel would use to describe herself. On her way to a cartoon conference in France, she was unavailable to comment on her status as the only female in "Fine Toon." But even that 12:1 ratio is probably better than that of the cartoon industry as a whole, which is overwhelmingly dominated by men. In the niche of lesbian cartoonists, however, Bechdel rules with her syndicated strip and book collections of "Dykes to Watch Out For." Her critically acclaimed debut graphic memoir, Fun Home: A Family Tragicomic, is a finalist for a 2006 National Book Critics Circle Award in the autobiography category. For "Fine Toon," Bechdel contributed two sets of pages from Fun Home to demonstrate her artistic process, as well as an original strip from DTWOF.
Some of the artists in this exhibition have multiple connections. For example, Ed Koren and Harry Bliss are both visiting faculty at CSS, and they represent two generations of New Yorker cartoonists. Koren's hairy, long-nosed figures are immediately recognizable, and his wry observations of social behavior are often punctuated with an astute use of language. In one of his displayed cartoons, a cavernous factory room is filled with workers, their grim faces turned toward a well-dressed gentleman on a podium. He tells the crowd: "Our operations close down today, and you are all now emeritus."
In this cartoon, the callow use of the honorific is lost on "the regular people who are kicked on their ass," Koren explains. This sardonic twist, and the podium motif, are coincidentally echoed in one of his seldom-seen "personal drawings," as Duke calls them. In black ink on white paper, Koren has hastily depicted a number of buildings, their architecture reflecting different eras of civilization. Interspersed with these are pedestals holding, well, flurries of lines. Koren says they represent the ways in which people of various, and often dubious, achievements have been honored. "These drawings are full of social contradictions and issues I like to think about and can't really achieve in cartoons," he says.
While the drawings give the eye more to contemplate than do Koren's cartoons, they don't offer the same pinpoint clarity. "They all have stories of their own - you just have to ferret it out," he suggests.
There's no obfuscation in Bliss' images, but he's got a gift for imagining scenarios in which something is a little . . . twisted. The surprise in his section of the exhibit is a large-scale painting on canvas, entitled "La Vendetta del Montros," which features outsized cats sitting on New York City.
In one of his covers for The New Yorker displayed at HDAC, Bliss has elegantly drawn the front of the New York Public Library, focusing on one of the guardian lions. But something is amiss in the familiar scene. Bloodied feathers protrude from the lion's mouth, and he has a shifty look in his eye; alarmed birds flutter around him. In another cover illustration, which Duke says the magazine rejected because "it looked too dangerous," a baby is strapped to the front of his mother as she hurtles earthward from an aerial ski jump.
Lack of subtlety may not work for The New Yorker. But making a point quickly and directly is the name of the game in political cartooning - a genre represented here in single panels by Tim Newcomb and Jeff Danziger. With his masterful caricatures and witty take on dead-serious subjects, Danziger is syndicated by The New York Times to hundreds of papers, including the Rutland Herald, where he got his start in 1975. Montpelier cartoonist and illustrator Newcomb puts a humorous spin on pointed observations of Vermont politics for Seven Days and the Times Argus. Here he has contributed a rather Bliss-like drawing of a family picnicking and reading beside a fence, unaware of the horse and rider about to leap it from the other side. Newcomb has also included an original illustration for a post-election cover of Seven Days; it reveals that, like Danziger, he does a mean George W. Bush.
The superhero/fantasy set has no use for politics - or reality. Within this group in "Fine Toon," the multitalented Frank Miller has earned heroic status himself. He grew up in Montpelier and went on to create now-legendary comic books in the 1970s and '80s - Daredevil, the Electra Saga, Ronin, his continuation of the Batman series, and others. In the '90s came more adult graphic novels and movies, including the scripts for Robocop 2 and 3.
The urban noir serial Sin City was literally fleshed out in a critically acclaimed 2005 film starring Bruce Willis and Benicio Del Toro. Miller wrote the script, based on four stories in the series, and shared directing credits with Robert Rodriguez. The film earned an R rating for "strong stylized violence, nudity and sexual content." Though it's not for the faint of heart, the hard-edged, starkly drawn images are masterful. Four original pages from Sin City, Booze, Broads & Bullets, appear in the Stowe exhibit.
For "Fine Toon," Idoline Duke has corraled 13 cartoonists with evident similarities and connections. And yet, inspired by the same graphic medium, they are endlessly, gorgeously different. Ultimately, it's the singularity of vision that makes these 'toons fine.
A Gallery Looking Forward
"Fine Toon" isn't the only thing new at the Helen Day Art Center; so are two of the key staff.
Idoline Duke, 46, was a volunteer at HDAC before joining the Visual Arts Committee eight years ago, then the board. Last spring, she was a guest curator for a solo show of works by Vermont painter Janet Fredericks. In the fall of 2006, Duke accepted the position of exhibitions director. "Fine Toon" is her first multi-artist show.
These days the tall, blond New York native's life centers on a single 'hood - her husband, Biddle Duke, is publisher of the Stowe Reporter, right across the street. Her two children attend school behind the gallery.
A garden designer by profession, Duke draws a parallel between landscape and exhibition design. "They're both putting on a production, really," she says, "taking disparate parts and putting them together in a cohesive way, with an eye toward texture, line, color, form - the basic tenets of art. And both are a lot of hands-on work." Finally getting to hang the show, Duke says happily, "is the part I've been waiting months for."
Long familiar with HDAC, Duke provides continuity and institutional memory for brand-new executive director Nathan Suter, who responded to the gallery's nationwide search from San Francisco. The 34-year-old photographer and arts educator has a strong entrepreneurial and social-mission bent. In S.F., he cofounded a nonprofit arts organization called Root Division that offered classes, programs and events to youth and other art students throughout the Bay area. The model has been successful, creating teaching positions and studio space for working artists while providing arts education in a place where, Suter says, "arts funding in the schools is abysmal."
He and his wife, Morgan Lloyd, have an infant daughter and are making a home in Lloyd's hometown, Burlington.
Suter speaks readily and thoughtfully about such heady ideas as "society's ability to examine and transform itself." But his expansive vision for the Helen Day is rooted in the realities of local community: "The Vermont audience is really broad," he notes. "There's a population really interested in the world of arts and a population that is not." Suter hopes to engage them all. "To bring compelling contemporary artwork that's relevant in the art world and is revelatory to viewers - that's the fulcrum for other programming," he suggests. And it helps, he adds, that HDAC's board "is not afraid to see the future."
P.P.
Vermont's cartoon connections: who, where, what
ALISON BECHDEL
Lives: Jonesville
Showing: Drawings from strip "Dykes to Watch Out For," two pages from graphic novel Fun Home Seven Days contributor
Website: DTWOF
STEPHEN BISSETTE
Lives: Hartland; on faculty at CSS
Showing: Pages from Tyrant and Swamp Thing, Monkey See (with Rick Veitch)
Website: SRBissette
HARRY BLISS
Lives: Burlington
Showing: Three original New Yorker covers, single-panel cartoons, painting
Seven Days contributor
Website: harrybliss.com
JEFF DANZIGER
Lives: New York and Burlington
Showing: Single-panel political cartoons
Website: Danziger Cartoons
GARETH HINDS
Lives: Cambridge, Mass. (grew up in East Montpelier)
Showing: Sketchbook and six wood panels from The Collected Beowulf
Website: garethhinds.com
JAMES KOCHALKA
Lives: Burlington
Showing: Graphic novel work, 12 "little paintings" and other work
Seven Days contributor
Website: American Elf
EDWARD KOREN
Lives: Brookfield
Showing: New Yorker cartoons, pen-and-ink drawings and wood figures
HAL MAYFORTH
Lives: Montpelier
Showing: Oil paintings and personal sketchbooks
Website: Hal Mayforth
FRANK MILLER
Lives: New York City (grew up in Montpelier)
Showing: Four original Sin City pages
Website: The Complete Works of Frank Miller
SKIP MORROW
Lives: Wilmington
Showing: Gag cartoons, computer-derived work, watercolors and ink, clay sculpture
Website: Skip Morrow & The Art of Humor
TIM NEWCOMB
Lives: Montpelier
Showing: Single-panel political cartoons, Seven Days cover
Seven Days contributor
JAMES STURM
Lives: White River Junction; CSS cofounder
Showing: Pages from The Golem's Mighty Swing, one drawing
Website: Center for Cartoon Studies
RICK VEITCH
Lives: Marlboro
Showing: Greyshirt cover, Monkey See color pages (with Steve Bissette)
Website: Rick Veitch
More "Fine Toon" fun
Family Day at HDAC: an afternoon of comic activity, February 3, noon - 4 p.m. Free.
Family Cartoon Jam: a workshop at HDAC for kids and adults led by Montpelier illustrator Hal Mayforth, February 15, 5:30-7:30 p.m. Adults, $10/12; kids $8/10.
Cartoonists Panel: co-hosted by Burlington City Arts and held at the Firehouse Center for the Visual Arts in Burlington; the panelists include Harry Bliss, James Sturm, Stephen Bissette, Edward Koren and Jeff Danziger; February 21, 5:30-7 p.m. $5.
Movie Night: at HDAC, a screening of Comic Book Confidential, a documentary tracing the development of comic books. March 15, 4 p.m. Donations.
Also, check out the Vermont-Themed Cartoon Contest. Details and entry forms must be picked up at the gallery's front desk during the run of the exhibit.
Info for all at the Helen Day Art Center website or 253-8358.