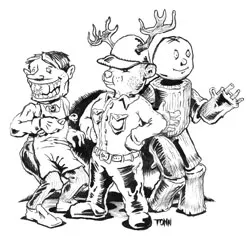 We journalists do lots of reporting on events, occasions, trends, facts and figures. But ultimately, our work is about people: who they are, what they do, where and why. So it's hardly surprising that we often come across "aptronyms" — that is, names that match a person's profession, hobbies or other distinguishing characteristics.
Examples: a camp nurse named Sandy Sheets; a burrito restaurateur named John Pepper; a state wetlands coordinator named Alan Quakenbush. Though it's hard to know whether people's names influence their actions or career choices, it's worth noting that four individuals listed below are with the Department of Fish & Wildlife. For certain, it's a phenomenon that merits further sociological study.
Interestingly, we occasionally come across names that appear to be anti-aptronyms, such as Don Black, the former Ku Klux Klansman who founded the white supremacist website Stormfront. And this year, we've included a new category: place-name aptronyms.
So, for what it's worth, here's the list of people and places whose names showed up on our radar.
People aptronyms:
Dallas Anderson: employee at the Texas Roadhouse restaurant in Williston
Dr. John Pane: South Burlington endodontist
Dr. Stephen Payne: St. Albans surgeon
Dr. Michael Katz: Amherst, Mass., veterinarian
Dr. Tom Simpatico: director of the Division of Public Psychiatry at the University of Vermont's College of Medicine
Robert Rooks: chief game warden, Vermont Fish & Wildlife (rooks are European crows)
Lucy Herring: Vermont Fish & Wildlife law-enforcement assistant
Forrest Hammond & John Buck: wildlife biologists with the Department of Fish & Wildlife
Luther Martin: professor of religion at UVM
Vincent and Anthony Amigone ("Am-I-gone?"): western New York funeral directors
Margaret Spellings: U.S. secretary of education under President George W. Bush
Kurt Plank: Ferrisburgh builder who does home refurbishing and hand finishing
Beau Breedlove: 18-year-old male alleged to have had an illicit sexual relationship with Portland Mayor Sam Adams
Rev. Wesley Pastor: minister of the Christ Memorial Church in Williston
Jonathan Wood: secretary, Vermont Agency of Natural Resources
John B. Coyne: wealth-management advisor with Smith Barney
Steve Almond: author of Candyfreak
Douglas Laycock: University of Michigan professor and author of Same-Sex Marriage and Religious Liberty: Emerging Conflicts
Michael Blow: suspect arrested in Burlington in late 2008 for alleged crack cocaine trafficking (Blow has a similar 1994 drug conviction)
Erica Houskeeper: domestic and international tourism specialist with the Vermont Department of Tourism
Anne Treadwell: Burlington runner in the 2009 Boston Marathon
Mark Needleman: owner of several Vermont bridal shops
Janet Grant: development director at the nonprofit Dismas House
Robert and Susan Goodby: Vermont couple who sued their vet after their two cats died of alleged veterinary negligence
Mildred and Richard Loving: plaintiffs in the famous 1968 "Loving decision" striking down state laws banning biracial marriage
Dianne Lamb: nutrition and food specialist with the UVM Ag Extension
Doreen Kraft: executive director of Burlington City Arts
Brad Slaughter: supermarket meat manager
Marion Nestle: author of Food Politics and expert on America's "sugar shortage"
Alison Cook: food editor for the Houston Chronicle
Les Moody: Maine psychiatrist
Ernie Blood: cofounder of the 3-D medical device company Ascension Technology
Location aptronyms:
Neal Wanless, who lives on his family's 320-acre ranch near Mission, S.D., bought a $232.1 million winning Powerball ticket in the nearby town of Winner.
On August 7, Vermont State Police arrested Ronald Cargill and cited him for "prohibited acts" for allegedly approaching a woman and three children in a public park and rubbing his genitals. According to a police press release, the incident occurred at Ticklenaked Pond in Ryegate.