COURTESY
Myer's Bagels' freshly rolled bagel dough
Myer's Bagels
has been heating up
Truck Stop
with its Friday night wood-fired pizzas all summer long. Now, Burlington's popular Montréal-style bagel bakery will move to make room for more pies, more bagels and more customer seating.
This fall, the Myer's team will shift café and retail operations from the bakery's longtime home at 377 Pine Street to the former Mimmo's Pizzeria & Restaurant location at 408 Shelburne Road in South Burlington. Mimmo's closed its South Burlington location in early June, but remains open in St. Albans and Essex.
COURTESY
Wood-fired pizzas at Myer's Bagels
The new, larger café will be open daily for breakfast and lunch, with up to 75 seats inside and 35 seats on the outdoor patio. Pizza will be available three or four evenings a week to start, along with salads and a full bar, pending city approval.
"The response to the pizzas has been overwhelming," owner Adam Jones told
Seven Days.
"We want to keep that going and then put it into full fifth gear up at the new spot."
Bakers Ian Price and Dan Johnson developed the shop's crust recipe and pizza program; the pies are wood-fired, topped with local ingredients and offered by the slice or whole pie.
Partner and head chef Chris Conn will also add wood-
grilled
pizzas to the menu once the new location is up and running after a small renovation, Jones said. "The wood-grilled pizza is something [Conn] did in Providence, R.I. — it produces a product very unique and amazing, even compared to our wood-oven pizza," Jones added.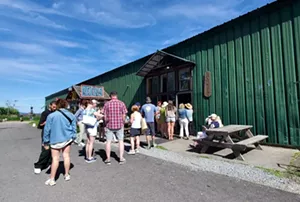 COURTESY
A Saturday morning line at Myer's Bagels on Pine Street
Myer's will hold onto its Pine Street space, which will remain open until the new café opens in late October or early November. The future of the Pine Street bakery is still to be determined, Jones said, but it could turn into a wholesale bagel production bakery, grab-and-go marketplace or commissary kitchen for food trucks.
The larger location on the east side of Shelburne Road appealed to the Myer's owners because it will make it easy for morning commuter traffic to stop in for a quick Montréal spice bagel or breakfast sandwich, and will accommodate the shop's regular weekend crowds.
"The physical address is in South Burlington," Jones said, but it's right on the border. "We'll say we're not leaving Burlington, just being a close neighbor. And to the South End neighborhood, it could be a closer walk than many of our customers have now."
Updated August 8, 1:15 p.m.