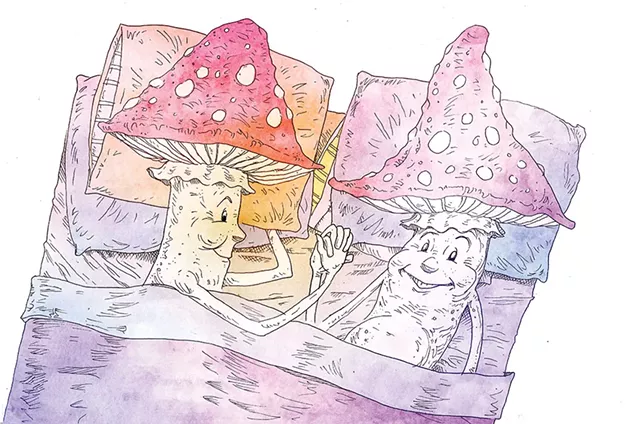 One might call her the Esther Perel of the fungi kingdom: Cardy Raper, an expert in mushroom sex, could tell you stories about water mold reproduction that rival the most imaginative sci-fi erotica. The aquatic fungus Achyla, for instance, is capable of changing its sex on the spot, depending on the signals of the nearest available mate. Achyla can even get it on with two partners simultaneously, adopting male sex characteristics on one side and female on the other.
Hot.
Now 94, the inexhaustible Raper (yes, she's heard all the jokes) has traded her career as a fungi sexologist for a second vocation as an author — most recently of the thrillingly titled memoir, Love, Sex & Mushrooms: Adventures of a Woman in Science, published by Green Writers Press in November 2018. The book chronicles her initiation into fungal knowledge through her mentor, John "Red" Raper, a renowned mycologist and professor at the University of Chicago. The two later married after a whirlwind courtship, a period of agonizing uncertainty (when they met, Red had a wife and kid), and a distressing incident involving a pipette.
After Red's death in 1974, Raper forged ahead with the research they had worked on together, embarking on a solo career at a time when women were scarce in scientific academia. From 1983 until her retirement in 1994, Raper was a research professor of microbiology and molecular genetics at the University of Vermont, where she directed studies on the mechanics of reproduction in a species of fungus with more than 20,000 sexual variations — male, female and everything in between.
A few days before she was scheduled to give a talk at Phoenix Books in Rutland on February 2, Raper was nursing a bad case of bronchitis. Before our interview, I called her to make sure she was still up for a conversation. She said she was, then requested that I pick up a pound of Misty Knoll Farms chicken wings and several "slightly greenish" bananas from City Market, Onion River Co-op on my way over. This is a woman who knows what she wants.
SEVEN DAYS: Before you and Red Raper were married, you were his lab assistant. Was there anything auspicious about your first meeting?
CARDY RAPER: Red and I met through a mutual acquaintance at the University of Chicago. Our first encounter was at a greasy spoon on 53rd Street in Chicago. All during lunch, this guy, Raper, with long, flaming-red hair, was gesticulating all over the place. He was full of life, and he was obviously very bright. I told him I'd be interested in working in his lab, and he sent me his papers, which were all about fungi and their funny way of having sex. I was fascinated.
SD: Was it love at first sight as you locked eyes over a proliferating mold colony?
CR: Well, at first it didn't even occur to me that he was a possible marriage prospect, because he was already married, with an adopted baby. But the university didn't have any housing for a family at the time, so Red came alone while she and the baby stayed with her parents. The distance was hard for him, and they were starting to grow apart.
My first awareness that he was interested in me was his birthday, October 3, when he asked if he could spend it with me. So we started hanging out as friends. And then one night, a group of us were all hanging out, listening to Hector Berlioz's Requiem, and he and I were lying on the floor, and there were candles everywhere, and during one tenor solo, he reached over and took my hand. And then I thought, Oh, my God. This is it. What am I going to do? It wasn't too long after that that we got together. In bed, I mean.
SD: What was so compelling to you about the sex lives of fungi?
CR: At that point, I really hadn't thought much about why people are sexually attracted, or why they get married. I knew the mechanics of procreation, but I didn't know the magic of it. So my interest from that point of view had increased. And the question Red was after was basically, "What happens when two water molds come together? How does it get decided which one is going to be male and which is going to be female?" It's a fascinating adaptation.
Wouldn't it be weird if people did that? What if you met someone more female than you are, and you could just decide on the spot to become the male? We didn't know nearly as much then about gender fluidity and being transgender, but mushrooms have had that figured out for millennia.
SD: The sexual behavior of the particular species of water mold that Red was studying, Achyla, became a weird allegory of his own masculine dilemma. As things started escalating between the two of you, he had to decide what he was going to do about his marriage. So he traveled to England to continue his research — and search for "strong male specimens." How often did you find parallels between your research and your love life?
CR: Well, that research didn't go quite where we wanted it to go — we never figured out how the genes of water mold could switch back and forth between male and female expression. That was worked out later on by our successors. But the result of that trip was that Red decided he no longer wanted to continue in his marriage, and he wanted to be with me instead. So there was some resolution there.
SD: Did anyone advise you against taking Red's last name?
CR: Oh, yes. Loads of people. We'd get calls in the middle of the night from drunk people as they flipped through the phone book, looking for funny last names. We'd pick up, and on the other end someone would yell, "Raper, raper, raper!" But I made my peace with it many years ago, when I had to serve on jury duty, and the judge pronounced my name as "Roper," maybe because she was trying to be polite. So very calmly, I said, "Actually, it's pronounced 'Raper.'" And I've been fine with it ever since.
SD: Are fungi selective about their choice of partner? Are some spores just not meant to be?
CR: Definitely. Pheromones play a huge role in the initial process of getting together and being attracted to one another. And in the wood-rotting mushroom, for example, there are different genetic complexes, which reside on different chromosomes. There are many different genes in each complex. Some combinations work together; some don't.
The key to compatibility is that they have to be genetically different in a certain way. My last post-doc student was figuring out which amino acids in that chain of pheromone affect compatibility, and it turns that there are only four or five locations on the gene that are important. So these subtle variations are essentially Mother Nature's way of trying out how to do sex.
SD: Do humans have a similar biological mechanism for establishing sexual compatibility?
CR: Humans also emit pheromones and have pheromone receptors — in our nostrils, our tongues, our ears. Those receptors receive a message, and then all of that gets transmitted to the brain, which has to interpret those messages. That's where things get a little complicated.
SD: After Red passed away, you got your PhD from Harvard University and went on to run your own lab at UVM. Do you think you would have accomplished all of that had Red lived a few more decades?
CR: Definitely not. I think we would have enjoyed old age together, but he was 13 years older than me, and women always live longer, anyway — though no one has quite figured out why. When he died, I was young enough that I had the will and the energy to carry on, but if it had been even five years later, I don't know that I would have been able to do all of that.
SD: I feel duty-bound to ask you this: Is your middle initial B, by any chance?
CR: No, but that Cardi B is quite a personality. I think I like her politics.
SD: Ever hear a song called "Bodak Yellow"?
CR: No. [We listen to it. Raper looks nonplussed.]
SD: Thoughts?
CR: How did she get to be so famous? [She eyes a photo of Cardi B on Spotify.] She looks very exotic. She's certainly making the most of being female — big boobs, lots of eyeshadow.
SD: In other words, if Cardi B were a fungus, she'd be a decidedly female spore.
CR: You might say that. You know, I think it's unfair that men don't get to be flashy and flamboyant in that way. They used to be, way back in the 18th century.
SD: Right. Powdered wigs, blush, pants with a billion ornamental buttons.
CR: I think the whole women's movement is not just about how women have been put down, but how men have put themselves down by segregating themselves the way they do. You look at Congress, and they're all wearing black suits. They look like pencils in a box. That's boring. Poor guys. And they can't cry, which is a pity. One thing I loved about Red? He was always able to cry.