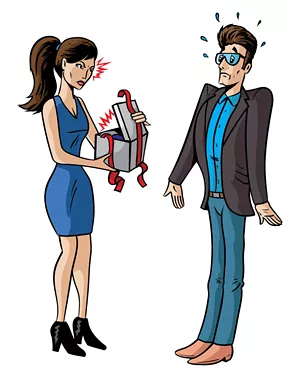 Dear Scarlett,
Christmas is coming, and I am dreading it. My wife is very into giving gifts, but we can't afford it and it's usually a setup. She'll buy me an expensive gift, then expect me to do the same. If I don't buy her something as nice as what she buys me, she gets angry. I just don't think we need to express our love with Hallmark cards and all that. I'd rather we appreciate each other every day and save the money. She knows how I feel, and yet it happens every holiday.
Signed,
Buyer's Remorse(male, 43)
Dear Buyer's Remorse,
On a positive note, it sounds like your wife is a generous person and is seeking confirmation that you love her as much as she loves you. On a negative note, it sounds like she's doing it in a shallow and materialistic way.
It also sounds like she's testing you. If you don't buy her the perfect thing, it means you don't love her (enough). That's a form of manipulation, whether she intends it that way or not. People should give out of the goodness of their hearts, not because they expect something in return.
Try to find the happy medium. She enjoys giving gifts and celebrating holidays, so put a limit on what you spend on each other. That will help reduce the mismatch between her buying you gold and you buying her silver — and it will save money to boot.
You could suggest limiting the gift giving to certain holidays. If Christmas is her favorite, agree to exchange gifts then, but not on Valentine's Day. A 10-year anniversary might warrant a splurge, but 12 years? Not so much.
You might also agree to spend together on a gift for you both — a vacation or an entertainment system. Or exchange gifts that aren't store-bought. She can give you an hourlong foot rub, say, and you can take on a week's worth of household chores — or vice versa. In the end, it really is the thought that counts.
Love,
Scarlett