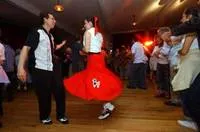 DANCERS AT THE "MY PLACE" SOCK HOP
The year was 1982. A postage stamp cost 20 cents. A gallon of gas, $1.30. Michael Jackson was thrilling Pretty Young Things across the globe, and Steven Spielberg introduced us to a telephone-savvy alien with a glowing finger. Ronald Reagan declared war on drugs, and John Belushi died from an overdose. Meanwhile, from a ramshackle studio in a tiny wooden building at Fort Ethan Allen in Colchester, a woolly bearded DJ from the Bronx was about to embark on a journey that would take him — and anyone else who would listen — back to the heyday of rock 'n' roll. By plumbing the canon of popular American music, he would create a Vermont institution.
Twenty-five years ago this summer, Joel Najman first stepped behind the mike, replacing David Field as the host of Vermont Public Radio's rock 'n' roll time machine, "My Place." While the show focuses on the history of American rock and pop music, this ain't your average oldies show. Incorporating obscure tidbits and offbeat stories of the era's artists, producers and songwriters, the program is a weekly crash course in rock appreciation and eschews the nostalgic kitsch found in more traditional oldies formats.
"We all know the music because we grew up with it. There are a lot of oldies stations, and you can buy oldies CDs, or go online and MP3 them or however you want to get the music," Najman says in a recent phone interview. "But it's relating it to the evolving culture of that time and the stories behind the songs — how they came about, how they were made — which has always been my hobby."
It's a "hobby" that's infectious enough to develop and maintain a devoted following of listeners across generational boundaries. To entice folks to tune in regularly at 9 p.m. on a Saturday, it has to be.
When Najman took over "My Place" from Field, it was a more traditional, free-form show that featured interaction with listeners. Najman revamped it, in part because he knew he wouldn't always be able to broadcast live, he says. Most installments zero in on a very specific topic, and developing a single hour-long show can take years. Najman is borderline obsessed with finding the inside scoop. Whether he's religiously reading trade magazines or tracking down fan clubs and collectors across the globe, the lanky sexagenarian is tireless in his efforts to get the goods.
"If I'm going to do a profile or biography of an artist, I'm going to find the stuff they recorded before they became famous, or if they continued recording but without commercial success afterward, I'll sample that and musically represent their entire career," Najman says. "There's a lot of material out there other than what we consider the familiar hits. I was astonished then, as I'm amazed still, that people find that to be an interesting part of the program," he marvels. "I always thought I was the only one."
If the turnout at the Socialist Labor Party Hall in Barre last Saturday evening was any indication, he most certainly isn't.
***********
In celebration of Najman's reign as Vermont's ultimate rock 'n' roll daddy-o, VPR has put together — what else? — a genuine sock hop, complete with swing dancers, hot rods and roller-skating waitresses. Greasers, beatniks and cool cats and kittens of all ages, shapes and styles descend on the Granite City to pay their respects to the man who's kept the 1950s alive and well in the Green Mountains for the last quarter of a century.
Stepping through the doorway of the old hall is like walking onto the set of a community theater production of Grease. The dance floor is an undulating sea of poodle skirts, scarves and slicked-back ducktails. Clad head to toe in pink, 51-year-old Dahni Dharma — who took inspiration for her outfit from Elizabeth Taylor's classic role in National Velvet — looks on in approval. "I think this is wonderful," she says, beaming. Though she couldn't dance because of a recent knee injury, Dharma drove from New Hampshire to attend. "I'm a big fan of Joel's show because it reminds me of my childhood. I just had to be here."
Much of the crowd probably shares Dharma's wistful reminiscences. But more than a few of the evening's dancers are far too young to have grown up with Chuck Berry or Ritchie Valens.
Brianna Desautels and Erica Liljestrand, 18-year-olds from Middlebury, like the music but love to dance. Frequent attendees at swing and salsa dances in Burlington, they were intrigued by the sock hop. "It's been fun," says Liljestrand, "but no one's really asked us to dance." According to Desautels, that's not uncommon. "We usually get asked once or twice a night. It's a shame more young people don't come out."
As the evening progresses, more young people do come out, and mix almost seamlessly with the middle-aged majority. Najman modestly presides over the event from his customary perch in the DJ booth. He occasionally comments on an upcoming song or makes general announcements, but for the most part he keeps a low profile, seemingly content to observe the crowd that's actually there to see him. Or perhaps that's just a defense mechanism.
"Actually, if I thought about it too much, I would have been too emotional," Najman admits, speaking later about the estimated 500 people who attended the hop. "I really had to focus on the music to keep it together."
Obviously touched by the outpouring of gratitude, the DJ is quick to return the praise. "I was so deeply honored and flattered. Really, it was just a defining moment in my life."
For a guy who built a career on exploring the defining moments of other lives, that's no idle DJ patter.