Unique, unorthodox, surprising: Those are just some of the adjectives that come to mind when one describes the residence of Anni Mackay and Doon Hinderyckx.
For starters, the two live above an art gallery. Sitting alongside Route 100 in tiny Rochester, Vt., BigTown Gallery is impossible to miss. Its circular motif in the front — like a giant Buddhist enso — "really invites the public," gallery owner Mackay says. That shape is echoed vertically in a cylindrical, 34-foot-high tower at the back of the building. The fairy-tale tower encloses a book-lined spiral staircase leading to Mackay and Hinderyckx's home. Climb a little higher, and you find not Rapunzel but an inviting hammock with a 360-degree view of the expansive backyard, the forest and the town's 19th-century cemetery beyond.
Formerly a nondescript private home, constructed in 1912, the building had just two occupants prior to Mackay and Hinderyckx. Only a driveway separates it from the latter's business, Green Mountain Bikes — from which, for 25 years, Hinderyckx had a view of the house. In 2004, the couple decided to buy it "on a whim." The following year, they got married.
"Often relationships don't survive renovations," notes Mackay. "But this was fun." A skilled builder, Hinderyckx adds, "It helped that I could do a lot of the work myself." He also called on his stepfather from California to lend a hand.
But first, Mackay and Hinderyckx tapped nearby architect Robert Melik Finkle to reenvision the place and draw up plans. And did he ever. The entire house oozes character and is full of inventive spaces and thoughtful details. Take a look.
Open Floor Plan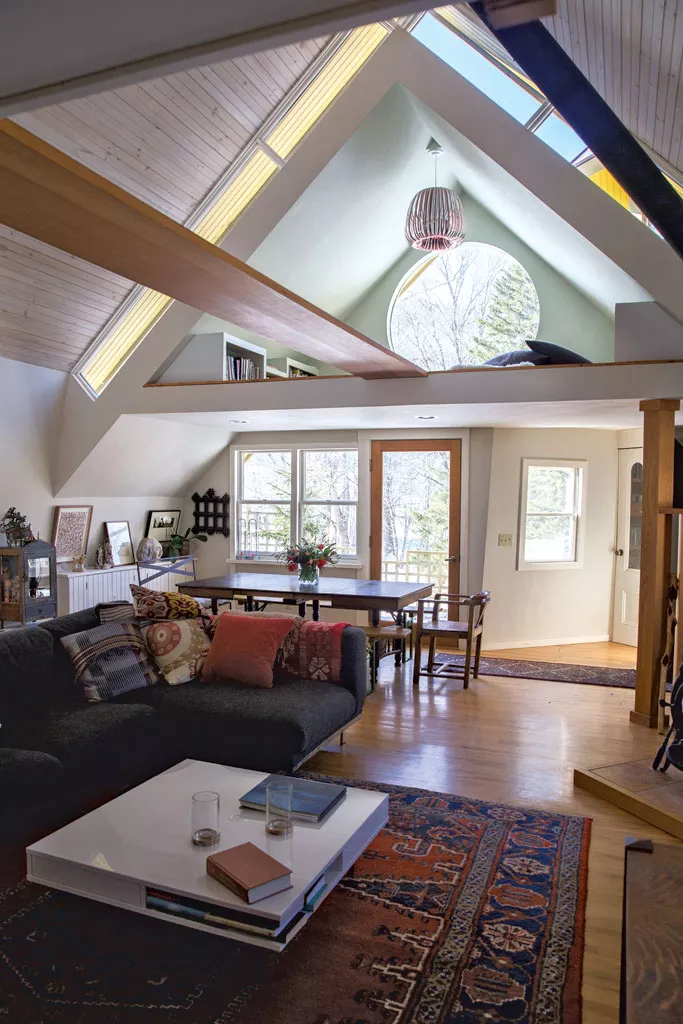 From the rear wall of the old house, Mackay and Hinderyckx built a 400-square-foot addition. The new walls are subtly tilted, at 11 degrees, toward the high, pitched roof.
"Most of this was unheated attic space," says Mackay. In one corner of the pleasant, airy living room, an antique desk demarcates a de facto workspace, while an informal dining area with a dark wood table runs alongside tall windows at the back. In another corner, beside the tower door, a partial wall defines an open closet area where jackets hang on pegs and boots cluster on the floor. A small woodstove is the only heat source, bolstered, Hinderyckx says, by triple-pane windows and three-and-a-half inches of spray insulation in the walls.
Artistic Touches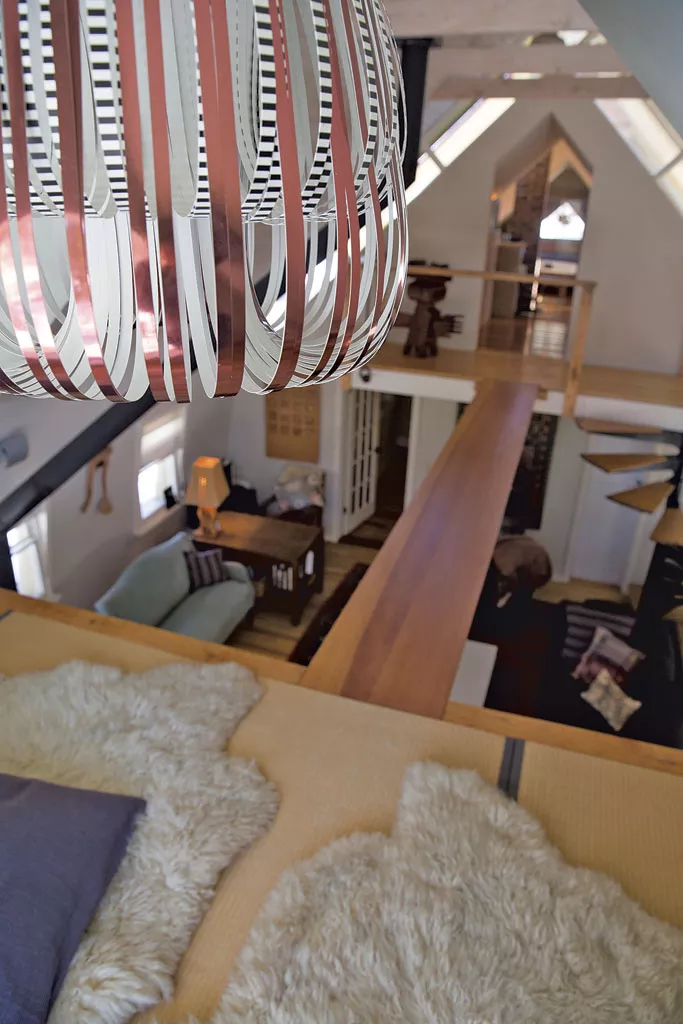 Works of art are everywhere — on the white walls and arranged on low shelving. Not surprisingly for a gallerist, Mackay has a discerning eye, and it shows in the objects she chooses to live with. Antiques and contemporary pieces mingle companionably; a smattering of imported furnishings — such as an enormous mirror frame from Pakistan — give a nod to worldly influences. Picking up one of a pair of ceramic curiosities, the British-born Mackay admits that the "English in me" is prone to a little eclectic collecting.
Such Great Heights
The objets d'art provide a lot to look at, but it's hard not just to look up. That's because two somewhat alarming architectural features provide access to the building's upper living spaces.
The first is a salvaged spiral staircase, sans handrail, that climbs to a little overhead landing. The second is a catwalk — a thick plank some 18 inches wide — that bisects the room at the height of a conventional ceiling and leads to a small loft. It's a vertigo-inducing walk, but the spot is inviting, flooded with light from cathedral-like windows and scattered with pillows. Children love it, says Mackay, and so does the family cat. She swears that no one has ever fallen from the plank, but admits that the multilevel home might be challenging for the elderly or infirm.
A Room With a View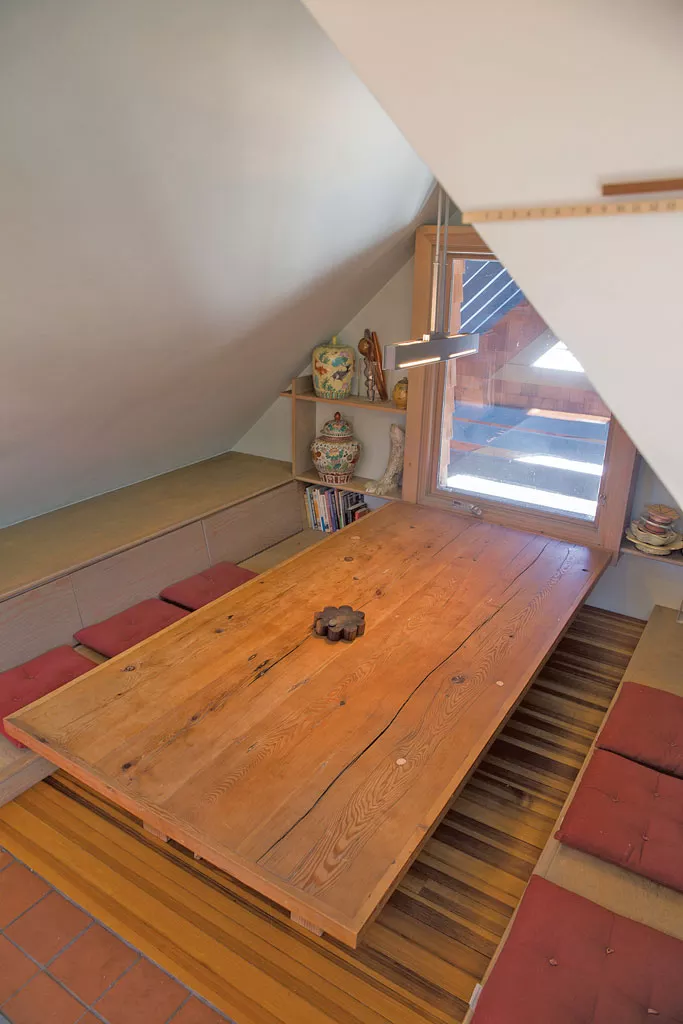 On the other side of that spiral staircase, toward the Route 100 side of the building, are a drawer-lined hallway and a small, efficient kitchen whose angled windows look out on downtown Rochester. "We call it 'town TV,'" Mackay quips. At the very front, nestled under the sloping roof, the couple installed a low, Asian-style eating area with cushions on the floor. The space supplies an elegant symmetry with the loft at the back, and typifies the smart use of nooks and crannies in this house.
"Since it's not a very big place, we've created all these cozy little spaces," Mackay says.
Form Meets Function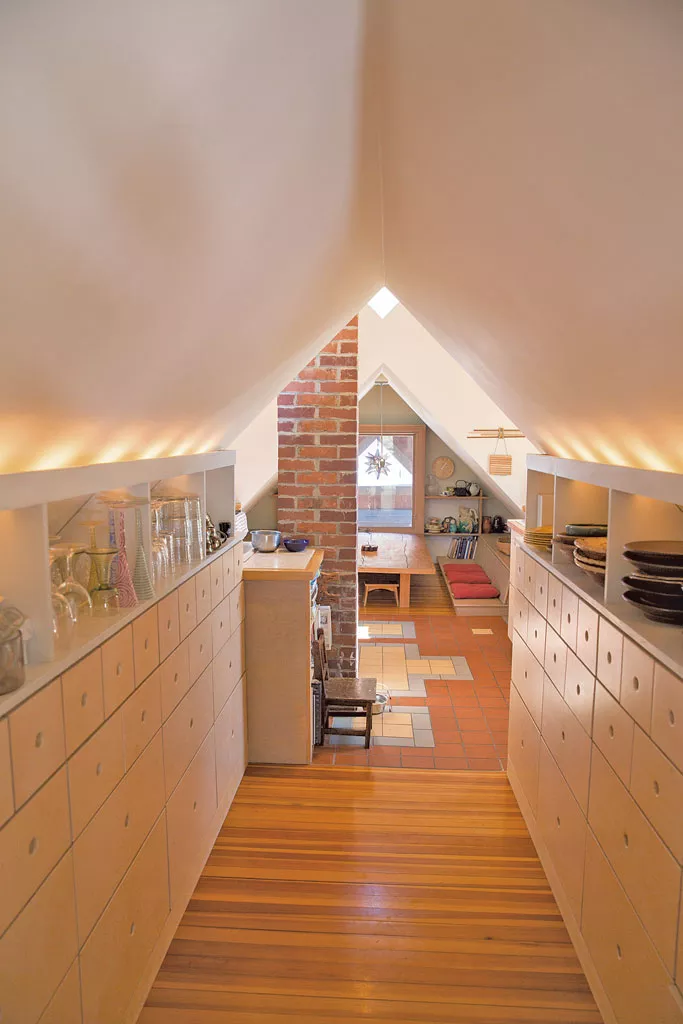 Unusual details catch the eye in the kitchen, such as the lack of knobs on pickled-white cabinet doors and drawers. Instead, there are finger-size holes for pulling. Subtle recessed lighting gently illuminates the hallway and silhouettes stacks of wooden bowls and dishware. Storage cubbies are hidden behind apothecary-style cabinetry.
Share Your "Nest"!
We're looking for more beautiful and unusual homes to feature in our upcoming issues. Drop us a line at nest@sevendaysvt.com to recommend a home — and send pics!