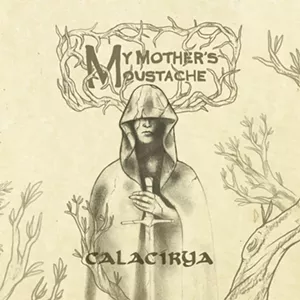 My Mother's Moustache, Calacirya
(Self-released, CD, digital)
My Mother's Moustache are an ever-shifting collective that orbits around the songwriting work of guitarist Joe Sabourin. While that group's story began in the Boston area, Sabourin has been plucking in Vermont for some time now.
The band's 2017 album Down From the Door had an intimate feel and some rough edges. It was also recorded entirely in a living room — a good fit for the band's twangy indie folk, even if that decision was born of necessity. For the group's latest album, Calacirya, Sabourin opted for a much different venue: the Old Brick Church in Williston. Predictably, such a location demands much different material.
The result is a dark, thoughtful turn in the My Mother's Moustache catalog. It's also their best album so far. Sabourin's songwriting has grown more refined, his influences less obvious. And, as it turns out, the ideal spotlight for this growth is the unforgiving acoustics of an old stone holy house.
The opening track, "Seasons," makes the most of those surroundings, opening with sparse percussion and a hypnotic guitar line. Above it all, somewhere in the distance, wails the polished fiddle work of multi-instrumental collaborator Matt Bean, who shines throughout the LP.
Ian Koeller's percussion work also deserves special praise. He seldom drives the rhythm here — instead, his contributions serve to make songs more cohesive, more dynamic. For much of this album, My Mother's Moustache sound like a completely different band than heard previously.
It's not until the fifth cut, "St. James Infirmary," that My Mother's Moustache take a turn back toward the pub-stomping sing-along folk that defined their earlier output. The old jazz standard is a fine enough song, but it feels out of place in the middle of such a restrained, dynamic album. (It also demonstrates that old stone churches don't do banjos any favors.)
That aside, the closing act of Calacirya is akin to a beautiful drive down a long dirt road. "Follies" and the title cut are back-to-back knockouts — mournful, hopeful and flawlessly arranged.
Ultimately, Calacirya is a testament to Sabourin's growth as an artist. His guitar work has become more confident and controlled, and his lyrics are leaner than ever, telling less and evoking more than on previous albums. He's also working with perhaps his best lineup of backup musicians to date.
Another collaborator shaped this album without playing a note: Engineer Chris Tranten delivers warm, lush mixes on every track here. You can tell this young crew put a great deal of thought and time into preparing for these takes, and it elevates the entire project.
The latest offering from My Mother's Moustache will delight fans. But I'm betting Calacirya is going to earn Sabourin and co. a lot of new fans, too. This is an album that demands and deserves your attention — and it's a perfectly timed fall soundtrack, to boot.
Calacirya will be available digitally and on physical CD on Friday, October 12. My Mother's Moustache celebrate the album release with a show that night at Colchester's Mead Hall.