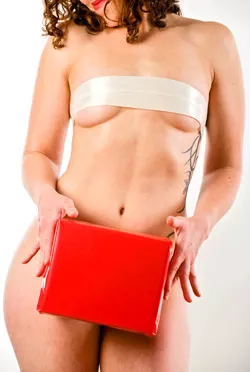 It takes a lot of stamina to read through 581 "memorable sexual experiences" recounted in graphic, cum-squirting detail. After so many blow jobs, handymen and end-of-the-runway climaxes, an editor needs, well, a cigarette.
But first: a few observations on the factors that elevate a mutually pleasurable tryst to an unforgettable "embodiment of divine bliss," as one respondent described it. Or, to use the more common descriptor: Sex that is "so hot" you just can't forget it.
Hungarian stranger on a train? We'll get to that. Fact is, a few lucky people are actually partnered with the object of their desire: People fondly remember their wedding nights, conception sex and the "first time" with their current spouses. Sound boring? Uh, read on. "The first time my wife and I had sex," one bisexual female wrote. "At that time she was a pre-op MTF transgender gal, and I had never had sex with a girl before."
Threesomes definitely make a lasting impression, whether it's a guy with "two hot chicks in Prague" or a woman hooking up with "two guys treating me like a sex goddess." Even the imaginary menage à trois ranks right up there. "If I ever have a threesome," one wishful young heterosexual man predicted, "that will be my most memorable."
It could happen, since the same dude is also partial to public bathrooms. He's not alone. Exhibitionism shows up in many "memorable encounters," whether it's a furtive fuck in an art museum or on a mountain top; in the friction — er, fiction — section of the library; or in the Home Depot parking lot. Our armchair analysis: The possibility of being caught with your pants down in a public place is an adrenalin-fueled aphrodisiac.
Trysts that could have been — or were — busted by authority figures tend to be indelible. Parents interruptus? Unforgettable. Cops make an impression, too, whether they get in on the act or not.
Almost as titillating: anything religious. Forbidden is sexy. People have given it up on altars, and in cemeteries, pews and church parking lots. One middle-aged woman recalls "having sex in a Lutheran church during a Cub Scout meeting." She's now . . . an agnostic.
Did we mention thunderstorms? They come up a lot.
So do Vermont landmarks. Readers recall rubbing more than elbows in Stowe gondolas, in the UVM president's house and in the elevator at the Majestic 10. The Roxy, too, has seen some action. The Randolph rest area will never shut down in one guy's mind.
In fact, pulling over may be preferable to what goes on while folks are speeding down I-89. Driving and blowing at the same time? Here's another cautionary tale: "Partner was giving me road head on 89 in a snowstorm near Bolton Flats and spun out of control and somehow we went through two signposts, the car unharmed." That's topped only by a report of "getting a blow job while piloting a plane."
The fly boy also reported hot sex with an ex. Join the club. People can't seem to get enough of the one that got away. But they're equally drawn to strangers. The next best thing to a "many-muscled Maori tribesman" or a Norwegian fighter pilot? A handyman hookup. One woman recalls "getting it on with the guy sanding my floors." A snowplow driver will never forget one female customer who called him into the house. "I took off my boots, walked in, and there she was in a tiny little black teddy. Needless to say, I did another hour of plowing without even touching my truck."
Not all lasting sexual memories are positive. "Unfortunately, being raped" made the list. One woman described "having fantasy rape sex" with a guy she met on the street. She pretended to be 4, and he pretended to be an abuser in his forties.
And there's more where that came from: "I was a 21-year-old drug addict. She was a 16-year-old goth bondage queen. We fucked under a blue light listening to the Fantomas. She enjoyed being choked."
Kinda makes swinging seem wholesome — which one reader does, convincingly.
The wildest exploit? For sheer hetero audacity, it's gotta be the guy who was summoned by a stranger to have sex in an airplane bathroom on a flight from LaGuardia to Salt Lake City. Once he'd returned to his seat, he got a second request from the stranger's friend. The twosome turned into a threesome. It made a lasting impression: This twentysomething libertarian still lists "standing up" and "airplane" as his favorite places to have sex.
Gay guys also get around, whether they are engaged in a "Small orgy in the woods, by a river" or an "orgy with five other guys in the office in the middle of the day."
But leave it to a bisexual woman to describe the art of cunnilingus.
It's not easy to convey the act in words. That didn't stop Seven Days readers from trying. Some went the expository, Penthouse Forum route. Others were more flowery and poetic: "Surrendering so deeply to the ecstasy of loving union that my body felt like it was dissolving into a golden light."
But sex, like writing, can be enhanced by restraint. One haiku-like evocation seemed to sum up the exercise without blowing anyone's cover. The young heterosexual man can't get over "DEETJEN'S BIG SUR INN. Bed, floor, chair, upside down."
Beats "strap-on sex with the boss."
A complete collection of unedited, uncensored "memorable responses" can be found here. It's a long, but great, read.