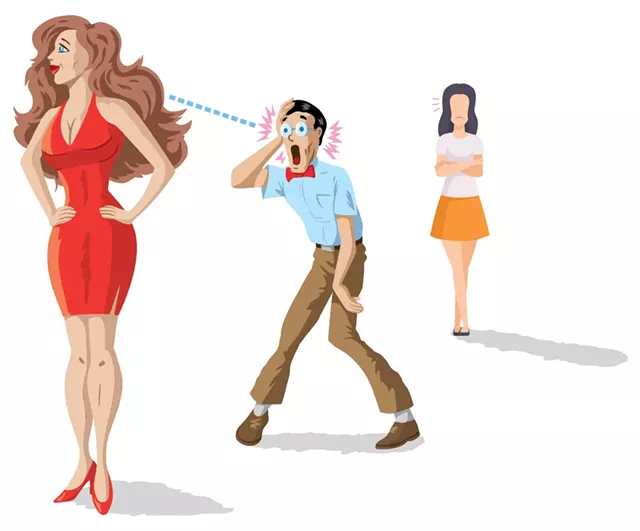 Dear Scarlett,
For about six months I've been dating a guy whom I find really attractive. We have awesome sex and a lot in common. There's a problem, though. When we hang out in public — at a coffee shop or walking down the street — I catch him staring at other women's bodies. Sometimes he even interrupts our conversation to comment on them. The whole thing annoys me and makes me feel bad about myself. I told him that he shouldn't look at women as just body parts, that we have personalities and brains. But he gets defensive and accuses me of being jealous and insecure, which makes me feel even worse. I don't know if this is a deal breaker, but it makes me not want to go out with him in public, because it happens every time.
Signed,
Annoyed (female, 35)
Dear Annoyed,
Many men — and women — look at women's bodies more than they look at their faces. But when does a glance become gawking? If his rubbernecking makes you feel inferior and he knows it, then he's openly disrespecting you. A decent partner tries to make you feel happy, loved and secure. The fact that you don't want to go out in public with him says a lot.
Why he is staring? Is he hoping one of these women will notice him? Is he looking to hook up? Is he so insecure that he needs affirmation from total strangers — at your expense?
The fact that he mislabels his actions as your "insecurities" is even worse. Gaslighting is when a person makes you question your own perception or experience. It's a form of psychological manipulation and a sign of selfishness, even narcissism.
Don't allow him to make you doubt yourself. Approach this from a position of strength. It's his behavior that's a big turnoff, and you deserve a partner who will make you feel sexy and good about yourself.
Love,
Scarlett