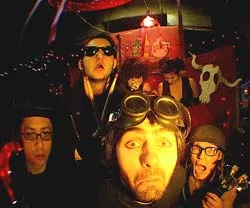 Whether you're married or otherwise seriously involved romantically, or pathetically alone and lacking significant prospects, Valentine's Day simultaneously blows and sucks. If you are lucky enough to call someone "darling," VD — not that VD, though there's a parallel in there somewhere, right? — comes laden with unrealistic, materialistic expectations: chocolates, flowers, little chalky heart-shaped candies with inane messages, dinners and, for showboating jerks, jewelry. Every kiss-my-ass begins with "Kay."
On the other hand, being single presents its own set of headaches. Sure, you save some dough by not bowing to Hallmark-invented pressure at Cupid's arrow point. But you also experience the distinct displeasure of finding happy couples basking in their own smug glow seemingly everywhere you turn. Oh, joy.
At the very least, swooning or single, we are all united in a common misery. And misery loves company. And booze.
Misery also loves music — or is it the other way around? As Valentine's Day falls on a Saturday, there's plenty of music well suited to pluck at your heartstrings this weekend. In no particular order, here are a few of the more promising options:
• Osage Orange, Cccome?, Dangerbird and Joe Adler at Radio Bean, Burlington.
Sometimes a band sends along a show announcement that simply puts it better than any professional scribe could. On those infrequent occasions, I find it best to just step out of the way. To wit: For all those who didn't find "It" this St. Valentine's Day, no need to be alone in your loneliness. Burlington's famously tragic love quartet Cccome? presents a last hour helper for your hamburgered heart, "Love's A Wrecktion," a three-part theatrical dedication to tales of woe, "wha? . . . Oh" and "Whoa!" Bring your crippled coronary and some super glue down to Radio Bean for some communal crafting.
See what I mean? And FYI: Osage Orange is Nick Cassarino's rebirthed and renamed indie-folk outfit El Paso.
• Let's Whisper, The Pains of Being Pure at Heart and The Depreciation Guild at The Monkey House, Winooski.
If the names of those three bands don't inspire you with the proper degree of heartstrung whimsy, well, you're probably hopeless. Though it may help to note that it's a Tick Tick show. Still nothing? Hmm . . . How about this?
Both opening bands have garnered some serious Pitchfork buzz of late, and with good reason. The Pains of Being Pure at Heart is sort of what would happen if Morrissey sat in with My Bloody Valentine and took some uppers. And then maybe some downers. The Depreciation Guild is similar, but replace Morrissey with Belle & Sebastian and add some Legend of Zelda 8-bit shenanigans. Got it? If not, click here to download DG's latest album.
Local indie fans are hopefully already familiar with Let's Whisper, the acoustic bedroom-pop side project of Smittenly duo Colin Clary and Dana Kaplan. Word is that The Smittens have some big travel plans in the works for the warmer months ahead. So catch 'em while you can.
• Souls' Calling at Langdon Street Café, Montpelier.
Saxophone sultan Bryan McNamara's other band. The Strength in Numbers honcho is taking a break from his up-and-coming hip-pop ensemble to embark on a weekend-long mini-tour with his all-star experimental-jazz outfit. The group's rotating cast typically includes Geza Carr (drums), Robinson Morse (bass) and Joe Davidian (piano), among others. And if you're otherwise engaged on V-Day, you can also catch the group Friday night at Parima's Acoustic Lounge.
KICKIN' THE (RUBBLE)BUCKET
Speaking of Strength in Numbers, since we last met, I have received a number of emails from confused readers regarding comments I made while forecasting that SIN will take home the 2009 Seven Daysies award for "Best New VT Band." Though the missives ranged broadly in scope and tone, the gist was as follows: "Huh?"
Half of my reasoning — and, seemingly, the primary source of confusion — was that a healthy chunk of SIN actually hails from Montréal. That was a joke, people. You see, last year's winner, as voted by 7D readers (that would be you), was Rubblebucket Orchestra, which largely claims residency in Boston. Although a few members do, in fact, live in VT. Get it?
So no, I wasn't making fun of either band. I was making fun of you. Man, I'm so glad we cleared the air.
In all seriousness, Rubblebucket is an amazing group and really did deserve the award — just as SIN would, should they claim it this year. And if you don't believe me, I suggest you make your way down to Club Metronome this Friday and see what all the fuss is about as Alex Toth and his "rubble"-rousing Afro-funk orchestra mates make a hometown-ish return in the midst of their nationwide club tour.
BITE TORRENT
Just in time for Valentine's Day, Vermont finally has a gay bar! And frankly, it's about damn time. In the years since noted gay-friendly watering hole 135 Pearl closed, Vermont has curiously been without a legit gay bar. Even one. You would think in a supposedly progressive state such as ours, that problem would have been remedied long ago. Or, perhaps because Vermonters tend to be more open-minded than our counterparts across the U.S., the need to fill Pearl's snazzy shoes just wasn't as pressing. Whatever the reason it took so long, Two Friends Bar and Bistro is here. It's queer. Get . . . well, you know. The Williston Road joint — just behind Quizno's — had a soft opening last weekend and will reportedly feature the house stylings of DJ Rob Douglas on Friday and Saturday nights, in addition to full lunch and dinner menus throughout the week. Shot in the dark: Perhaps there's now a killer after-party spot for Higher Ground's Winter Is a Drag Ball this Saturday? Just a thought.
The folks at local online radio station WBKM have taken over Tuesday nights at Nectar's with a weekly blues and jazz series. Though there are typically a couple of nifty warm-up acts, the main draw is the de facto house band, The WBKM Book 'Em Blues Band. The core group is a veritable all-star band featuring Red Hot Juba's D. Davis on rhythm guitar, The Dead Sessions' John Rogone on bass, Grace Potter & the Nocturnals' drummer Matt Burr and the estimable Bob Wagner on lead guitar.
Montpelier's new alt-venue Lamb Abbey has a pair of shows this weekend that bear mentioning. On Friday there's a newish Central VT three-piece rock outfit called Trail 18. Saturday night, the Abbey hosts its first-ever dance party as DJ Ta$temaker presents "Let's Get Physical." Expect much booty shakin' to be had both nights.
And, finally, your weekly Monkey House recommendation: Clock Hands Strangle, this Sunday. If your heart is still sore from Valentine's Day, don't go. Then again, maybe you should. These guys are the indie-folk equivalent of aspirin.