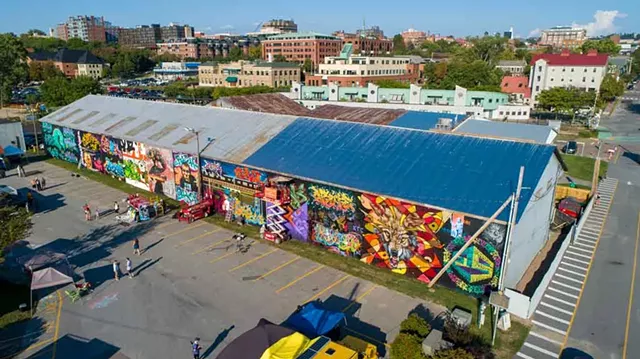 Above the Radar in Burlington
Above the Radar
Passengers disembarking the Lake Champlain Ferry are regularly treated to some of the most dynamic art in Vermont. That's thanks to the annual Above the Radar graffiti festival, during which dozens of artists from New England and beyond cover a 260-foot wall by the ferry dock in this unique style of urban art. Local artist group Anthill Collective invites spectators to enjoy food trucks, dancing and music while watching a new mural come together this September. The collective's goal? "To show the public that graffiti and aerosol art are legitimate modern art forms and that, furthermore, it can be used as a medium for social change. This event serves as a window into an otherwise misunderstood lifestyle."
September 13 through 15 at the King Street Ferry Dock in Burlington.
Oktoberfest Vermont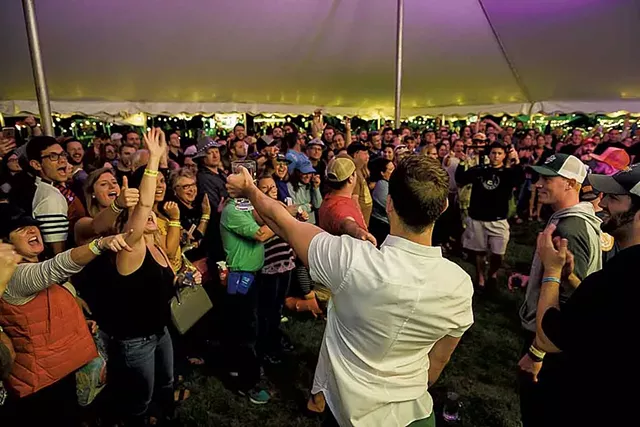 On the third weekend in September, while millions attend Munich's world-renowned Oktoberfest, Vermonters say their own "Cheers!" over beers. The two-day Oktoberfest Vermont nods to Bavarian brewing traditions while celebrating suds from the best local and regional brewers — not to mention some acclaimed names straight from Germany. Pair a pint of von Trapp Brewing lager with a golden soft pretzel the size of a Frisbee — then soak up the scene on the shores of Lake Champlain. Festivities include authentic oompah music, a yodeling competition, a keg toss and carnival-style games. Prost!
September 20 and 21 at Waterfront Park in Burlington. Info, oktoberfestvermont.com.
Pipe Classic
Every September since 2006, the country's best glassblowers have descended upon Burlington for the Bern Gallery's annual Pipe Classic competition. Located on Main Street, the upscale smoke shop, hookah bar and glass school challenges these artists to complete a functional pipe in just 12 hours — a process that might typically take days or weeks for the large, sophisticated works being produced. This year, a dozen esteemed participants — with names like Cap'n Crunk, Doshworld and LaceFace — race against the clock and each other. Spectators can get in on the action by watching them work — and, if so inspired, return at a later date for their own lesson with the gallery's resident glassblowers, Dr. Whitestone and Tito Bern.
September 23 through 28 at the Bern Gallery in Burlington. Info, berngallery.com.
---
Above the Radar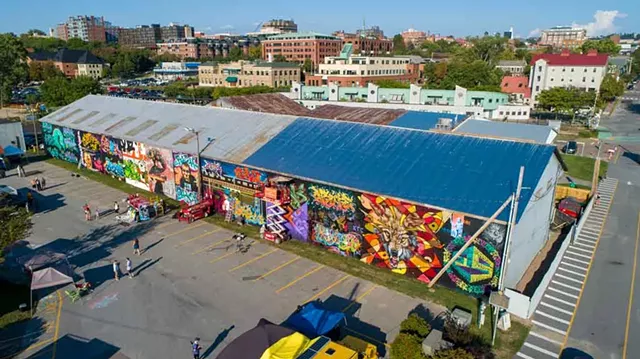 Above the Radar in Burlington
— En descendant du traversier du lac Champlain, on peut admirer l'une des œuvres d'art les plus dynamiques du Vermont grâce au festival annuel de graffitis Above the Radar. L'événement réunit des dizaines d'artistes de la Nouvelle-Angleterre et d'ailleurs venus peindre un mur de 80 mètres dans cette forme d'art urbain unique, près du quai des traversiers. Anthill Collective, groupe d'artistes locaux, invite les spectateurs à venir voir une nouvelle murale prendre forme en septembre, tout en profitant des camions de cuisine de rue, de la danse et de la musique. L'objectif? « Montrer au public que les graffitis sont une forme d'art moderne légitime, qui peut en outre contribuer aux changements sociaux. L'événement se veut une fenêtre sur un mode de vie autrement mal compris. »
Du 13 au 15 septembre au quai des traversiers de King Street à Burlington.
Oktoberfest Vermont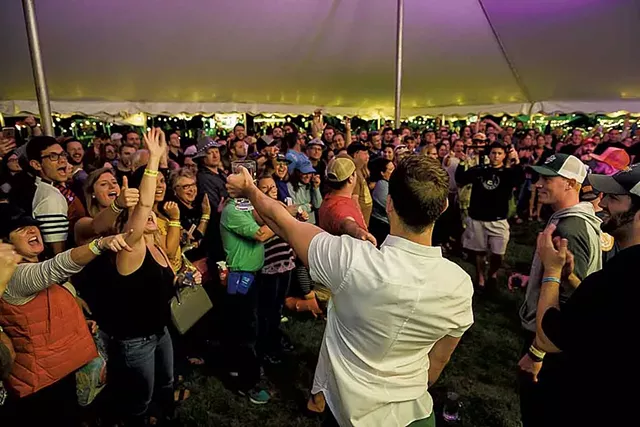 La troisième fin de semaine de septembre, alors que des millions de personnes assistent au célèbre Oktoberfest de Munich, les Vermontois trinquent aux bières locales. Le festival Oktoberfest Vermont fait un clin d'œil aux traditions brassicoles bavaroises, mais célèbre les créations des meilleurs brasseurs locaux et régionaux — sans oublier certains grands noms venus directement d'Allemagne. Offrez-vous une pinte de lager von Trapp accompagnée d'un gigantesque bretzel moelleux et doré, puis dégustez le tout en profitant de l'ambiance au bord du lac Champlain. Au programme : musique traditionnelle allemande, concours de yodle, lancé de barils et jeux de style carnaval. Prost!
Les 20 et 21 septembre au parc Waterfront de Burlington. Information : oktoberfestvermont.com
Pipe Classic
Depuis 2006, les meilleurs souffleurs de verre du pays convergent vers Burlington en septembre pour l'annuel Pipe Classic organisé par la Bern Gallery. Leur défi? Réaliser une pipe de verre en seulement 12 heures alors qu'il faut habituellement des jours, voire des semaines, pour les créations les plus grosses et les plus élaborées. Spécialisée dans les articles haut de gamme pour fumeurs, la Bern Gallery exploite aussi un bar à chicha et une école de soufflage du verre. Cette année, une douzaine d'artistes respectés, comme Cap'n Crunk, Doshworld et LaceFace, s'affronteront dans une course contre la montre. Le public est invité à prendre part à l'action en les regardant travailler, et si cet art vous intéresse, la boutique offre des cours particuliers donnés par ses artistes en résidence, Dr. Whitestone et Tito Bern.
Du 23 au 28 septembre à la Bern Gallery, Burlington. Information : bernGallery.com