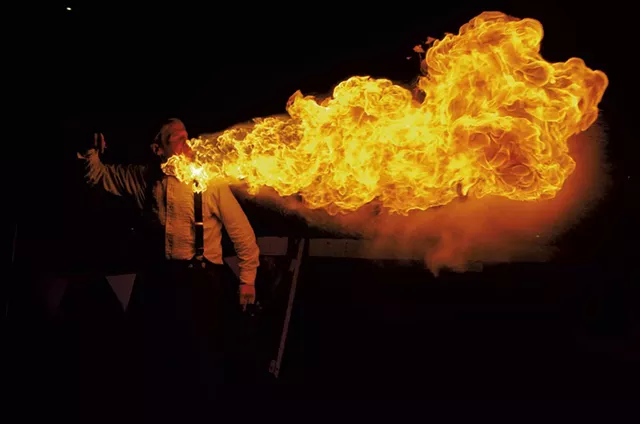 Stephen Mease
Sculptor and fire breather Chris Cleary at a previous Art Hop
South End Art Hop
Love art? Hop on over to Burlington's Pine Street in early September. The artists' studios, galleries and post-industrial business spaces lining the colorful corridor reinvent themselves as exhibition sites during the city's 26th annual South End Art Hop, a three-day flurry of art activity and appreciation. More than 600 participating artists showcase their creative talents in exhibits, outdoor sculpture, live demonstrations and fashion shows — and as many as 30,000 visitors from the Northeast and Canada come to enjoy the view. Workshops, artist markets and the hands-on Kids Hop make the fest so much more than a spectator sport.
Friday through Sunday, September 7 through 9, at various South End locations in Burlington. Info, seaba.com.
Foliage HIkes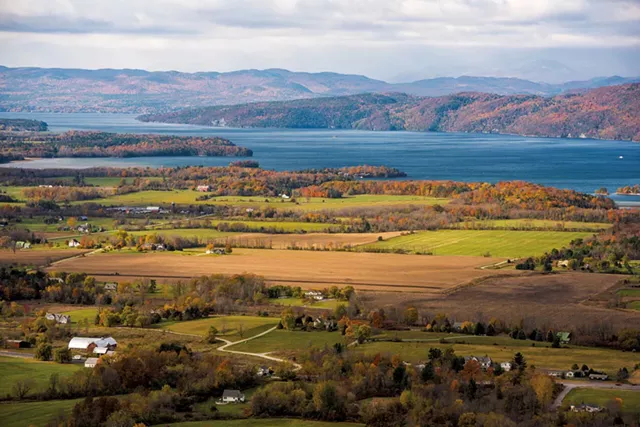 Nathanael Asaro
Western view from Mount Philo
It's no coincidence that to experience peak foliage in Vermont, you have to head to actual mountain peaks. While fiery leaves can be stunning from any standpoint, only from a high vantage do they paint the landscape as far as the eye can see. Looking for a striking view? Thirty-five minutes from Burlington, Mount Philo stands 968 feet tall, requiring relatively little effort for its wide-open overview of the Champlain Valley. The twisty mountain drive to Sterling Pond's trailhead, an hour away, is already lush with foliage, making the short trek to this alpine lake a popular destination. For a greater challenge — and greater rewards, too — try Camel's Hump, about 45 minutes from Burlington. Multiple trails lead to the top of the state's third-highest mountain.
Find out more about these hikes at vtstateparks.com.
Shelburne Farms Harvest Festival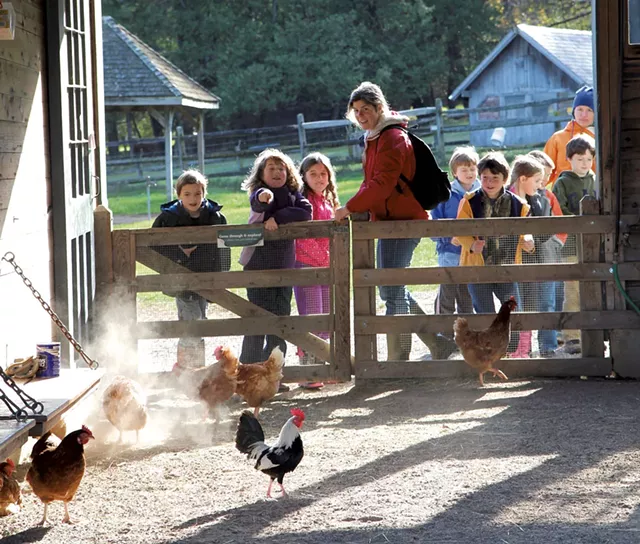 Courtesy Of Shelburne Farms
Around the world, a successful harvest season is a time for celebration. Not only does the bounty of freshly grown food call for a feast, it's an opportunity for hardworking farmers to kick up their heels and enjoy the fruits (and vegetables) of their labor. Many Vermont communities come together for harvest festivals, but nearby Shelburne hosts one of the largest and oldest. Shelburne Farms — a working farm, National Historic Landmark and nonprofit organization helping to build a sustainable future for the planet — welcomes farmers, food producers, entertainers, traditional crafters and the public to its 40th annual fest. Eat and be merry.
Saturday, September 15, at Shelburne Farms. Info, shelburnefarms.org.
---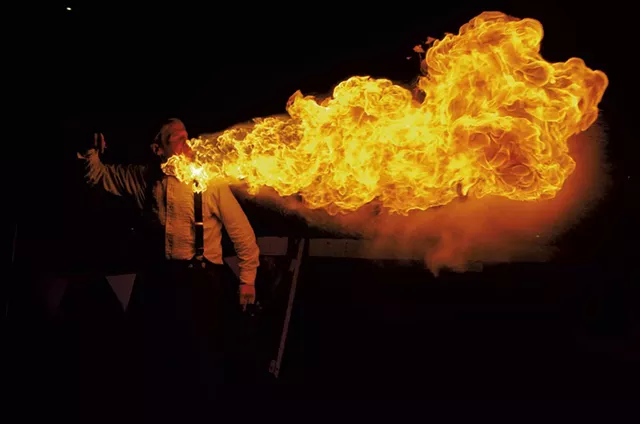 Stephen Mease
Sculptor and fire breather Chris Cleary at a previous Art Hop
South End Art Hop
Vous aimez l'art? Faites un saut sur Pine Street, à Burlington, au début de septembre. Les studios d'artistes, galeries et espaces commerciaux post-industriels qui longent cette artère colorée se transformeront en lieux d'exposition lors du 26e festival annuel South End Art Hop, trois jours remplis d'activités et de découvertes artistiques. Plus de 600 artistes feront étalage de leur talents créatifs – vernissages, sculptures en plein air, performances en direct et défilés de mode – et jusqu'à 30 000 visiteurs du nord-est du pays et du Canada sont attendus. Ateliers, marchés d'art, activité interactive Kids Hop : au-delà de la contemplation, ce festival invite à l'action!
Du vendredi 7 septembre au dimanche 9 septembre, dans divers lieux du South End à Burlington. Info : seaba.com.
Foliage HIkes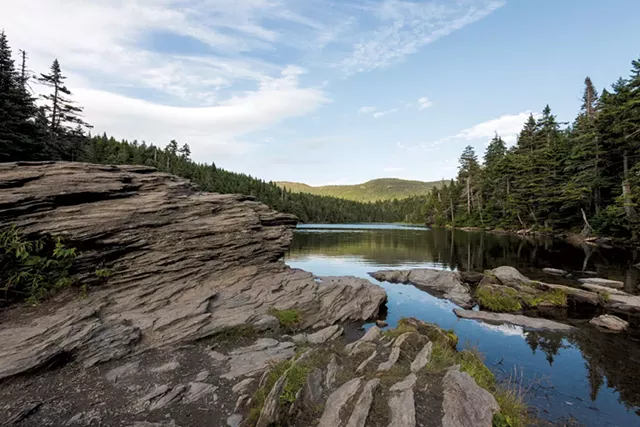 Nathanael Asaro
Sterling Pond
On ne vous apprendra rien en vous disant que pour profiter des plus belles couleurs d'automne au Vermont, il faut aller en montagne. Certes, les feuilles chatoyantes sont magnifiques peu importe où on se trouve, mais pour les voir embraser le paysage à perte de vue, il faut absolument aller en hauteur. Vous cherchez une vue imprenable? À 35 minutes de Burlington, le mont Philo culmine à 295 mètres et vous devrez fournir relativement peu d'efforts pour profiter d'un large panorama sur la vallée du Champlain. La route de montagne sinueuse menant au départ de sentier de Sterling Pond, à une heure de distance, est déjà haute en couleurs, ce qui fait de cette courte randonnée débouchant sur un lac alpin un véritable incontournable. Pour un défi plus corsé — et plus gratifiant — essayez Camel's Hump, à environ 45 minutes de Burlington. Les multiples sentiers conduisent au sommet de cette montagne, qui est la troisième plus haute de l'État.
Apprenez-en davantage sur ces randonnées à vtstateparks.com.
Shelburne Farms Harvest Festival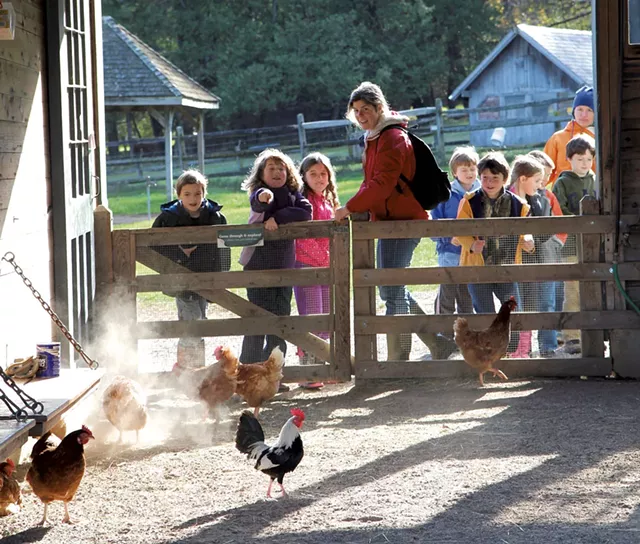 Courtesy Of Shelburne Farms
Partout dans le monde, la saison des récoltes est synonyme de célébration. Toute cette moisson d'aliments frais est évidemment prétexte à festin, mais c'est aussi l'occasion pour nos vaillants agriculteurs de prendre du repos et de cueillir les fruits (et les légumes) de leur labeur. Beaucoup de communautés du Vermont organisent leur festival des récoltes, mais c'est à Shelburne, non loin, que se tient le plus ancien et le plus important. Shelburne Farms — ferme en activité, site historique d'intérêt national et organisme sans but lucratif qui aide à bâtir un avenir durable pour la planète — invite agriculteurs, producteurs alimentaires, artisans traditionnels et membres du public à son 40e festival annuel. Mangez et réjouissez-vous!
Le samedi 15 septembre, à Shelburne Farms. Info : shelburnefarms.org.