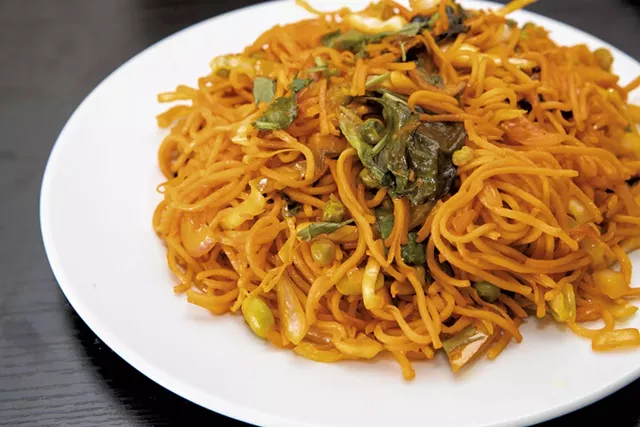 Photos: James Buck
Vegetable Hakka noodles from Everest Indian-Nepali Restaurant
Hend Araimi is unlikely to eat tuna anytime soon. It was all the Danville resident ate for more than six months after moving to Vermont two years ago, because she couldn't find halal meat.
Her husband, an Ohio native, had warned her it'd be difficult to find halal meat in Vermont. "[But] I didn't take it seriously," the mother of two recalled.
Halal is an Arabic adjective that means "lawful" or "permissible." Muslims use it to classify everything, including finance, food and interactions among people.
Born in Yemen, Araimi observes Islamic dietary guidelines that declare certain animals, by-products and other foods permissible for Muslims to eat — and others impermissible, such as alcohol, blood, carrion and pork.
Contrary to popular belief, halal food is not limited to a specific ethnic or national cuisine or style of cooking, but halal animals must be slaughtered in an Islamically prescribed ritual before their meat can be consumed.
These days, Araimi buys poultry from Nada Market in Winooski and drives to a Shaw's store in Littleton, N.H., to purchase halal lamb and beef. She's thinking about raising her own chickens. Since learning that some local families buy halal meat in Boston, the Danville resident said, she plans to make a similar trip. She has taught her daughter to be discerning about food, sending the fourth grader to school with home-prepared meals.
"Since I [found] halal meat, I [haven't eaten] tuna," said Araimi, chuckling.
Food purity is a critical concern in Islam and an identity marker for many Muslims, write Febe Armanios and Boğaç Ergene in their Oxford University Press book Halal Food: A History. The Koran describes Islam's teachings and attitudes about food, and correct eating and drinking are key aspects of an Islamic lifestyle.
At the same time, multiple interpretations of the divinely sanctioned laws exist, the authors note. In lively online discussions, today's Muslims reflect on their inherited traditions and on applying them in contemporary settings.
"Muslims always operated within that plurality of rules and regulations," said Ergene, a professor of history at the University of Vermont, "and they negotiated with those rules and regulations, which gave color to their experiences."
Imam Abd'Llah Al-Ansari witnesses this spectrum of contending views among Muslims at the Islamic Society of Vermont mosque in Colchester. "There are certain thorny issues that tend to stir controversy and lead to schisms," said the imam, "[and] halal meat is one of those issues."
While some Muslims use the word "halal" almost exclusively to refer to the meat of a permissible animal slaughtered by a Muslim in a prescribed manner, said Al-Ansari, others find that view too narrow. According to another opinion, the imam continued, meat prepared by Jews or Christians, who are described in the Koran as "People of the Book" (adherents of Abrahamic religions that predate Islam), is also permissible when slaughtered in ways that are deemed acceptable.
Al-Ansari said such discussions about halal meat are generally absent from Muslim-majority countries because people assume that "everything is lawful," or they rely on a central certifying body. He lived in Saudi Arabia for seven years and doesn't remember having or hearing of debates about this "heated, thorny topic."
In some other Muslim-majority countries, the government is the arbiter of piety in determining what's permissible and what isn't, noted Ergene.
In the U.S., where there is no central certifying body for halal products, questions surrounding "halalness" often arise as individuals navigate the cultural, social and religious contexts in which they find themselves, the imam continued.
Al-Ansari said he knows of instances in which people refrained from attending dinners or refused to eat at gatherings because they weren't sure about the "halalness" of the meat. Days before a recent barbecue organized by the mosque, he assured the community in an email that halal hot dogs and hamburgers would be provided.
Photos: James Buck
Mutton thali with halal mutton from Everest Indian-Nepali Restaurant
"When you're trying to have a gathering, you want to provide meat [that] everybody feels comfortable consuming," he said, "and you want to quieten the fears and concerns of those who are ultraconservative, especially when it comes to the issue of meat."
While Araimi has trouble finding halal meat in the Northeast Kingdom, it's more readily available in Chittenden County, where the concentration of Muslim Vermonters is highest. In addition to Nada Market in Winooski, Brixton Halaal and Community Halal Store in Burlington's Old North End offer halal products.
That wasn't always the case. In the early 2000s, Somali families traveled to Maine to get halal meat, said Abdirashid Hussein, a case manager at the Vermont Refugee Resettlement Program. Ergene, who has been teaching at UVM since 2001, noted that it was also common for Muslims to travel to New York State and Montréal.
Boston's bustling traffic made some new drivers nervous, so Maine became the preferred destination, said Hussein. He remembers leaving at the crack of dawn, sometimes twice a month, to be part of a convoy of trucks.
In 2006, Hussein opened Brixton Halaal to meet the demand for halal meat. He gets his frozen supplies from New Jersey, New York, New Hampshire, Australia and New Zealand. Because of transportation costs, halal meat costs a dollar more per pound on average than non-halal meat, said Hussein.
For non-Muslims, the phrase "halal food" may conjure an image of Egyptian-owned food trucks on the streets of New York City that offer cheap, protein-rich meals of grilled lamb or chicken over rice, topped with white sauce and chile sauce. In fact, though, today's Muslim chefs and bloggers whip up recipes and publish cookbooks covering an international range of halal fare, from Italian to Korean to French to Caribbean.
New voices are being heard, too. "Looking at Islamic law history, a lot of the sources and interpretations are written by men and discussed among men," said coauthor Armanios, an associate professor of history at Middlebury College. But in modern day, she continued, "Muslim women are inserting their voice into the conversation about the best ways to purchase halal foods, the halal pantry, the halal lifestyle and the halal cookbooks."
In Chittenden County, a handful of restaurants use halal meat. One of them is Everest Indian-Nepali Restaurant in South Burlington. "We welcome every people," said employee Kiran Maharjan. "We don't want to put aside the Muslim people."
The eatery purchases its halal meat from wholesale supplier Restaurant Depot in New York State. Since all blood is drained from the animal during an Islamic slaughter, the meat is much more hygienic, noted Maharjan. Though the word "halal" appears on the cover of the menu, Muslim diners still ask whether the restaurant serves halal meat, he continued. In further accordance with halal rules, Everest doesn't serve alcohol, though customers may bring their own liquor.
UVM Dining uses halal chicken at some campus dining halls and at Brennan's Pub & Bistro. But it isn't advertised as being halal because the university doesn't have a separate kitchen space, said Nicole Rohrig, a registered dietician with UVM Dining.
"We don't know how careful people are hoping we would be behind the scenes," she explained, adding that the dining service also serves non-halal chicken.
In her two and a half years on the job, the dietician said, she hasn't heard from many Muslims students about their difficulties navigating the dining halls. "I have a feeling that many of them eat a vegetarian or pescatarian diet while they're here," she continued.
Rohrig anticipates a greater demand for halal food as campus demographics diversify. The number of international Muslim students attending UVM has increased, as has the number of Muslim students from refugee families, she noted, adding that the university welcomes feedback.
"If there is a need for more halal meat and a dedicated halal cooking space, then it's something — if we hear enough demand — that we can make happen," the dietician said.
But halal food isn't just for Muslims, said Williston resident Abdool Khan, who drove to Boston to buy supplies for the mosque's barbecue. The father of two noted that the younger generation especially likes to eat halal steak, cheeseburgers and "regular American food."
Courtesy Of Saffron Road
Halal dinner from Saffron Road
Halal products have the potential to go as mainstream as kosher products, Khan suggested. He cited Connecticut-based Saffron Road, a manufacturer of halal-certified frozen foods and healthy snacks, whose CEO and founder, Adnan Durrani, also founded the Vermont Pure spring water company and was a financial partner of the New Hampshire-based Stonyfield Farm. Saffron Road products are available in more than 15,000 retail locations in the U.S. and Canada.
"It's not just Muslims buying that stuff," said Khan.
While some Muslims might be perceived as going overboard with the concept of halal, it's a testament to their faith in God and their desire to please Him, said Al-Ansari, the imam.
"They're willing to study ingredients," he continued, "[and] they're willing to go without that burger from that great burger joint because it may not be halal."