Courtesy Of Rob Swanson
Peter Riley
It was a windy day at Red Rocks Park in South Burlington. Too windy, perhaps, according to nature photographer and musician Peter Riley, who knows such things. Gazing at a thicket of tree limbs whose rusty leaves danced in a gusting breeze just beyond the entrance of the woodsy park, he tempered my expectations.
"I'm not sure we'll see all that much today," he said. "But you know what? That's fine, too."
Riley smiled, gently patted the long telephoto lens of his Canon and began to stroll down the access road that leads to the park's miles of meandering trails. As he and I made light conversation, I could sense his eyes and ears constantly pinging like radar, searching for odd rustles in the underbrush or the twitching branches of maples and white pines. He was looking for hidden treasures, and that meant birds.
Riley, 63, has been a birder for about 40 years and a fixture of the Vermont music scene since the late 1970s. Over the past eight years or so, he's paired his birding passion with a second artistic one and become an accomplished nature photographer.
Birds remain Riley's focus, though he's shown an aptitude for capturing all manner of creatures. Recently, he took a top prize in the National Wildlife Federation's annual photo contest, which this year drew more than 23,000 entrants. His shot of bluet damselflies laying eggs on the mirror-like surface of Indian Brook Reservoir, near his home in Essex, won first place in the "Insects and Other Invertebrates" division.
Peter Riley
Slender bluet damselflies laying eggs in Indian Brook Reservoir in Essex
"I just love critters," Riley said.
Riley and I didn't encounter many of those on our trek through Red Rocks, the suburban oasis close to the quirky neighborhood of Queen City Park along Lake Champlain. It was sunny and warm for late October, but also blustery, which is problematic for birding. Aside from the stray squirrel or chipmunk and a handful of cackling crows, there wasn't much for Riley to train his lens on.
But that didn't seem to trouble him. For Riley, the process is at least as important as the results, and probably more so.
"As a birder, you go to a place and you walk trails," he explained. "As a photographer, you go to a spot that seems likely, and you stand there — and you stand there, and you stand there.
"People ask me all the time how I get these photos, because when they approach birds, the birds fly away," he continued. "They fly away from me, too. But if you stand somewhere for five minutes, you start to notice things, things that didn't just appear — they were there, but you were looking past them. You have to slow down and let the photo come to you."
Peter Riley
A painted lady at Colchester Pond
It's a far cry from the hectic life of a gigging musician. But Riley has also brought that Zen-like approach to other life pursuits, for which he's earned a higher profile in Vermont than he has with photography — at least for now.
For the past 30 years, Riley has primarily made his living as a piano tuner. Decades ago, he inherited many of his clients from Dan Lindner, otherwise known as Vermont bluegrass godfather Banjo Dan. Lindner was retiring from the profession, and Riley, who was about to become a father, needed a steadier gig than playing music.
He's since become the go-to tuner for some of Vermont's biggest musical names. Riley tunes the piano at Phish's studio, the Barn, as well as noted Tank Recording Studio in Burlington. He's lately added the piano at Grace Potter's childhood home in Waitsfield to his rounds, befriending the rock star's mother, Peggy, along the way.
"I've been really lucky that I've been able to do a lot of really cool things in my life," Riley reflected. Most of those things "have just sort of come up" without any exceptional ambition on his part, he added. But if timing was a factor in his good fortune, so was talent.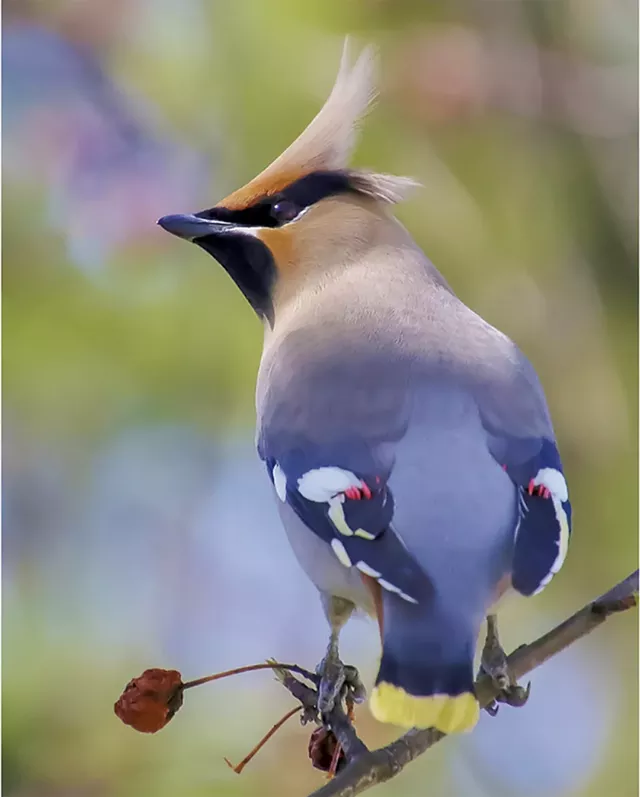 Peter Riley
A Bohemian waxwing on Pine Street in Burlington
During his musical career, Riley played with some of the state's most influential and successful acts, including seminal Burlington rock bands the N-Zones and the X-Rays. He collaborated regularly with eccentric songwriter Michael Hurley. And he was a founding member of Breakaway, which featured banjo ace Gordon Stone and was one of the most successful bluegrass bands — if not bands, period — ever to call Vermont home.
As we wandered through Red Rocks, Riley — who still plays with various local groups — reflected as much on his musical careers as on his photography. He told stories of playing white-knuckle shows in Greenwich Village with the famously unpredictable Hurley and bouncing from band to band in Burlington. He reminisced about the rise and fall of Breakaway and reveled in one particular tale that involved a member of Phish well before it became a jam band legend.
Peter Riley
Eastern kingbird feeding a Japanese beetle to its fledgling at Colchester Pond
In the late 1980s, Breakaway played a weekly Wednesday residency at the original Sneakers restaurant in Winooski. Largely thanks to Riley's efforts, the band was noted for its exceptional vocal harmonies. During a set break one night, Phish drummer Jon Fishman chatted with Riley on the street outside.
"He told me, 'Let me tell you something, Peter,'" Riley recalled, grinning. "'If my band sang as well as yours, we'd be famous.'"
Despite his clear, tuneful tenor singing voice, Riley still hasn't found exceptional fame in music — though you'll be happy to know that those Phish guys did OK in the end. In photography, by contrast, Riley has found not just national recognition but inspiration — and, in some ways, a complement to his musical work.
"My mother used to call me the most sociable loner she knew," Riley said, speaking about the difference between his music, a collaborative art, and his photography, largely a solitary one. "I think of it like fishing," he continued. "It doesn't always matter if you catch anything. Sometimes it's enough just being out there."
"He understand birds; he thinks like a bird," Rob Swanson said of Riley. Formerly a staff photographer at the Burlington Free Press and the Vanguard Press, Swanson is a veteran local shooter whose work has appeared on the front pages of the New York Times and the Boston Globe and in numerous international magazines. He has known Riley since the two attended Saint Michael's College together in the 1970s. Swanson used to shoot photos of Riley as a musician in the 1980s; now he trades tips with him as a colleague.
Peter Riley
A great blue heron crossing Colchester Pond
"I emulate his work," Swanson said. "I started shooting dragonflies just because I was so enamored of his work."
Near the end of our walk, we still hadn't come across much to photograph. Then, Riley stopped dead in his tracks, pausing in the middle of a sentence about Swanson's influence on him.
"Look. There," he said, pointing to some rustling underbrush along the trial.
It wasn't immediately clear to this reporter's untrained eye what he was seeing. But sure enough, a tiny, yellow-chested bird emerged from the tangle of leaves. Riley identified it as a male common yellowthroat, a rare bird for the season.
"Oooh, that's a good bird," he said with a contented grin, watching as the wind gusted and the bird took flight.
15 slides