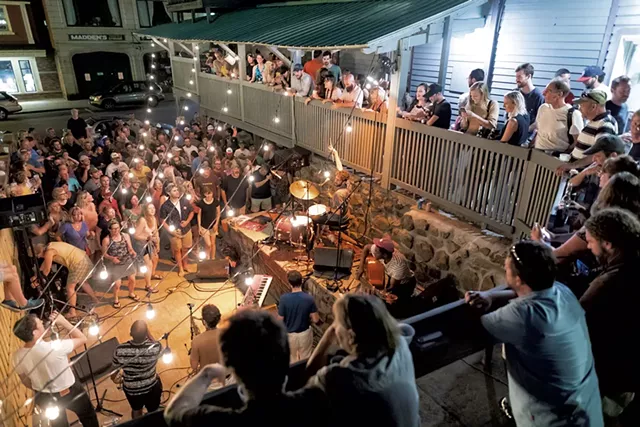 Gabe Dickens
Sammy Miller and the Congregation on the patio of the Waterhole
Tucked in the heart of the Adirondacks, idyllic Saranac Lake, N.Y., has all of the necessities and amenities a small town could need. But, given its small population of approximately 5,000, there's pretty much only one of everything.
In 2015, the town briefly lost its only live music venue, the Waterhole. The bar and nightclub first opened in 1970 and has changed hands several times over the decades. Billy Allen, a longtime investor and former owner who transformed the bar into a music venue in 1986, sold the property to the club's talent booker, Eric Munley, 31, and his partner, Kiki Sarko, 33. The couple reopened the venue in 2016.
Munley says that when the Waterhole closed in 2015, some people in the area wanted to turn it into a restaurant. But he and Sarko, both live music aficionados, knew they had to intervene. They worked out a deal with Allen to lease the business without going through a bank and became full owners in 2018. Now, they continue to make the Waterhole a welcoming respite for locals and tourists alike.
"Live music has always been a huge part of my life," says Sarko. "Most of my friends I've met at shows and festivals."
Munley sings and plays mandolin in rustic bluegrass outfit the Blind Owl Band, and he was the Waterhole's talent booker for three years prior to taking it over. Before buying the business, Munley played 175 shows per year with the Blind Owl Band. After opening, he cut it down to 125, and he's since scaled back even more.
"When we came into this, neither of us had ever bartended before," says Munley. "The bar world was completely new. I worked here, and I [knew] all about running shows. [But] it was challenging for sure."
After years of pursuing social work, Sarko grew burned out and briefly returned to the more lucrative world of waiting tables before she and Munley bought the Waterhole. (Fun fact: The two first met at a Waterhole show in 2011.)
"The skill set I acquired from my social work jobs translated beautifully," Sarko says of the transition. "Nonviolent communication, de-escalation — all of the things you work with clients on, drunk people need, too."
Munley explains that the Waterhole is an island among New York State's other markets, such as the areas around Buffalo, Syracuse and the Hudson River Valley. The club's name is apt. Aside from the occasional bar band playing at local dives and special intimate performances at nonprofit BluSeed Studios, the music hub is an oasis, the only place to see a true rock show for miles around.
Famous acts such as Béla Fleck and Gov't Mule played past incarnations of the Waterhole. Currently, mid-level touring acts populate the stage, such as Massachusetts-based circus-punks Bella's Bartok and funk nomads Andy Frasco & the U.N. Its programming is similar to that of Nectar's or the Higher Ground Showcase Lounge.
Munley and Sarko are present for every show and have a tiny staff of just seven people. The owners split major duties: Munley handles the music venue side of the business, while Sarko takes on hospitality, front of house and running the bar.
"My given title is Queen Bee," she jokes.
The building sits on Saranac Lake's quaint Main Street. Boasting two full bars, a patio with a Ping-Pong table and a wraparound veranda, the Waterhole can accommodate large crowds. Though it has no official capacity, its owners say 300 people can pack into the upstairs concert hall.
Gabe Dickens
Kiki Sarko and Eric Munley
The street-level bar is open daily, while the upstairs concert hall is only open for private events and live music. Approximately 20-foot vaulted ceilings make the modest space feel enormous. Customers can occupy a balcony overlooking the concerts.
One unconventional fact about the building is that it's completely accessible for those with physical impairments. Since it's built into the side of a hill, it has entrances that open onto each floor, including the balcony level.
When visiting, make sure to bring cash, because the Waterhole doesn't take credit cards. (There is an ATM on-site.)
If customers complain that the club is cash only, Munley has a response at the ready: "Be thankful the floors aren't dirt anymore," he says, referring to the building's historic, late 19th-century roots.
In warmer weather, the Waterhole hosts Party on the Patio, a free outdoor music series that runs for 25 weeks. What began as acoustic-only showcases has become just as loud and rockin' as any shows that happen inside.
The patio area features a multitiered stage. Large bands such as Connecticut soul powerhouse ensemble West End Blend have to squeeze their members in tightly.
"You can be in front of the band, dancing; you can be along the rail and behind the band," Munley says of Party on the Patio, which brings in 200 to 400 people every week.
"We use it as an exploratory music series," he continues, noting that half of the bands performing al fresco are first-timers at the Waterhole. "Because we have a guaranteed crowd, we can find bands from New Orleans and Texas and Colorado and bring them here. [Otherwise,] it's hard to get people through the door for the first time for a band."
Unsurprisingly, the busiest part of the year at the club is from Memorial Day to Columbus Day. During that time, the bar offers multiple shows per week. Things slow down in winter, with maybe four acts passing through each month of the cold season.
But the Waterhole gets cranked up again during the yearly Winter Carnival, a storied, town-wide extravaganza that brings thousands to the tiny downtown during the first 10 days of February. The Waterhole offers a music marathon featuring almost 20 bands.
"The whole idea is, it's winter at its worst — and getting people to come out and act like it's summer," says Munley, adding that the festival is a "huge boost" and accounts for a large portion of winter profits.
"This can be a pretty quiet town sometimes," Munley continues. But the status quo could be changing soon. In 2018, Saranac Lake was the recipient of $10 million in grant funding. The money came from Gov. Andrew Cuomo's Downtown Revitalization Initiative and will be used to bolster enterprises and infrastructure in a number of New York towns.
Munley and Sarko say their success wouldn't be possible without support from their neighbors.
"We survive because of regulars," says Sarko. "Parties are a big part of our business. But on the day-to-day basis, it's all about regulars. It's all about sitting down, hanging out, being together.
"There's such a range of people who come here," Sarko continues. "People show up with their brand-new babies with little headphones on them. [And] people who are 70 show up."
"The community's awesome," says Munley. "Everybody's just putting [their] heads together, improving [Saranac Lake] bit by bit."
On the horizon, the Waterhole's 50th anniversary is next May. And if things go as planned, Munley says, they're throwing an epic rager.