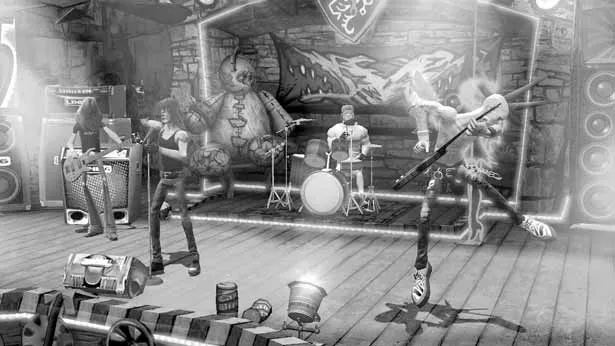 Blame the guitar.
If not for the invention of this six-string device, countless garages would never have faced re-models into jam zones, millions of high-school dropouts would never have nursed dreams of rock 'n' roll fame, and countless babies would never have been born to parents who swear that the KISS classic "Rock and Roll All Nite" is the most romantic ballad ever written.
Then again, without the guitar, the world would be just that much less interesting.
Sixty years ago, the piano, the human voice or even the trombone stirred the musical interest of young people with something to say. No one could have imagined that an instrument as crass and awkward as the guitar would grow to dominate the popular music landscape. "So you want to be a rock 'n' roll star?" the old Byrds song ran. "Then listen now to what I say. / Just get an electric guitar, / Then take some time and learn how to play."
The trouble is, learning to play any instrument isn't nearly as much fun as pretending to play. And when it comes to pretending, video-game developers reliably arrive with prepackaged fantasies to make it so.
Game developers like to speculate that "Guitar Hero" is such a hit because the guitar-shaped controller connects with the mainstream player. But the simpler truth is that the game's designers understand that feeling like a rock star is almost as important as being one.
With the arrival of "Guitar Hero III," the graphics look nicer, the guitar controller is better realized, and the song selection is more expansive. At its heart, "GH" remains the game that legitimizes air guitar and makes the fantasy of amphitheater dominance feel real.
It's no wonder everyone seems to want in on the action. "Jam Sessions" for the Nintendo DS lets you pluck out tunes by strumming the stylus across the DS screen, while changing chords with a few select button presses. "Hannah Montana: Music Jam" brings four-track recording and similar techniques for playing guitar, bass and drums to the DS, and it even lets you pick your outfits and make friends - a title that's pitch-perfect for tween gamers.
Still, of the many games that let you make music, "Guitar Hero" remains at the top of the stack, because it never confuses actually making music with pretending to. No matter how fast you fly across the "GH" five-button fret board, you're never playing music - it's just a game. "Hannah Montana" and "Jam Sessions" spin you up on the idea that you can make music, then let you down when you realize that you're as tone deaf after playing the game as you were in the first place.